By Ronald Ahrens
Portraits by Scott Murray
At the Indianapolis Motor Speedway, Turn One is an almost blind left-hander after a 5/8-mile-long straightaway allows racers to build speed to 240 mph. Jack Harvey, an Indianapolis 500 rookie in 2017, describes Turn One as "thrilling and terrifying"—all the more so because, like the race's 32 other drivers, he keeps his right foot down.
"You're not going to lift," says Harvey, 24. "You don't know what's going to happen. It feels like blind faith. The first lap I did flat out was the biggest thrill. I felt invincible."
The invincible Englishman will slow his pace on February 23-25 when he appears at the 12th annual Boca Raton Concours d'Elegance presented by Mercedes-Benz and AutoNation. A vintage car weekend is something different for Harvey after all his time in the cockpit. Thanks to a promotional relationship with AutoNation, he will be among the notables at the event, where TV personalities Jay Leno and Tim Allen will serve as celebrity judges for the car and motorcycle competition.
Saturday night's gala will include a live auction for an all-inclusive trip to the Toyota Grand Prix of Long Beach, the annual IndyCar extravaganza held in in California in April. There, the winner will embark on a garage tour to learn more about IndyCars and then meet Harvey. Before the Concours wraps up on Sunday, Harvey will present the Sponsors Choice Award on AutoNation's behalf.
Encountering Harvey for the first time is, first of all, to be in the presence of a proven winner. From his beginning in karting, where most top drivers get their start, Harvey advanced to become vice champion of the Formula BMW Europe series at age 17. Next, he moved to the British Formula 3 Championship, which Schmidt Peterson Motorsports General Manager Piers Phillips calls "one of the most competitive championships in the world." The fact that Harvey took first place at the 2012 competition, racking up seven wins, was "a huge testament to his ability," Phillips says.
Eventually, Harvey made the bold step of leaving England for Indianapolis. He signed with Schmidt Peterson Motorsports for the 2014 Indy Lights series, which develops drivers for the big-league Verizon IndyCar Series. Harvey brought his winning ways with him, claiming four of 14 races. A tiebreaker arrangement cast him second overall in the series, and a similar situation unfolded in 2015, when he was once again runner-up.
"The big thing was that he deserved to be the Indy Lights champion, basically twice, and stupid circumstances stopped him," says Harvey's friend Parker Kligerman, a NASCAR driver and racing analyst for NBC Sports. Getting aced out of the titles "eventually meant he had to drum up sponsorship from scratch—which he did," Kligerman says. "Basically a bunch of people in Indy felt he was the nicest person they had ever met and decided to support him."
Harvey puts it down to a chance meeting with AutoNation's executive vice president, Marc Cannon, calling it a "right spot, right time kind of situation." He had just driven to victory in a 40-lap preliminary race at Indy when he met Cannon, his wife Ann, and one of their sons on the bus on the way to a charity gala.
Like so many who encounter Harvey, the Cannons were struck by his integrity and saw potential marketability. Three elements are at play here. The first is what may be called Lincolnshire ethos.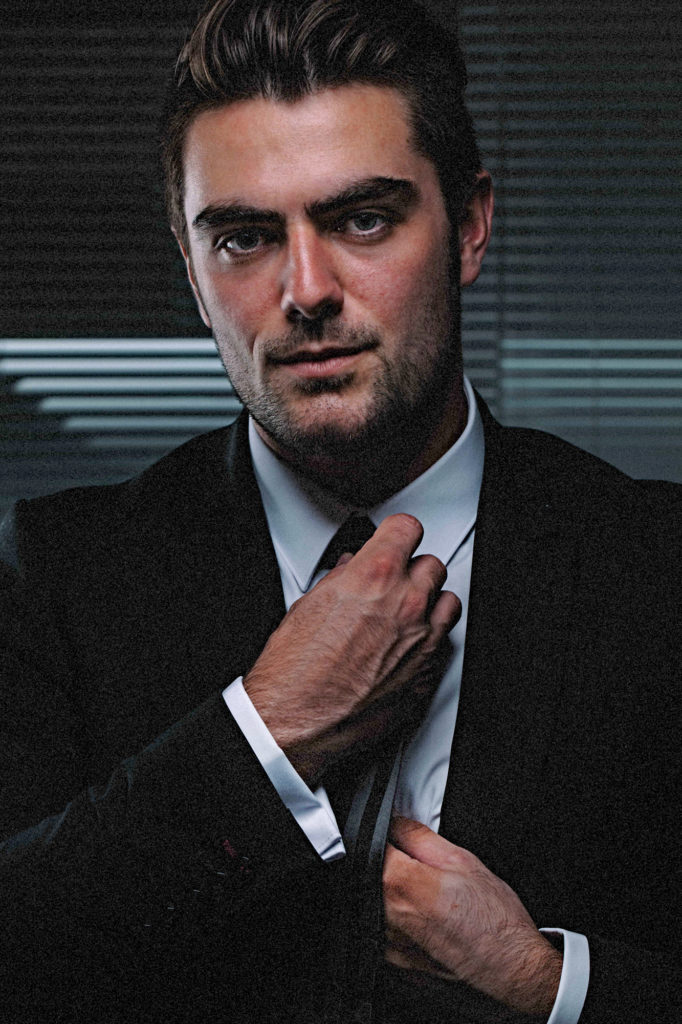 "I come from a very small town, Bassingham, Lincolnshire," Harvey says. "I try to embody the Britishness of working as hard as possible to achieve what I'm doing. You never forget where you came from."
Besides being scrappy, he is, as Phillips points out, "very well-educated," and in the race car he shows his technical acumen when communicating with team engineers. Beyond those subtle characteristics, there's something patently obvious. "According to my girlfriend, my brother's girlfriend, and any girl who sees him, he's quite a heartthrob," Kligerman says.
With molten eyes and a jaw that could mow through Hollywood, he has The Look. In combination with his charm and proven driving ability, Harvey is a man to watch.