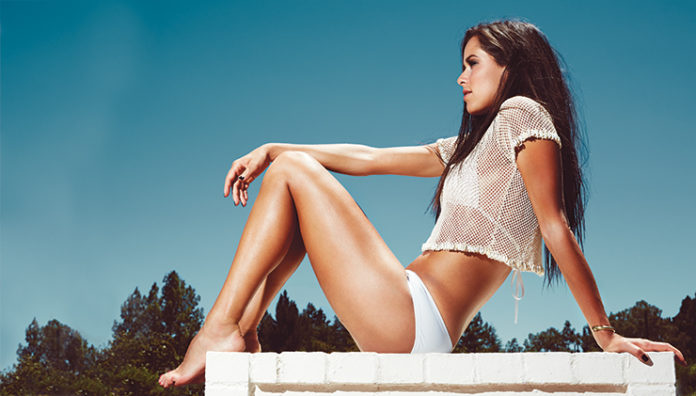 By Nila Do Simon
Photography by John Russo
Styling by Dana Goldenberg
Napa Valley can take your breath away. Its gentle rolling hills and seemingly endless rows of manicured vines personify the quiet beauty for which Northern California is famous. Today is no different, a cloudless day that reveals the bluest of skies and a slight breeze to boast.
"It's too beautiful for words, " says international tennis star Ana Ivanovic as she gazes at Wine Country on a recent Wednesday morning.
Today, the 27-year-old is relaxed. In between tournaments and with a few days of rest, Ivanovic is recharged. The 2014 season treated her well, finishing the year as the world's No. 5 player, a resurgent season that included an emotionally charged three-set victory over the world's top female player, Serena Williams, in the Australian Open.
Her coach, Dejan Petrovic, tells me how hard Ivanovic has worked this year to get back into the top five. She doesn't want her best years to be behind her, he says. Appointed to Team Ana in July, Petrovic admits the reason he was hired was to get Ivanovic back to the form that won her the 2008 French Open. Anything else would be disappointing. To get there, he says, it has to start not with her ground strokes or volleys, but with her confidence.
"At this level, coaches like me aren't just here to show a player how to hit a ground stroke. We're here to work on their mental game as well," Petrovic says, pointing to his head.
Those who are familiar with Ivanovic's story know that it has as many peaks and valleys as the Napa Valley terrain. And South Florida has a special relationship with this athlete, supporting her at the annual Miami Open (formerly the Sony Ericsson Open) since her first appearance in 2005.
Bursting onto the international tennis stage nearly a decade ago as a teen from Belgrade, Serbia, Ivanovic became a Major winner by the age of 20 and the world No all in the same year. Overnight, she developed into the darling of the sport, a fresh-faced brunette beauty with a shy smile but a fist-pumping on-court personality.
To understand why all this was such a momentous feat, one has to understand the harsh conditions in which she was raised. The only daughter of Dragana, an attorney, and Miroslav, a businessman, Ivanovic was born in war-torn Yugoslavia in 1987. Air raids were normal occurrences during her childhood. Bombs hit so close that she could feel the ground vibrate.
As a 5-year-old, Ivanovic found refuge in watching Yugoslav tennis player Monica Seles dominate the courts while pushing her opponents around with her powerful two-handed ground strokes. Ivanovic begged her parents to buy her a racquet, an odd request at the time in that part of the world.
To say tennis resources were scarce under dictator Slobodan Milosevic would be an understatement. Along with compatriots Novak Djokovic and Jelena Jankovic, Ivanovic found creative ways to advance her game. The very few tennis courts in Serbia were either dilapidated or destroyed, so Ivanovic would often practice in an abandoned Olympic-sized pool, fine-tuning her game at 10 feet under the surface. Her parents arranged it so that her daily practices would begin at 6 a.m., a time when the bombings ceased.
As her game developed, word got out about this young Serbian talent. News eventually spread to Dan Holzmann, a wealthy Swiss businessman and tennis enthusiast. He flew Ivanovic and her parents out to Switzerland where he instantly saw her promise. Holzmann agreed to sponsor Ivanovic until she got on her feet as a professional player, a gamble that soon paid off.
Ivanovic quickly rose up the ranks, entering the top 10 in 2007, where she also reached the French Open final, losing to two-time defending champion Justine Henin, arguably one of the most fluid players in the history of the sport. But it was in 2008 where Ivanovic became a household name in tennis residences. She reached the finals of the year's first Grand Slam, the Australian Open, pushing eventual champion Maria Sharapova to two tight sets. Four months later, it was Ivanovic who was hoisting the French Open's La Coupe des Mousquetaires that alluded her just a year earlier.
"It is something that will live with me forever," Ivanovic says. "That feeling, that emotion, that overwhelming emotion. I get goosebumps now just thinking about it. Hearing the national anthem in the middle of Paris—that's something that no one will ever take away from me."
But just as quickly as she fell in favor of the tennis gods, she soon fell out. Injuries built up, and her confidence came down. She struggled on the court, losing early on in tournaments and suffering embarrassing losses to unranked players. As Ivanovic is the first to admit, those valleys are behind her, and now she has her sights set on winning another Grand Slam. She sits down with us to talk about what makes her still love the sport after all these years.
You have so much support from your family at home. What does it mean for them to see their daughter go from playing tennis in an empty pool to the biggest stages in the sport?
Like many Eastern European countries, there were tough times. But my family protected me and my brother, Milos, very much and tried to give us as normal a life as possible. My dad is a sports person who used to play basketball, so he knows what it takes and he couldn't be happier for me. My brother was in tears when I won the French Open. That's something I will never forget.
How does your 2008 French Open victory motivate you today?
That's something that no one will ever take away. Winning another Grand Slam is the goal, and I really believe I can achieve this. Every time I step on the court, I'm motivated and want to improve each day I work.
You're such a quiet and shy person off the court. How do you then transition to the fierce competitor that you are on the court?
I do consider myself a little bit of a shy person, but when I compete, I get in this competitive mode. When I'm in the center court and under the lights, I kind of forget about the world around me. I do get emotional on the court. It's also the Serbian mentality a bit. [Laughs] I cannot stop this!
How would you describe the evolution of your career?
After winning the French Open and becoming No. 1, it's been a little bit of a struggle. In those years, I was still learning a lot about myself. This last year, I went back to enjoying myself and the game. That has been the biggest change, and I want to take this into the next year and for as long as I play—to actually play and not have regrets.
How has your current team—Coach Dejan Petrovic and fitness trainer Zlatko Novkovic—influenced your success today?
People don't understand how vital it is to have a great and loyal team around you. Tennis is an individual sport and fans see us perform on our own, but the people around us really make it a team sport. Sure, we're the ones executing on the court, but without their support, we wouldn't really be having the success that we are. We all have the same goal, and that's to be successful. That means a lot to me.
If you could go back in time, what would you tell your younger self, particularly when you were struggling?
The only advice I would give myself is to care a little less about what other people would say. I feel I got a little lost with what was said. Everyone goes through a little loss in life, and it was unfortunate that mine was a public one, but it's very normal. You have to really feel the ups and downs and really feel the moments and not take them for granted. It really made me stronger. I've learned to live in the moment and realize it'll get brighter in the future.
Originally appeared in the Winter 2014 issue.