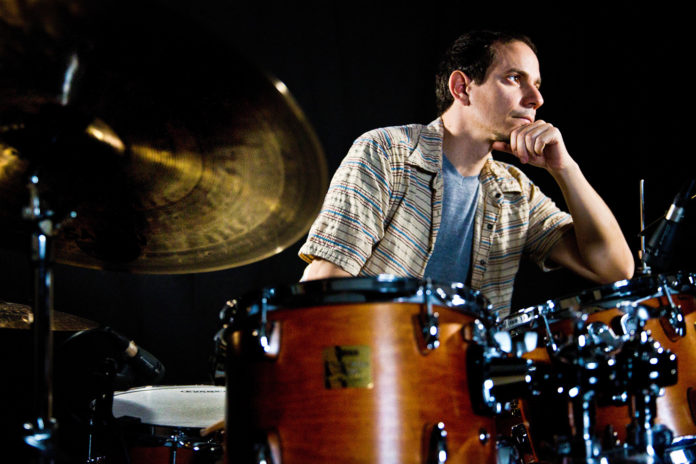 By Bob Weinberg
Portrait by Scott McIntyre
Dafnis Prieto was about 8 years old when he heard the sound that would change his life. That was when the South Florida-based drummer and composer first attended a concert by the roaring Orquesta Cubana de Música Moderna in his hometown of Santa Clara, Cuba. Formed in the late '60s, the venerable big band has featured some of Cuba's most celebrated jazz musicians, including Chucho Valdés, Paquito D'Rivera and Arturo Sandoval. The ensemble wove traditional Afro-Cuban rhythms into modern jazz arrangements, sparking the young Prieto's imagination.
Roughly 35 years later, Prieto, who's based in Hollywood and teaches at the University of Miami's Frost School of Music, has realized a long-held dream with Back to the Sunset, his first big-band album set to release on April 6. Prieto's gifts as a composer, arranger and ensemble-driving drummer are on full display throughout a set of swirling, color-filled compositions. Seventeen-strong, the large ensemble grooves and swings to intoxicating rhythms that pay homage to Prieto's varied influences. In fact, each track bears a dedication to his inspirations, from Latin-jazz pioneers such as trumpeter Dizzy Gillespie and percussionist Chano Pozo to jazz-drumming icons Buddy Rich and Art Blakey.
"The undercurrent of the album is really a tribute," says Prieto over lunch at A Touch of Cuba restaurant in Hallandale Beach. "It's a tribute to the people I've worked with in my career, from Cuba to here—people who have really influenced me in one way or another. But it's also a tribute to people I didn't have the possibility to meet, like Dizzy and Chano."
Since relocating to New York City in 1999 and then to South Florida three years ago, Prieto has worked with some of the jazz world's most innovative musicians. On Back to the Sunset, saxophonists Henry Threadgill and Steve Coleman and trumpeter Brian Lynch lend their talents to tracks Prieto wrote specifically for them. Prieto had played and recorded with Threadgill's and Coleman's influential avant-garde ensembles, and he expresses great esteem for Lynch, a fellow University of Miami faculty member and fiery horn player with a love for Latin jazz.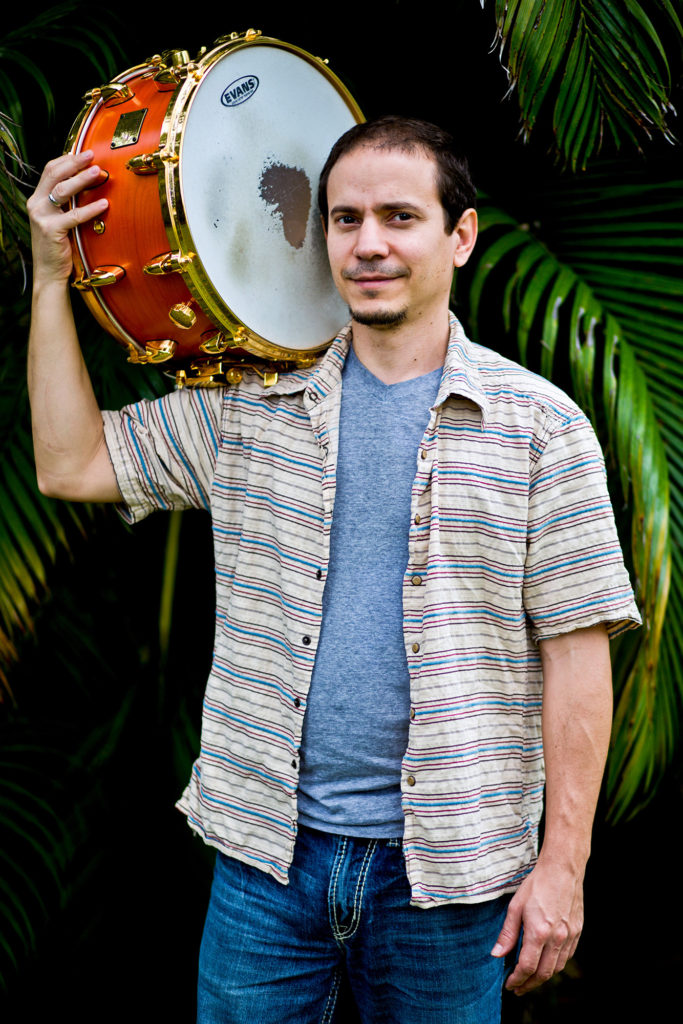 "Brian is a very important person for me," Prieto says. "He's one of the first guys I played with when I got to New York. [Lynch, Coleman and Threadgill] represent different styles and have their own voices as musicians. I was really grateful they wanted to be part of the recording."
Four years ago, Prieto held a weeklong residency at the University of Miami that morphed into a faculty position. Today he teaches ensemble classes, as well as drums and composition, and has developed a course titled "Rhythmic Synchronicity." But it's the composition course that has proved most challenging. "Composition for me was such an intimate process," he says. "I make compositional solutions without analyzing them out loud. Now I have to discuss and explain it."
Of course, Prieto could simply play his students cuts from Back to the Sunset, which showcases his mastery with both pen and drumsticks. He and percussionist Roberto Quintero kick off the tune "Danzonish Potpourri" with a thrilling duet before trumpets, flugelhorns, saxophones and trombones join the fiesta. The mood perpetually shifts as the ensemble wends through various movements that inject Cuban folkloric music with contemporary big-band brio. On the track "Out of the Bone," Chris Cheek begins unaccompanied on baritone saxophone. His intro sets the stage for exuberant trombone spotlights and some of Prieto's most caffeinated drumming.
Assembling a big band in today's economic climate is no easy task. While large ensembles like those of Benny Goodman and Tommy Dorsey were all the rage in the 1930s and 1940s, their fortunes began to dip after World War II. Tastes changed, and bandleaders found it increasingly difficult to keep big bands on the road. By no means did they vanish, but they were no longer the dominant driving force in popular music, as they were supplanted by small-combo jazz and rock 'n' roll.
Fortunately, Prieto had an angel in his corner. Grammy-winning producer Eric Oberstein helped him drum up resources to launch the project, mainly through arts grants and an online fundraising campaign. Prieto began writing new songs and arrangements of his previous material. He also put together a wish list of musicians, many of whom he'd worked with in the past. "Finally, I had someone on my side," Prieto says of Oberstein. "I couldn't afford this. With all of my other recordings, I paid from my own pocket. But with this one I really couldn't do that."
Whether Prieto is working in a duo, sextet or big band—he's recorded in each of these settings on albums he's released on his Dafnison Music label—his writing remains central, taking into account the individual players, their instruments and the way they interact. As part of Global Cuba Fest, he performed music from his 2015 recording Triangles and Circles in Miami with his sextet on March 16 at The Light Box at Goldman Warehouse in Wynwood.
While recording a big-band project may seem retro, Prieto is not interested in nostalgia beyond saluting the giants on whose shoulders he stands. The significance of those masters is deeply ingrained in his DNA, even as he forges a fresh approach. "Artistically, it's the same as saying, 'What does your dad mean to you? What does your grandfather mean to you?'" he says. "That's how much they mean to me. If they didn't exist, how am I going to exist?"
This article originally appeared in the Spring 2018 Issue.