By Jameson Olive
Photography by Felipe Cuevas
Emily Pfalzer knows what it's like to be the lone girl on a team full of boys. Ignoring her mother's attempts to get her into figure skating, Pfalzer instead took to the sport of hockey at a young age. Watching her two older brothers play on the family's outdoor rink in Getzville, New York, she would stare out the window and cry until her parents finally relented and allowed her to join. And although her brothers skated circles around her, she couldn't get enough. "I was always out there chasing them," Pfalzer says. "I wanted to play right away."
Years later, Pfalzer was the one being chased. Manning the blue line for Team USA at the 2018 Winter Olympics in Pyeongchang, South Korea, the 26-year-old defenseman helped the U.S. Women's National Team capture its second gold medal in a thrilling shootout win over Canada. But it wasn't until she returned home that she really noticed the impact of the win.
While she grew up idolizing the male superstars of the NHL, Pfalzer noticed young girls suddenly looking up to her with the same adoration. "It was so exciting to see people recognize women's hockey and see just how many moms came up to us and said, 'My daughter wants to play now after she saw that game,'" Pfalzer says. "I think that's what we really hope for. We want these little girls to be able to play professional hockey and have that dream."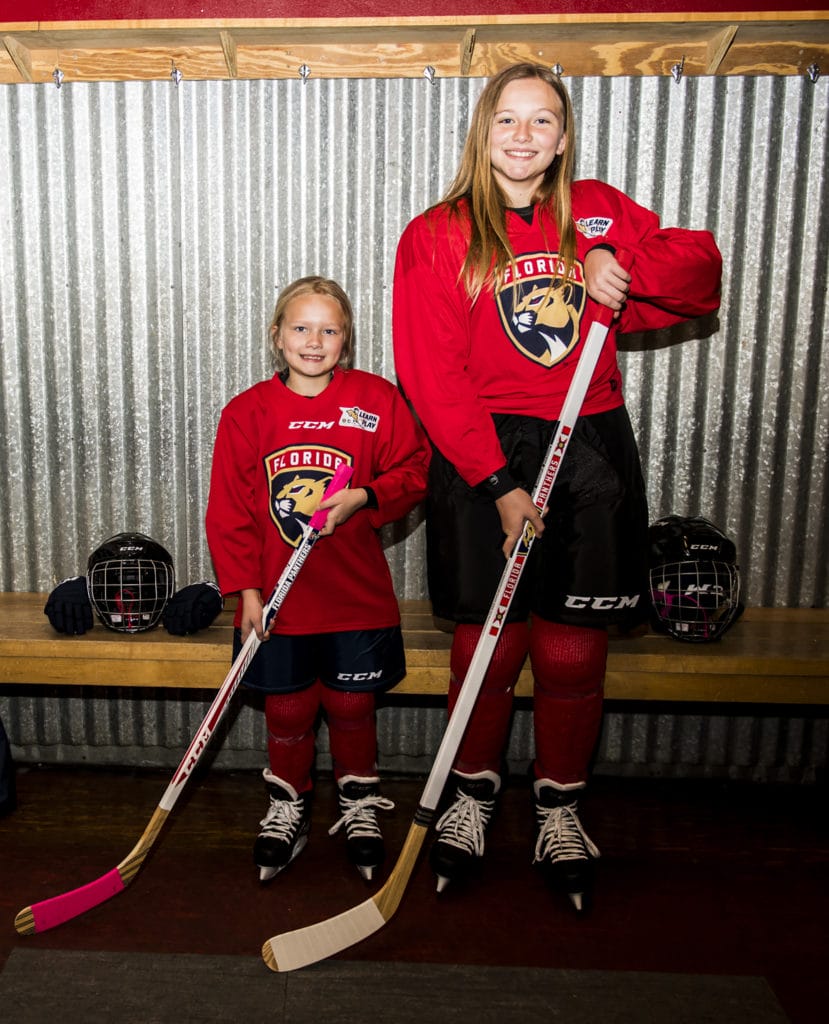 Even for Pfalzer, making that dream come true wasn't easy. The only girl on her team at nearly every level she competed in until she joined her first all-girls team in eighth grade, she knows better than most that the path from peewee to the pros isn't easy for young girls. No matter what market you're in, it can be hard to find all-girls hockey programs. In South Florida, they're almost unheard of.
Recognizing this void that belied what appeared to be great local interest, the Florida Panthers recently launched their first Girls Learn to Play program at rinks in Coral Springs and Lake Worth. While the organization has been running similar coed programs since 2016, this new project was crafted specifically for girls ages 5-9 who have never played organized ice hockey.
Upon learning of this exciting endeavor through her fiancé, Florida Panthers star defenseman Michael Matheson, Pfalzer offered to help fan the flames of enthusiasm by joining her beau as a guest instructor at the program's inaugural sessions on May 18 at Florida Panthers IceDen in Coral Springs. Decked out her in USA hockey gear, she moved from girl to girl throughout the classes, helping with everything from skating tips to tutorials on how to grip the stick correctly. In total, more than 40 girls signed up for the program.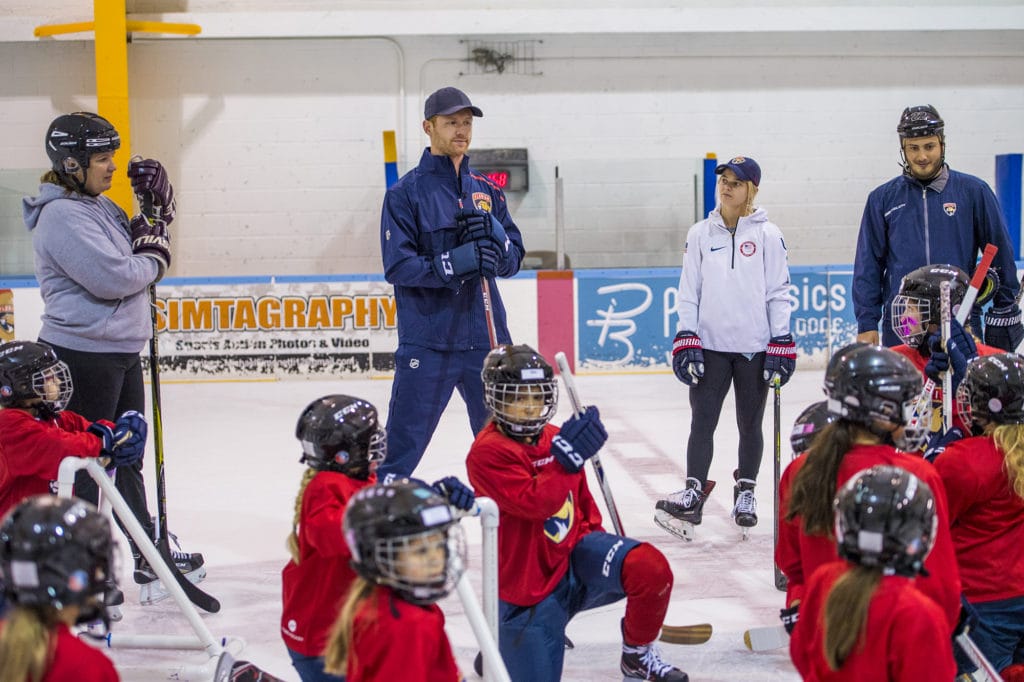 "It's awesome to see the growth of women's hockey in Florida," says Pfalzer, who also has four world championship gold medals to her credit. "I was the lone girl with all the boys, so it's awesome to see all the girls out here. I think there was only one girl who was nervous, but by the end she was smiling."
Those smiles quickly evolved into audible "oohs" and "aahs" when Pfalzer whipped out her gleaming Olympic gold medal for the girls to see as they exited the ice. And while several of the participants were simply satisfied by snapping a few pictures with Pfalzer and the medal, one girl was brave enough to ask to try it on, grinning giddily as the weight of the gold-encrusted medallion made it hard to stand up straight long enough to take a photo.
Looking at the future of women's hockey, Pfalzer believes programs like the one the Panthers have started will be integral in developing the next generation of female stars. Could a future gold medalist be among the ranks of this inaugural group of participants? It's certainly possible. But for the time being, she says, it's the newfound fun and friends that'll keep participants coming back.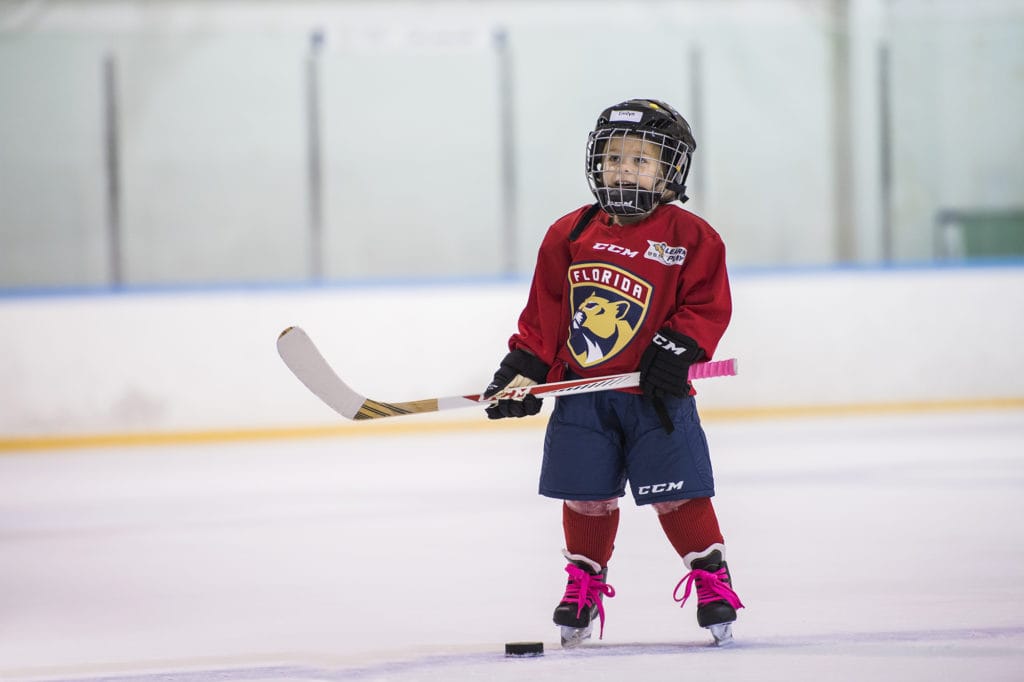 "It's how you fall in love with the game," Pfalzer says of the team camaraderie she's created over the years. "You start trying it and you like it. You make friends. I'm still best friends with a lot of my teammates from when I was younger. You make those memories."
The Girls Learn to Play program is one of the latest pieces of the organization's larger plan to grow the game in a balmy market that's still in the early stages of warming up to the coolest sport on earth.
On April 16, a large piece of that plan was unveiled when it was announced that the team would be privately financing a restoration and overhaul of the historic War Memorial Auditorium in Fort Lauderdale. The revitalization project includes two indoor ice rinks and a small concert venue. With the goal of becoming one of the premier multi-sport facilities in the Southeast, the building will not only serve as a hockey-training establishment, but also as a central hub to bring a wealth of youth hockey, public skating and figure skating programs to the heart of Holiday Park.
"I really think the biggest way to grow hockey is by building more ice and giving people opportunities," says Sean McCaffrey, the Panthers' chief operating officer. "If you look at the maps of where rinks are located, there's not many east and there's none in Fort Lauderdale, which is a rapidly growing city with a lot of families… It's really a win-win, both for the city and us, I think."
McCaffrey says the Panthers hope to break ground on the project by the end of 2019. "Our goal is to make it a community center, somewhere that people can go even when the team's not practicing," McCaffrey says. "I'm hoping it's going to be a gathering spot, another really cool place where families meet, grab a coffee, skate and have a good time."
This article originally appeared in the Summer 2019 Issue.