By Lane Nieset
It's starting to drizzle as we cruise through the Gulf of Chiriquí, off Panama's northwest coast. Our captain is silent, confident. He doesn't need a compass to navigate around the islands that rise from the sea like the rounded scales of a crocodile's spine. Scanning the horizon, the lush jungle looks like something out of Jurassic Park. Shrubs and trees extend in all directions from uninhabited islets that are so wild and remote, they've helped this part of Panama earn the nickname as the "lost coast of the Pacific." The only other sign of life we see are dolphins following our wake, each vying for a turn to show off their pirouette-like spins.
As our boat inches slowly in front of the coral reef encasing rocky Isla Gamez, I'm suddenly thrown forward, a stream of water shooting over my head. At first, I think we've hit a piece of coral. My eyes dart across to our host, Hans Pfister, president and co-founder of Cayuga Collection, his expression is a mix of surprise and concern. I quickly realize we didn't run into the reef. A humpback whale actually ran into us. Or, rather, bumped our boat. "That," he says with a pause, "has never happened before."
It's the last day of September, the tail end of whale-watching season, when humpbacks migrate to give birth in the protected waters surrounding Isla Palenque. Opened in 2018, the 400-acre private island resort and preserve is one of 10 sustainable luxury lodges in Cayuga Collection's portfolio. Think of it as coastal Pacific's answer to Tahiti's beautiful beach bungalows or a luxurious version of the bohemian-chic, cloud forest lodges you find in Costa Rica.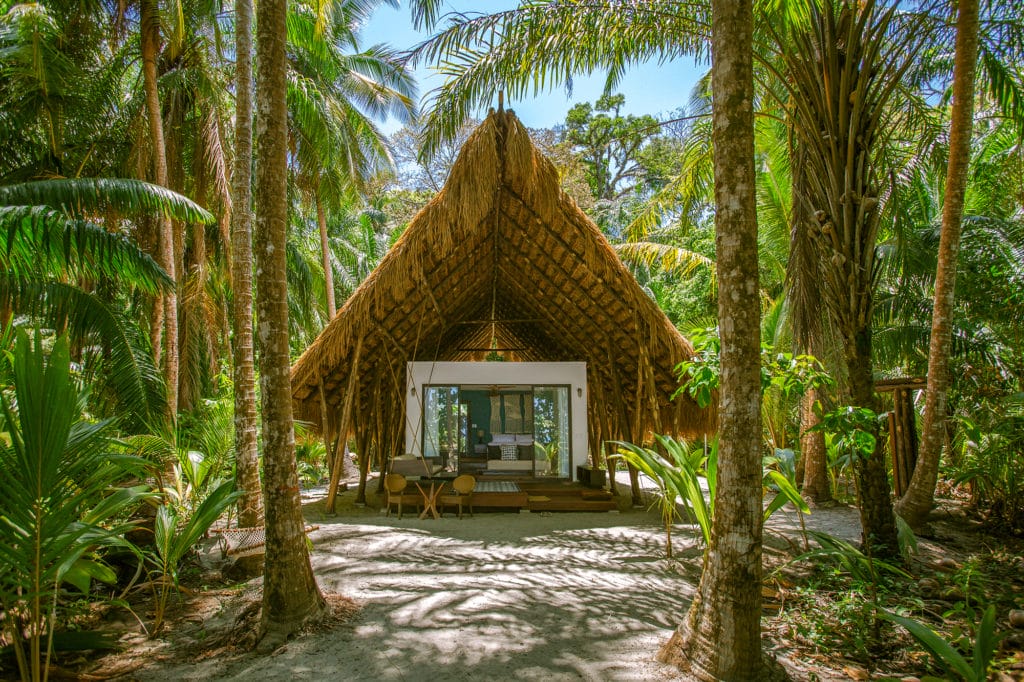 Indigenous tribes named the island "Palenque," which means sanctuary, because mangrove-lined coasts and rare primary forest serve as a refuge for wildlife such as howler monkeys and tropical Jicaro trees. Now it's more of a "sanctuary from civilization," as the resort calls it. On hikes along the jungle's sloping paths, you'll see remnants of the island's former residents, such as pieces of pre-Columbian pottery sticking out of the sand like seashells.
When owner Ben Loomis, the founder and president of Amble Resorts, purchased Isla Palenque in 2008, his Robinson Crusoe fantasy was brought to life. He called a hammock on the southwestern shore home for nearly five years. When the architect and designer wanted to develop lodging, he called Pfister, who had spent the past 25 years managing properties in Costa Rica, Nicaragua and Panama that "don't fit the typical hotel profile," Loomis says. "Otherwise Marriott or the Four Seasons would be managing them."
Pfister visited the island and thought, "This is the perfect canvas for us. The raw material is unbelievable, the island, the forests, the beaches—everything."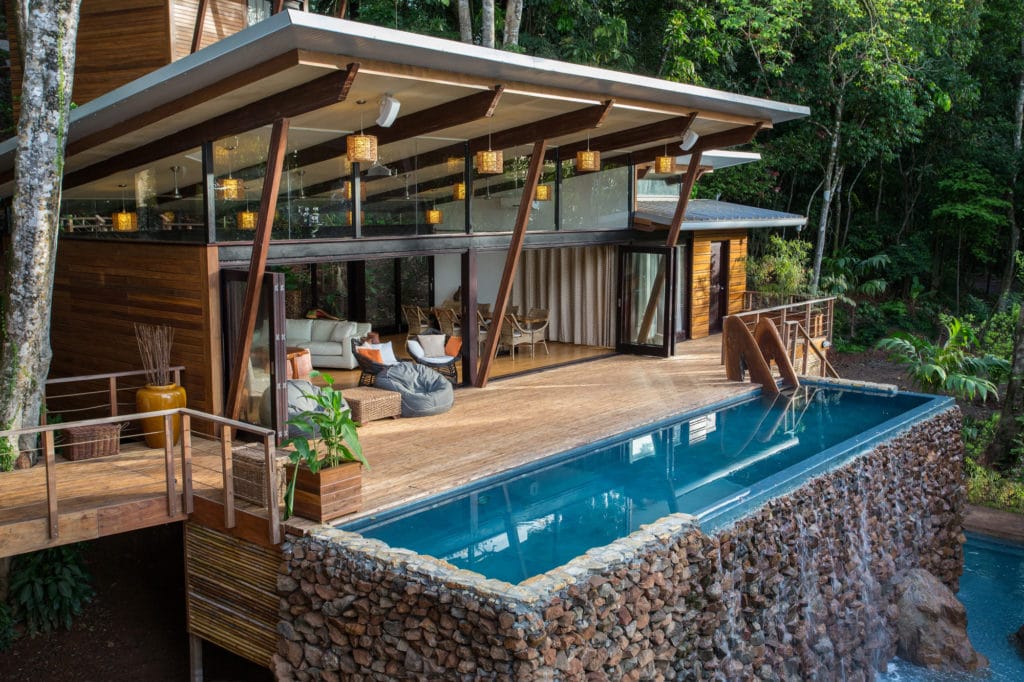 Loomis and Pfister spent a year and a half constructing the restaurant, eight beachfront bungalows and six villas, keeping materials as local as possible. The midcentury modern-style furniture was crafted onsite from fallen trees and driftwood. The casitas—which form a row from the restaurant along the island's largest beach, Playa Palenque—are bungalow in style, topped with A-frame-like thatched roofs made of local materials the offer "a sense of place and grounds it in Panama, on the island," Pfister says. The design creates an indoor-outdoor experience, with daybed hammocks and soaking tubs in the sand. Rooms are stocked with yoga mats and meditation cushions, as well as locally produced, lemon verbena- and coconut-infused amenities in refillable bottles (part of the island's ban on single-use plastics).
Yes, there's Wi-Fi and in-room iPads if you need to reach the front desk, but the emphasis is more on zoning out. That's the beauty of private islands. The volcanic, black-sand beach is a 50-foot stroll from the casitas, which are named after authors who penned novels inspired by islands (I stayed in "Golding," his Lord of the Flies sitting on the nightstand).
You wouldn't consider Isla Palenque luxury in the same sense as Sir Richard Branson's Necker Island in the British Virgin Islands or COMO Parrot Cay in Turks & Caicos. But it's just as much of a challenge to get to. From Fort Lauderdale, it's a three-hour flight to Panama City, where you'll hop a connecting flight to David in western Panama. Then, there's a one-hour drive through the Chiriquí province, which borders Costa Rica and the Pacific Ocean, which leads to the boat in Boca Chica. The journey winds through peaks and valleys, past mountain towns like Boquete, where some of the most expensive coffee in the world is grown in the steep hills surrounding Panama's tallest volcano, Barú. Finally, it's a 15-minute boat ride from Boca Chica to the resort.
Before the property opened a little over a year ago, "to have an exclusive or luxurious experience outside of Panama City was very difficult," Pfister explains. The brokers convinced Loomis that Panama was an easy market to break into for sustainable luxury, but the two men struggled last year to position rural Panama "as a boutique, luxury destination," Pfister says.
Part of the appeal, though, is that it feels as if it's your private island. Only 5% of Isla Palenque is developed. With seven secluded beaches—best reached by stand-up paddleboard or kayak—the chances you'll run into other guests is slim.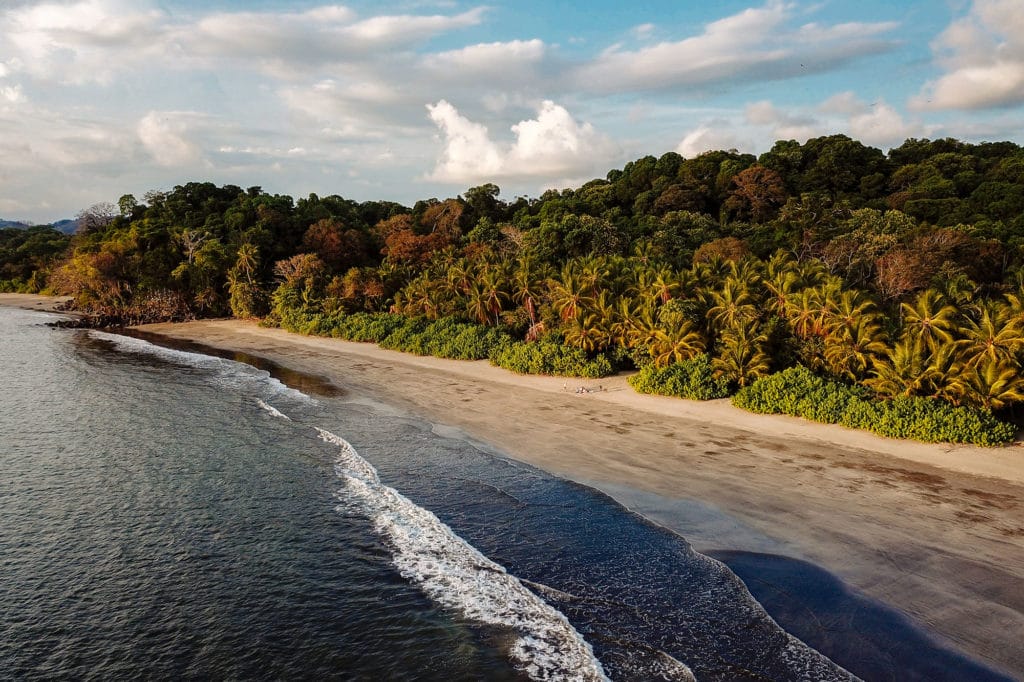 That evening, after we recovered from the whale incident and spent the rest of the afternoon snorkeling with sea turtles and parrotfish around the reef, we sat down for dinner at Las Rocas. A storm was slowly rolling in, rain forming background music along the fronds lining the restaurant's rooftop. For a small resort, the three-page menu is impressive. Seafood is fresh and sustainably sourced by fishermen in Boca Chica, paired alongside tropical fruit plucked from the island's orchard and seasoned with herbs foraged along rainforest trails. Wines are South American and papaya leaf stems act as straws for the rum-heavy cocktails.
These are the types of sustainable practices that have placed Isla Palenque among the National Geographic Unique Lodges of the World in its first year of operation. "When you travel, you create a footprint and you want to offset it, but you also create a hand print" through conservation and community development, Pfister says. "What we do is a passion job that makes you want to jump out of bed Monday morning."
And when you're waking up to the rolling waves outside your casita at Isla Palenque, that's exactly what you will want to do.  
This article originally appeared in the Winter 2019-2020 Issue.