BETTING THE FARM
By Charlie Crespo
Photography by Scott McIntyre
You've heard about the long lines. Perhaps you've even stood in one, watching it drift into the gravel parking lot, only to slowly snake around the building like a lazy river full of neon pink inner tubes. During the holidays and on Saturdays, you may have even waited for three or four hours.
"The original owners saw lines, but they didn't see lines like this," Thomas Blocher says.
Along with his wife, Susan, and in-laws Herb and Rachel Grafe, Blocher co-owns Knaus Berry Farm, a Homestead institution famous for its beloved cinnamon rolls. And if you think the wait is excessive, then you've never had a Knaus Berry Farm cinnamon roll. Pillowy and ethereal with hints of honey and almond, at first bite this cinnamon roll makes you forget about every second spent waiting under the South Florida sun.
Of course, the bakery—which also turns out homemade breads, cookies and pies—is just one aspect of the business. Russell Knaus founded the farm in 1954, just a few houses east of its current location. Two years later his brother, Ray (Susan and Rachel's father), joined the business. Today the farm produces and sells "U-pick" strawberries and tomatoes, as well as mint, basil, parsley, cilantro, spinach, cucumbers, red lettuce, bib lettuce, gourmet lettuce, yellow squash, beets, zucchini squash, green onions, radishes and arugula. While open from November through mid-April each year, the farm's peak produce season is January and February.
"The farm started, and it wasn't like there was this major business plan," Blocher says. "It started with strawberries and just kind of grew. We feel we are more caretakers than innovators."
If you asked its many loyal customers, they'd probably agree with that sentiment. In fact, locals would be hard-pressed to name much that's changed about Knaus Berry Farm at all, other than a new sign that was put up after a hurricane destroyed the previous one.
Behind the scenes and on social media, however, something is happening. Quietly and with little fanfare, 61-year-old Blocher and his team have been pushing the boundaries of the farm's traditions bit by bit—and helping local, young restaurateurs in the process.
A few years ago, a local forager came to Homestead, purchased produce and delivered it to several Miami restaurants. This put the ownership in contact with several local chefs and restaurant owners, including James Beard Award winner Michael Schwartz of Michael's Genuine Food & Drink, Harry's Pizzeria and Cypress Tavern. Daniel Ramirez, chef de cuisine of arry's Pizzeria, valued the produce so much that he collaborated with Blocher to highlight the farm's vegetables—and cinnamon rolls—on the pizzeria's menu for an entire weekend.
Slowly but surely, Knaus Berry Farm's produce and baked goods started to appear on other menus across the city. HipPOPs, a local food truck, created a cinnamon gelato after getting the idea from food blog Burger Beast, and Wynwood Brewing Company developed "Dunkerbuns," an American blonde ale infused with cinnamon rolls.
More recently, Blocher noticed newer restaurants on social media with whom Knaus Berry Farm had no prior relationship, like Miami Smokers, and decided to start reaching out.
"I was seeing Miami Smokers pop up a lot on Instagram, and I had seen an article on bacon cinnamon rolls," he says. "One day I just messaged them and said, 'I think your bacon would be good on our rolls.'"
The collaboration with Miami Smokers worked so well that Blocher reached out to The Salty Donut via Instagram. The owners and Executive Pastry Chef Max Santiago quickly jumped on board and created the sticky-bun doughnut. Knaus Berry Farm has also collaborated with Suzy Batlle of Azucar Ice Cream Co. to create a couple of flavors and Chef Phil Bryant of The Local Craft Food & Drink to host a "Sunday Supper" at Estancia Culinaria.
"We didn't know the monster we had created," says Andy Rodriguez, co-founder of The Salty Donut. "The first day, there were 500 people in line. The reception has been incredible. It's been an honor to work with Knaus Berry Farm."
For most companies, collaborations like these would be about increasing brand awareness or generating quality PR. However, it's more simple than that for Knaus Berry Farm.
"It's not important to me whether people know we are behind the collaborations," Blocher says. "I'm doing it because it's fun, and if I can use our brand to help somebody who is trying to build their business, then I am more than willing to do that."
If South Florida is lucky, Blocher will continue to come across young restaurateurs on the rise. But for now the region is going to have to take a wait-and-see approach.
"I like playing with my food," Blocher says. "And I like playing with other people's food. If the opportunity comes up for another collaboration, by all means, I'm willing to listen."
**************
JAM SESSIONS
By Bob Weinberg
Photography by Eduardo Schneider
To legions of jazz lovers, the vibraphone is a cherished instrument, one that launched legends Lionel Hampton and Milt Jackson, as well as successive generations of mallet-wielding practitioners. Outside of the jazz world, mention of the instrument frequently draws blank stares, or worse, confusion with its less-sophisticated cousin, the xylophone. So, vibes player and educator Drew Tucker started a campaign to elucidate audiences, even incorporating his message into his web address: Itsnotaxylophone.com.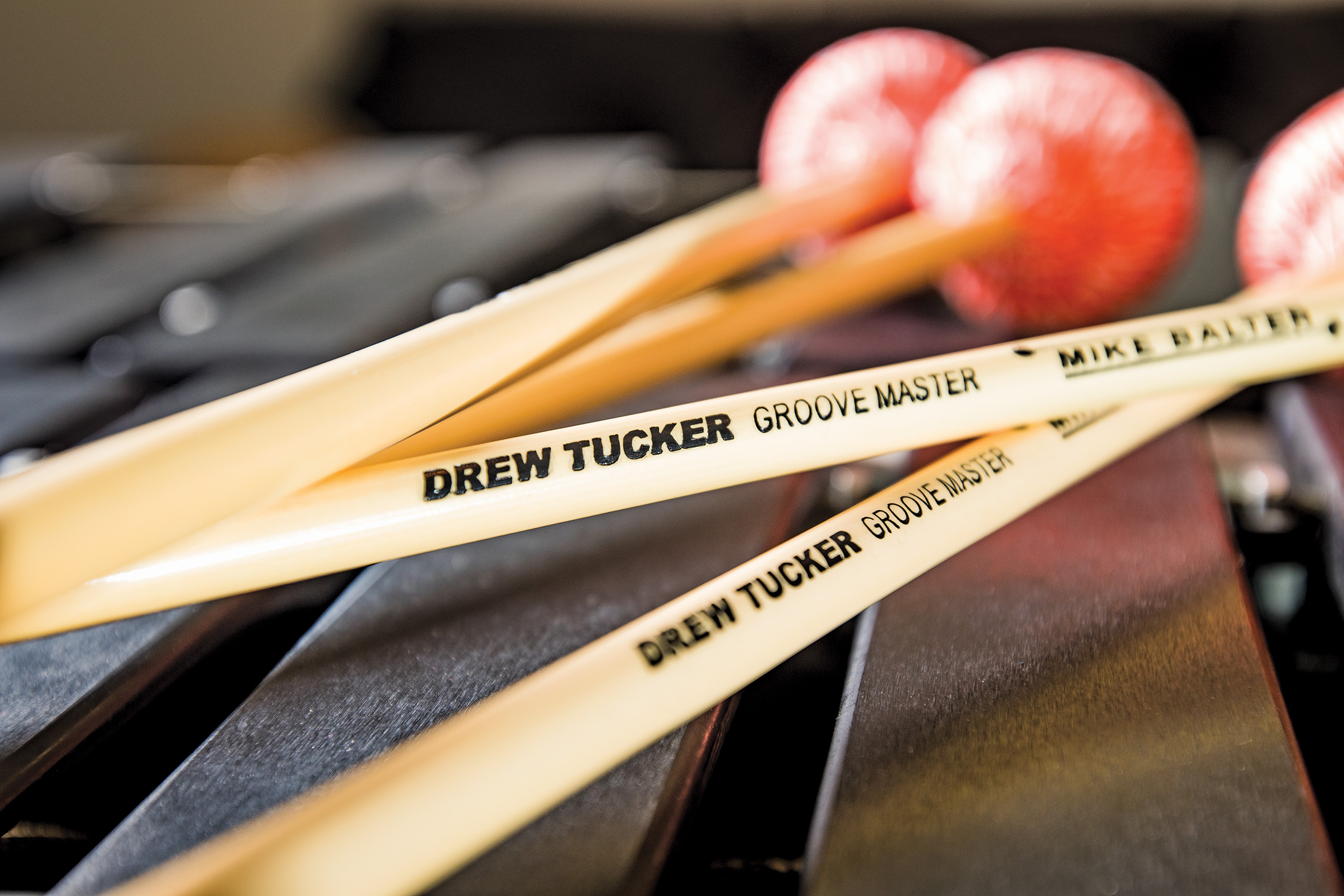 "I don't take my efforts in that too seriously," Tucker says, speaking from his West Palm Beach home. "I have nothing against the xylophone; it's just not what I'm playing."
With humor, charisma and jaw-dropping technique, Tucker, 36, continues to develop audiences in South Florida and beyond. The Plantation native, who also lived in Boca Raton and Delray Beach, played shows in New Orleans and Nashville in December and January. He has also lined up a release concert—April 8 at the Bowery Palm Beach—for an upcoming album with his band, The New Standard. The group plays jazzy versions of tunes by Michael Jackson, Prince, Tears for Fears and The Police, representing perhaps a new generation of jazz standards.
"It's the stuff I grew up with," Tucker says. "Culturally, I didn't grow up with Sinatra, or Rodgers and Hart or Cole Porter. Those are other people's standards."
As with his efforts to educate audiences about the vibraphone, the concept behind The New Standard stems from a desire to reach as many people as possible.
"There are two aspects of Drew," says Tucker's friend and collaborator Mani Hoffman, a French-born, South Florida-based soul singer and producer. "There's the very skilled jazz musician who can really do it all in a jam session. But there's also this pop aspect of his personality that really brings something out in the people he speaks to. Sometimes you see jazz musicians, and they're very tormented and not good at speaking in public… But not this guy."
Hoffman, who has written music for the "Transporter" movie franchise and scored top 10 hits in Europe, lent his expertise to Tucker's The New Standards recording. "Mani just has an ear for pop music," Tucker says. "I don't let anything get out of mixing without running it through him. He knows what's going to play on the radio. He knows what's going to sound good."
In 2015 the pair displayed their simpatico sensibilities for an episode of online music show "BalconyTV Miami." Assembled on a seaside deck outside Benny's on the Beach in Lake Worth, their Freedom in the Groove band performed "Change My World," a sunny soul-jazz gem shot through with Tucker's sparkling vibes. While it sounds as if they had been performing the tune for years, Tucker and Hoffman had written it in a couple of hours the day before the taping.
"I think it's part of who he is and who I am and why we connected," Hoffman says. "We love to create. We love the moment of creation because this is when you feel the freest."
Tucker's vibes "awakening" came when a teacher introduced him to Gary Burton and Chick Corea's classic 1972 recording "Crystal Silence." As a student at Olympic Heights High School in Boca Raton in the 1990s and a member of the school's jazz band, Tucker took percussion lessons with recording artist Jed Davis.
"He was a really big jazz head," Tucker says. "He would let me hear all this stuff, including 'Crystal Silence,' and I fell in love with it. The moment I heard that sound of the piano and vibraphone together, I was hooked."
Thus inspired, a 15-year-old Tucker teamed up with an accomplished classmate, pianist and vocalist Nicholas Cole. The duo played jazz standards and Sinatra tunes wherever they could get a foot in the door, usually neighborhood coffee shops and restaurants. Tucker's dad drove him to gigs and jam sessions. He sat in with organist Dr. Lonnie Smith at O'Hara's Jazz Cafe in Fort Lauderdale and befriended vocalist Julie Davis and guitarist Kelly Dow, a duo who later played at his wedding. He also counts the Grammy Award-winning Burton, who lives in Wilton Manors, as a friend and mentor.
"It's surreal to me that I can call Gary and go have coffee with him," Tucker says.
In fact, Tucker briefly attended Berklee College of Music in Boston, where Burton enjoyed a long tenure. Unfortunately, tuition proved prohibitive. Tucker returned to South Florida before departing for Europe, where he played classical music on the marimba throughout Belgium, France and Germany. Finally, after four years, he returned to the U.S. and followed another calling. For the past 12 years, Tucker has taught percussion at Boca Raton High School.
"We have a great time," he says. "I've got 35 percussion kids all playing marimba and vibraphone and doing some pretty cool stuff." He also has two daughters—a 12-year-old and a 3-year-old who loves to come to class with her dad.
Tucker also served as education director for the Arts Garage, a Delray Beach-based nonprofit performance space, gallery and arts center he helped found in 2011.
While jazz remains one of his passions, he doesn't see himself as a new face of the music here in South Florida.
"Obviously we have jazz influence," Tucker says of The New Standard band. "But at the end of the day, we're playing pop music. We're playing hip-hop, we're playing funk, as references to tunes that are recognizable to people. 'Oh, that's THAT tune! How cool is that?'"
Mani Hoffman: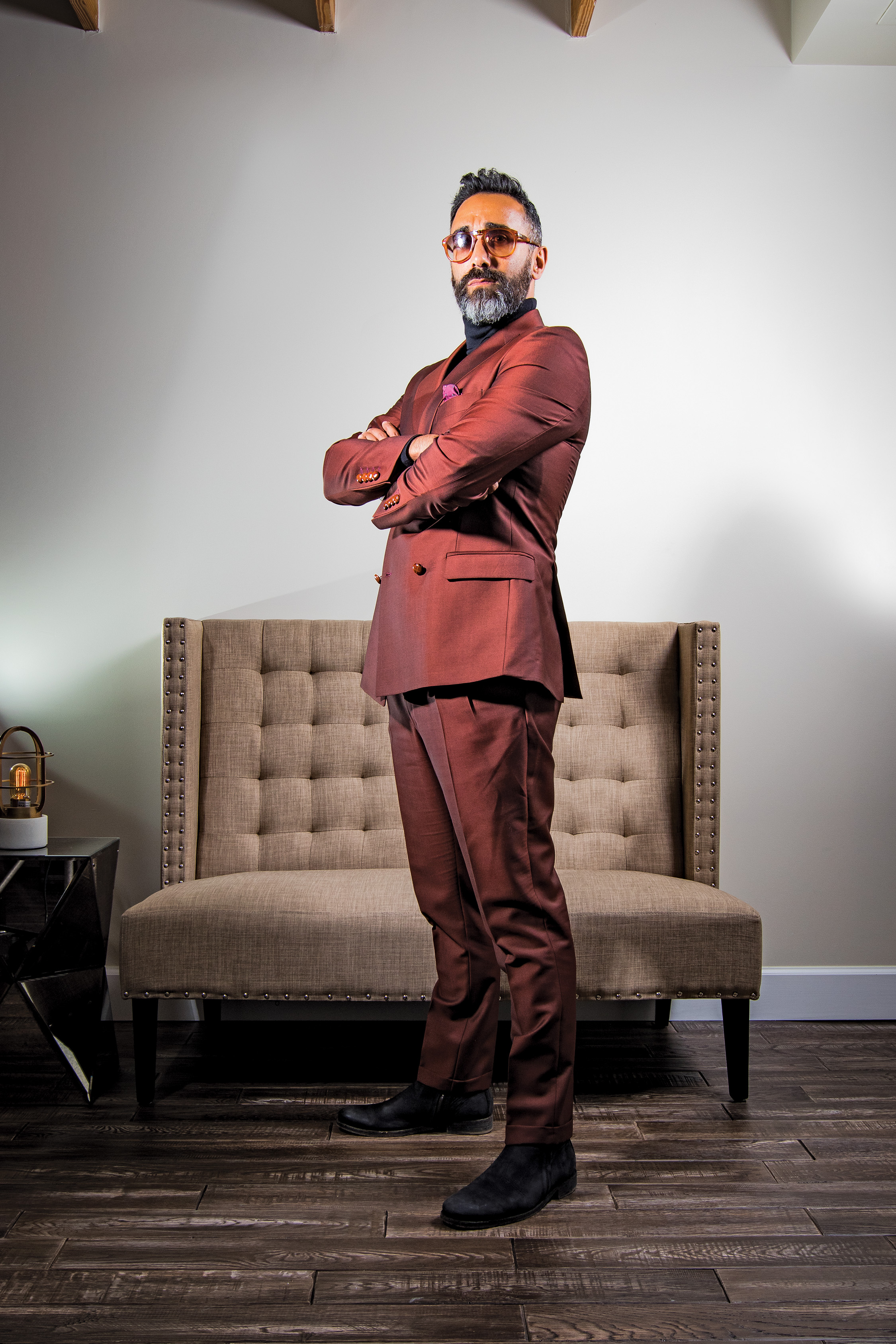 All-time favorite soul singers: Donny Hathaway, Stevie Wonder and Sam Cooke
How you know he loves Sam Cooke: A 2014 YouTube video exists of Hoffman singing "A Change is Gonna Come" while holding his baby daughter
Favorite current soul singer: Gregory Porter Grew up in: Paris, to a family of Jewish-Algerian refugees
Married to: Sarah Miller Benichou, director of Bailey Contemporary Arts in Pompano Beach Has hits with: The Supermen Lovers (2001's "Starlight") and Jealousy (2005's "Lucy")
Biggest hit: 2012's "Bang Bang," a Top 10 hit in France, Belgium, Switzerland and Japan On relocating to New Orleans this summer: "It should be interesting, because it's my French culture mixed with the American culture I love so much."
Favorite all-time vibraphonists: Milt Jackson and Gary Burton
Favorite current vibraphonist: Stefon Harris
First instrument: Piano, at age 4
Next instrument: Drums, in middle school Reason he switched to vibes: "I like playing notes. I like the sound [of vibes]. It's this rare thing. You get the percussive aspect of it mixed with these really rich harmonies and melodies."
First person he sat in with: Organist and NEA Jazz Master Dr. Lonnie Smith, at O'Hara's in Fort Lauderdale. "It was a Sunday brunch, and I asked him if I could sit in. He said, 'What do you play?' And I was like, 'Vibraphone.' And he goes skeptically, 'Yeah, all right, kid, if you have a vibraphone with you.' And I said, 'OK,' and I just went out to the car and got it."
**************
A POET AMONG US
By Elyssa Goodman
Photography by Scott McIntyre
By day, Marci Calabretta Cancio-Bello is the program coordinator for the Miami Book Fair. That's not to be confused with her other day job as an award-winning poet penning her second book.
Cancio-Bello's first book, Hour of the Ox, is a loose narrative revolving around a Korean family and their experiences with immigration, cultural expectation and family responsibility alongside their feelings of wanderlust, distance and grief. When it debuted in 2016, Cancio-Bello juggled her work as program coordinator of the legendary South Florida literature event with her other role as a highlighted author reading her book at the fair.
"We're a very small and tight-knit team," Cancio-Bello says. "Half my team stopped what they were doing to show support by coming to my reading."
Cancio-Bello, 27, also saw many teachers she had worked with in her role as program coordinator suddenly picking up her book, hoping to run into her at the fair. "They were surprised I had time to write," she says of her dual role. "I think there's an assumption that you're only allowed to be one thing; that you're only allowed to have one career. I think people forget every person is extraordinary."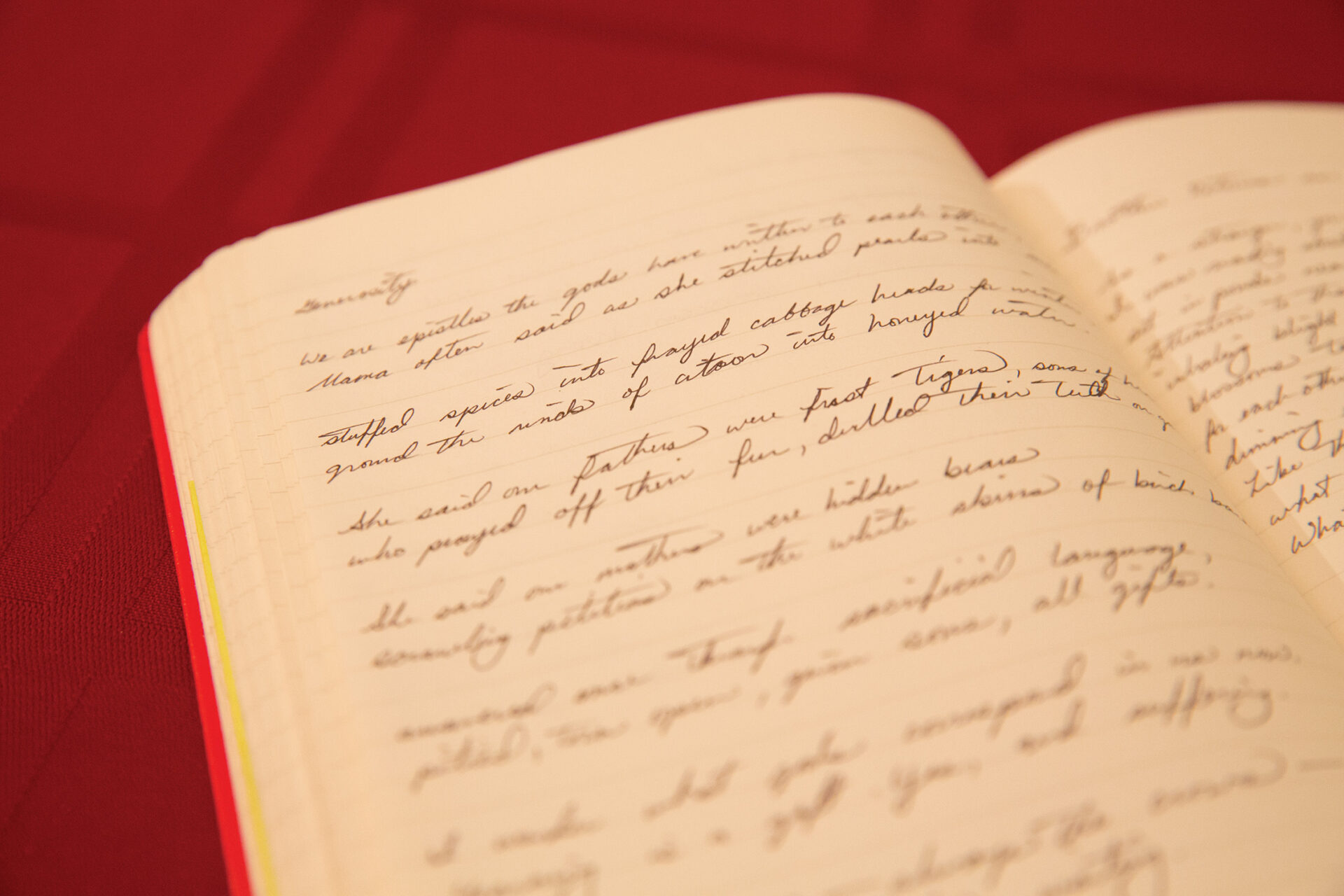 Extraordinary, indeed. Cancio-Bello's accolades as a young poet include the 2015 Donald Hall Prize for Poetry awarded by the Association of Writers & Writing Programs, which resulted in the publication of Hour of the Ox by the University of Pittsburgh Press. Esteemed poet and Bates College professor Crystal Ann Williams, who served as the Hall prize judge, hailed the book as "a timeless collection written by a poet of exceptional talent and grace, a voice as tough as it is tender."
Cancio-Bello has also been honored by a Kundiman Asian American Poetry Fellowship and a John S. and James L. Knight Fellowship, along with two prizes from the Academy of American Poets. In addition to these achievements, she is an adjunct lecturer at Florida International University, where she has taught introductory and senior-level undergraduate courses.
When people learn about her other life as a poet, oftentimes they'll tell her they write poems as well and will recite them to her. "It shows how very alive literature is and how very alive language is," she says. "You don't have to sell your art for thousands of dollars to be an artist. If it makes you happy, do it."
Cancio-Bello has perpetually made herself a student of poetry even after getting her MFA, hoping all the intricacies of the craft find usage beyond "weddings and funerals and Christmastime," she says. One of her goals is to help change the perception of the art form. "Poetry's kind of the underdog," she says. "When people say they don't like poetry, I say, 'Try me! Let's figure out what kind of poetry you might like.' I think poetry is much more deeply embedded in people's consciousness than they think."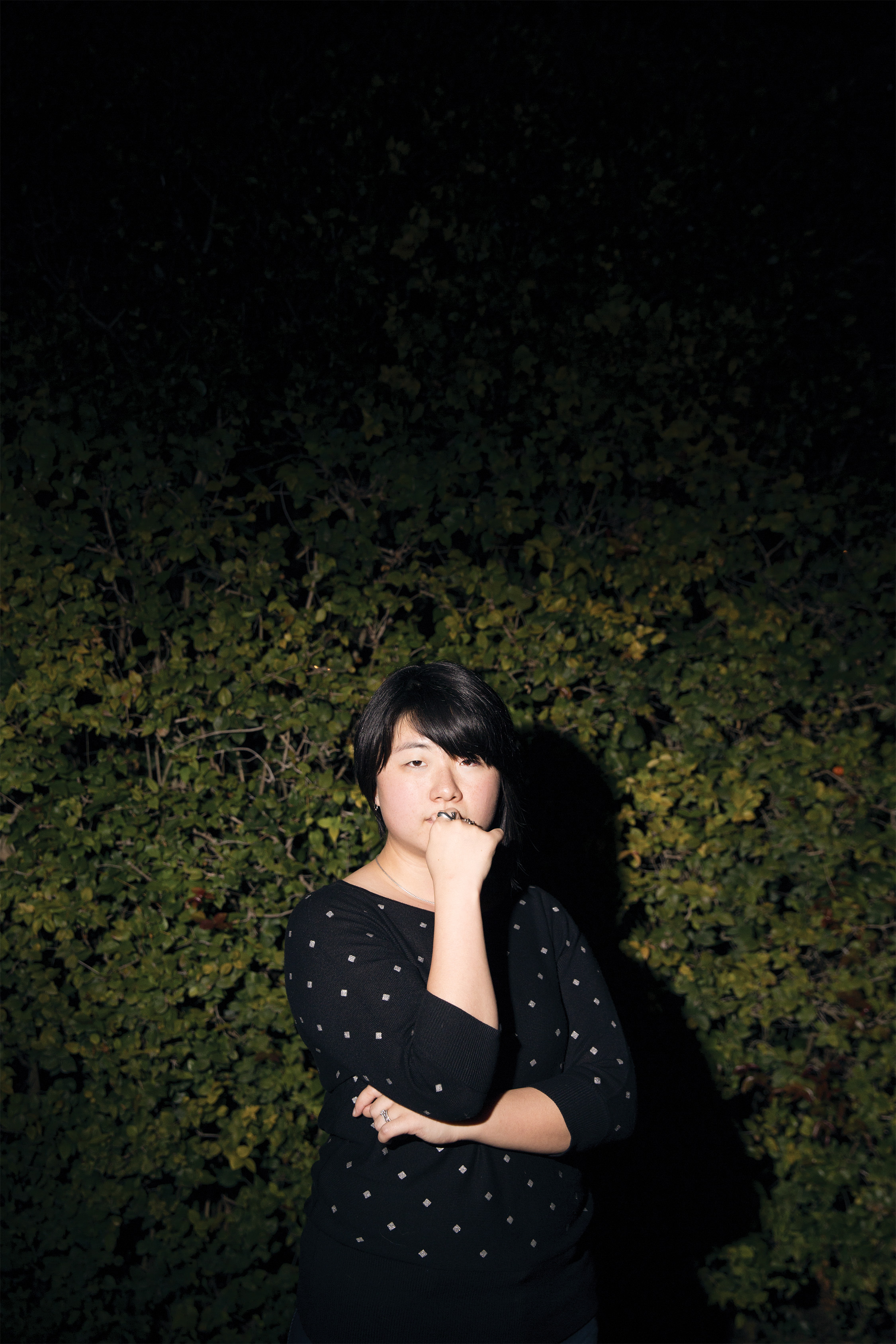 "From the Dictionary of Obscure Sorrows" 
We were told our bones were too heavy to lift
even when latticed together with feathers.
You stopped eating and learned to scowl
while I folded birds into paper and flung them
across yards already littered with light.
You read how hummingbirds tuck themselves
into the plumage of northern geese,
so I held you against my breast
as we fell from the darkest pines.
Each night you dreamed of crooked trees,
thin seams tearing apart in the sky.
You found a word in the dictionary
of obscure sorrows upon which to hang
our failures—
                                  mahpiohanzia:
the disappointment of being unable
to catch wind currents in your arms.
Together we chanted the syllables, as if
each vowel could bear the weight of the living.
Originally appeared in the Spring 2017 issue.