By Michelle Payer
If art is about intuition and intuition is a cornerstone of art, then Nick Korniloff, director of Palm Beach Modern + Contemporary Art, had a sixth sense about the fifth annual Art Fair. Last year's unplanned pandemic hiatus gave Korniloff more time to strategize and plot a new location, and, having produced various Palm Beach expositions for the past 20 years, he recognized an opportunity. With an expanded, well-heeled audience freshly decamped from the Northeast and West Coast, Korniloff and his parent company, Informa Market, aligned the Fair dates with their sister event, the Palm Beach International Boat Show. This year, both sail into town March 24-27.
"There's a tremendous crossover between yacht ownership and the art world, plus residents live here throughout the year who understand and appreciate culture," says Korniloff. "It was perfect timing to put together a week of social and cultural activity surrounding the Art Fair and engage with the yacht audience."
All those newly arrived denizens have abodes that need beautifying. "The influx of new corporate residents and growth in luxury real estate means people have been anxiously waiting to decorate their homes," says Korniloff, who anticipates robust art sales this year. Discerning buyers will have much to choose from in the new, larger 100,000 square-foot Palm Beach County Convention Center, where close to 90 galleries from nine countries and 20 cities will participate. South Florida mainstays include Galeries Bartoux, Opera Gallery and New River Fine Art, which is showing new works by Andrew Cotton. Other notable galleries include Marlborough and Berry Campbell (New York City), Archeus/Post-Modern and Michael Goedhuis (London), Art of the World (Houston), Maddox Gallery (Los Angeles), Miriam Shiell Fine Art Ltd. (Toronto) and Long-Sharp (Indianapolis).
The Fair touts that never-before-exhibited works will be unveiled from artists including Manolo Valdés, Jesús Rafael Soto, Carlos Cruz-Diez, Banksy, Roy Lichtenstein, Udo Nöger, Tony Cragg, Pablo Picasso and pieces from the Andy Warhol estate.  The March 24 VIP preview benefits the Ann Norton Sculpture Gardens, showcasing Patrick Hurst's physics-defying spheres, Julian Wild's geometric abstractions, Tarik Currimbhoy's kinetic forms and Jason Myers' towering figures, on display through June 30. Israeli luxury jewelry brand Yvel is again sponsoring the Fair and introducing its artisan-crafted 2022 "Art to Wear" collection that sets precious gems in 18k gold. Palm Beach Modern + Contemporary is entirely digital, with tickets, VIP credentials and more information available at artpbfair.com
The New Gallerists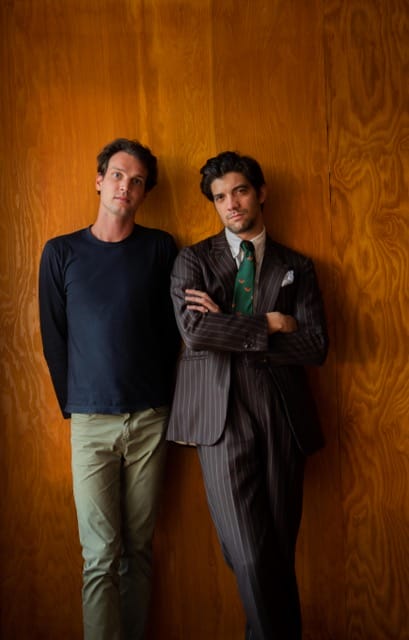 Korniloff notes, "we have some great galleries around the globe that have taken space on Worth Avenue right now." With that in mind, it's worth the short jaunt to experience the limited-engagement "Karen Kilimnik/Stephanie Seymour" exhibition curated by longtime Palm Beach winter denizens Dylan Brant and Stéphane Timonier at the Brant-Timonier showroom. Eleven haute couture dresses from 1980s/90s supermodel Stephanie Seymour's vast, personal collection of 158 priceless designer frocks (housed in her Connecticut dressing room) are skillfully suffused in conversation with contemporary American artist Karen Kilimnik's master paintings. It's a riveting and unprecedented dialogue between art and rare, mostly early 20th century dresses from designers including Azzedine Alaïa, Christian Dior, Cristóbal Balenciaga, Yves Saint Laurent, André Courrèges and Mariano Fortuny.
Brant, Seymour's eldest son, conceived the exhibition after cataloging the supermodel's priceless dress collection into a digital archive a few years ago. Last year, the Brant/Timonier duo discussed upcoming exhibitions for their new-ish Worth Avenue showroom (it opened December 2020) and the idea stuck. "Kilimnik is immensely talented and wildly important and there hadn't been a survey of her strongest pieces," Brant says. "We felt that there wouldn't be enough of a draw for her at the prospect of working with two young guys, particularly in Palm Beach," which is when he connected the dots to his mother's museum-quality collection. "Given that Kilimnik's work is more installation-based, centered around atmosphere and sculpture, we thought adding dresses would be enticing."
Brant convinced Seymour to present her private collection (to which the Metropolitan Museum of Art was denied access), then rang her friend Kilimnik, who liked the idea. The three spent arduous months pouring over dresses that would speak the same language as the paintings. "My mother's [dress choices] were a lot grander, but as the paintings began to be selected, the dresses that ended up in the show were dictated by the personality of the paintings. It had to be a conversation; it couldn't feel like a boutique," says Brant.  Seymour flew in with dresses she packed in custom boxes and lay on the floor to pin them over her specially selected mannequins.
"The dresses coalesce with the paintings and vice versa for a conversation between an extraordinary painter and an extraordinary collector," says Timonier about the exhibition, in which most of the paintings are on loan, though some are for sale. "Dresses are immediately associated with fashion but not with fine art, which they very much are; they're cutting edge for the time," says Timonier when recounting the sewing patterns and techniques represented in a 1907 Mariano Fortuny dress.
"We created vignettes and links between the dresses and paintings; Kilimnik's Tabitha, painted in 1995 of a young girl with a dead rabbit, is placed across from a [1958-1960] Yves Saint Laurent by Christian Dior maternity dress," he says of the dress Seymour wore when pregnant with son Harry. A Kilimnik painting entitled Harry hangs across from it.  "We pull the viewer into a show that's rewarding on the first viewing and even more on the second and third when these tendrils become increasingly clear."
The exhibition runs through March 25, 2022 at Brant-Timonier showroom, 205 Worth Avenue, Suite 208, Palm Beach, open by appointment Tuesday through Sunday from 11 a.m. to 5 p.m.
Instagram @Brant_Timonier brant-timonier.com