By Rebecca Taranto | Photography by Jason Nuttle
If you've spent any time on or along the New River in Fort Lauderdale, chances are you've seen them. And if you're a local, you probably know them. Plugging back and forth along the river, maneuvering superyachts from the Dania Cut-Off Canal to Safe Harbor Lauderdale Marine Center, the tugs of Steel Marine Towing & Salvage are as recognizable as the Water Taxi.
"Hello, Steel Towing." It's 11:13 a.m. on a Wednesday, and Jim Steel's phone hasn't stopped ringing. He greets the caller like an old friend. "What time do you need? 1:30?" He checks the day's calendar. With his free hand he taps the throttle in reverse and spins the wheel with two fingers, backing his tugboat under a giant, gleaming bow. 
"Yep, no problem, Dave. See you then." With the tug idling mere inches—centimeters even—from the yacht's hull, Steel steps to the aft deck of The Kimberly, greets the crew above and passes a tow line through the portside hawsehole of the 98-foot yacht. Simultaneously communicating through a VHF radio to his second tug at the yacht's stern, Steel wraps the port and starboard bow lines securely around the tug's winches, gives a thumbs-up to the crew on the docks, and draws the yacht from the Syncrolift's ship lifting system.
Marina maneuvers like this one—in which a yacht has been returned to the water after being hauled out for repair or maintenance—is a large part of Steel's business, he explains as he radios with Weston, the captain of the stern tug. A few adjustments to the tow lines position the yacht in her new berth and, with a wave to the crew, Weston brings his tug, The Cathy, around to tie up behind The Kimberly, hops onboard, and the duo heads east on the New River to their next job.
A third-generation Florida native, Steel began towing sailboats out of the Hillsboro Inlet with his father, who owned an independent towing company, at age 12. Weekends and summers were spent towing boats and yachts on the river until it was time to go to college, at which point Steel stepped ashore to pursue a degree in criminology at the University of Florida. He joined the police academy after graduating and became a police officer in Gainesville. He then worked for a short time in law enforcement in the Upper Keys before returning to Fort Lauderdale. 
Steel says he had no intention of getting back into the towing business, but in the early 2000s the yachting industry in the United States was booming, and more and more large boats were making their way to Fort Lauderdale. There was talk of dredging the New River in certain spots to make way for the larger yachts with larger drafts. Refit and repair facilities like Bradford Marine, Roscioli Yachting Center and, later, Safe Harbor Lauderdale Marine Center were gearing up to accommodate the bigger, beamier vessels. Towing and salvage companies like Sea Tow and TowBoat U.S. were busy juggling their smaller boat patrons, leaving ample room for a yacht-focused towing company. Steel founded Steel Marine Towing & Salvage in 2006. 
Steel already had a strong foothold on the water, given the experience he gained during his teen years, but he knew that working with yacht captains, owners and crew and maneuvering multi-million-dollar assets would require establishing great relationships and a deep level of trust in his services. "I started out buying rounds of drinks for yacht crews at Waxy's Irish Pub," he laughs. Like any good business in the yachting industry, Steel's operation grew by reputation and referrals. 
Now with a fleet of eight tugboats—each named after either Steel's wife, one of their children or other family members—operating from Palm Beach to Miami, Jim's operation remains intentionally uncomplicated. "We don't have an office," he says, holding up his cell phone. "It's all right here."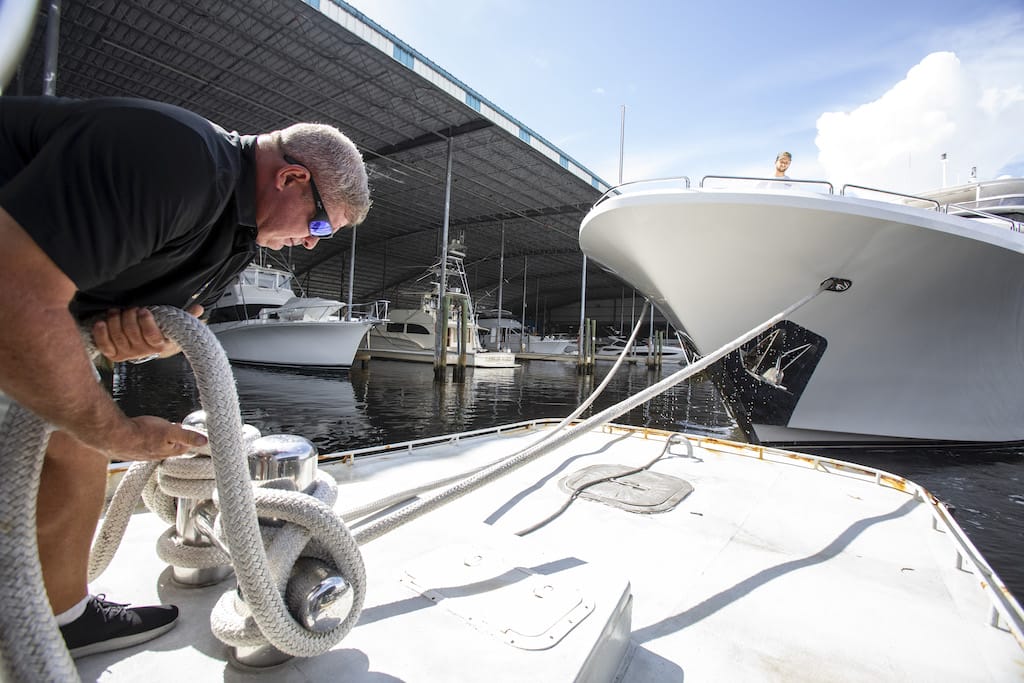 When you call Steel Marine, it's Jim who answers. His wife, Kim, runs the accounts. A strong work ethic and a shared online calendar keeps the days on track for his team of six full-time and two part-time captains, but flexibility is all part of the job. With a business that offers round-the-clock, 24/7 service, Steel schedules according to the tides, which will determine whether the best time to move a 164-foot yacht is at 2 a.m. or 10 a.m.
As bigger yachts continue to make their way to Florida for refit and repair work or for the annual boat shows in Palm Beach, Fort Lauderdale and Miami, Steel's phone rarely ceases to ring. Specializing in 100-foot-plus yachts, he's deservedly gained the trust and reputation as the preferred superyacht tow operator in the southeast. "Sure, we'll tow you if you're in a pinch," Steel says of some of his smaller jobs, but when the big guys, like the 315-foot VaVa II, the 223-foot Aviva or the 296-foot Phoenix 2 call in, they trust Jim and his team.
"From a captain's standpoint, Steel Towing has a squeaky-clean record, which is a big deal," says Jesse Clinton, captain of the 151-foot Delta motor yacht Avalon. "Their skills are 10 out of 10; they deliver every time, on time; they are never late. On top of that, they are all nice guys. Jim has created a very polished outfit in what can be a stressful environment."
"We want our days to be boring," Steel says as he passes the tow line to the crew of a 120-foot yacht. The owner is onboard, and the tension is high. Steel and Weston expertly position the yacht alongside her dock at Bahia Mar and the owner steps off, clearly impressed. He summons Steel. "Same time tomorrow?" Steel checks his phone and makes a note. "No problem, sir. We'll see you then."