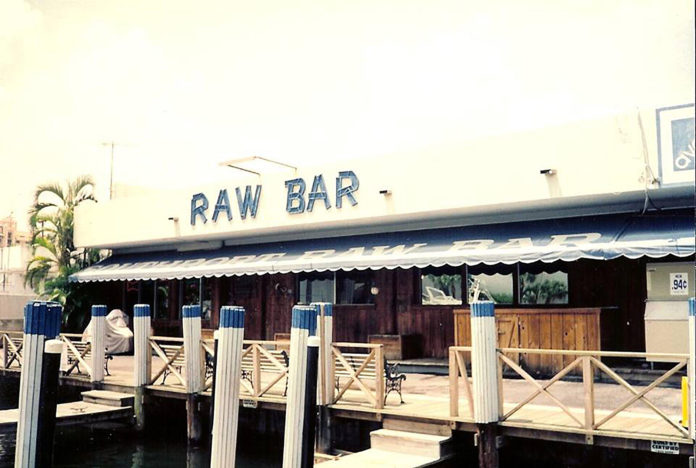 By Larry Schwingel
Lore has it that after a few rounds of beer, actor Johnny Weissmuller—known for playing Tarzan—would bellow his famous call of the jungle to the delight of patrons at the beloved Southport Raw Bar.
Founded in 1973, the waterside eatery has been a favored destination for locals and visitors (and the occasional celebrity, including Paul Newman and George Segal) looking for everything from Old Bay shrimp to Bimini bread. In the early 1970s, it was an intimate beer and wine raw bar owned by Ted Twist. When he decided to sell, two neophyte restaurateurs, Carmine Ferrante and Mickey Kirtman, jumped at the opportunity.
"They saw the potential to make this a special place because back then the area was an undeveloped beach town," says Buddy Sherman, who began his tenure at Southport Raw Bar as a busboy in 1979 and currently co-owns the restaurant with Patrick Ferrante, son of the original owner, and Jack Morrison, the restaurant's first manager.
In 1998, leadership in the business changed. Carmine Ferrante bought his partner out and used the remaining 50 percent to retain Patrick Ferrante, Sherman and Morrison. At the time, the Cordova Building, as it was originally known, had three bays dividing offices. As the restaurant expanded, the walls came down and eventually the space morphed into the restaurant people enjoy today. "We went from a hole-in-the-wall to an iconic restaurant that spans generations," Sherman says.
A focal point of Southport Raw Bar is its dockside patio deck, which was built in 1998 and instantly became a patron favorite. But the restaurant's interior is also distinctive, from its wooden décor and murals of fishermen to a "Row of Honor" featuring caricatures by an artist known only as Cal. The hand-drawn portraits bear the names of past and present employees: Pattie, Becky, Kay, Nancy, Joyce, Angie, Gene, Charlie, Barry, Buddy, Jack, Pam, Chris, Pat—and previous owners Mickey and Carmine. "They made the restaurant business their career," Sherman says. "That wall is a tribute to them."
The multicolored ceiling tiles, hand­-painted by local artist Patty Puckett McConnell, also serve as a tribute, commemorating birthdays, anniversaries, births and even lost loved ones. "Southport is more than a restaurant; it's a special home to a lot of memories," Sherman says. "It shows how connected we are to the community."