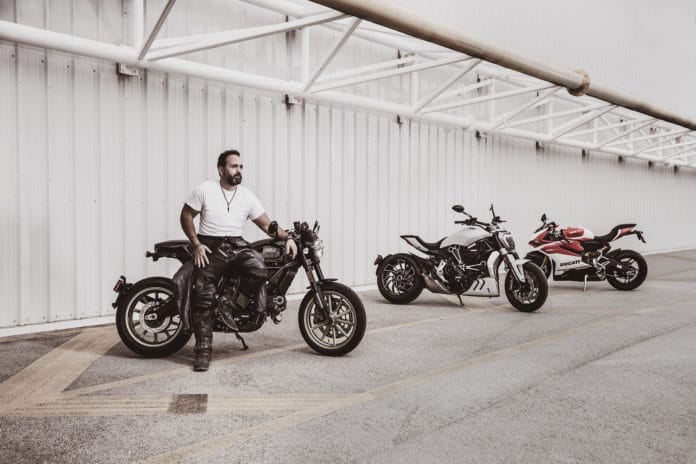 By Ronald Ahrens
Photography by George Kamper
Styled by Danny Santiago
Instagram got Teddy Morse into trouble. It seems he was looking at certain alluring posts about café racers—those low-slung, smirking, scantily clad motorcycles that sprang forth from London in the 1950s. Inevitably, having ventured to the edge, Morse toppled. He came home with a black-and-gold 2018 Ducati Scrambler Café Racer, proving himself a "lay-down" buyer by paying the asking price of $11,695 plus taxes and fees. "I'll pay sticker price because I can appreciate what they go through," says Morse, 43, the third-generation leader of the Ed Morse Automotive Group.
When his wife, Erica, had the couple's first child in 2012, Morse sold the bruiser he'd been riding: a Harley-Davidson Sportster 1200. "Ever since I got rid of it, I always had that feeling inside," he says. "I love being on a motorcycle."
Stripped down and snarling, café racers were born of a strong do-it-yourself practice; however, with 900 employees at 15 dealerships from Riviera Beach to Port Richey, Morse says he lacks the "time or skill to build a bike of my own." Into the breach with a from-the-factory café racer steps Ducati, the revered Italian brand that came to life between World War I and World War II. Four years ago, Ducati launched the Scrambler sub-brand, revealing four variants at the 2014 Intermot show in Cologne, Germany. The objective was a lightweight, retro-style roadster delivering simmering performance for new and returning riders. The range has expanded to include the Café Racer and seven other derivatives. "I got this bike based on the look and how I feel when I'm riding it," Morse says.
"To be in the moment—I have that when I'm playing with my daughters. Whether it's going on a trip, being with your family, riding the motorcycle… The thing is to recognize the moment." —Teddy Morse
The Scrambler name harks back to the overland scrambles racing that became popular in the 1960s. Modifications made the bikes more rugged. Top brands of the day offered showroom "scrambler" models just as movies offered Gina Lollobrigida and Sophia Loren or their knockoffs. Ducati reprised the Scrambler, supporting it with a full line of accessories and apparel.
The Ducati factory is from Borgo Panigale, a stern and gritty part of Bologna, Italy. Guglielmo Marconi, the first to send radio signals across the Atlantic, also came from Bologna, and his example inspired the three Ducati brothers to first manufacture radio parts and then their own radio sets. They also made electric shavers, machines, film projectors and more.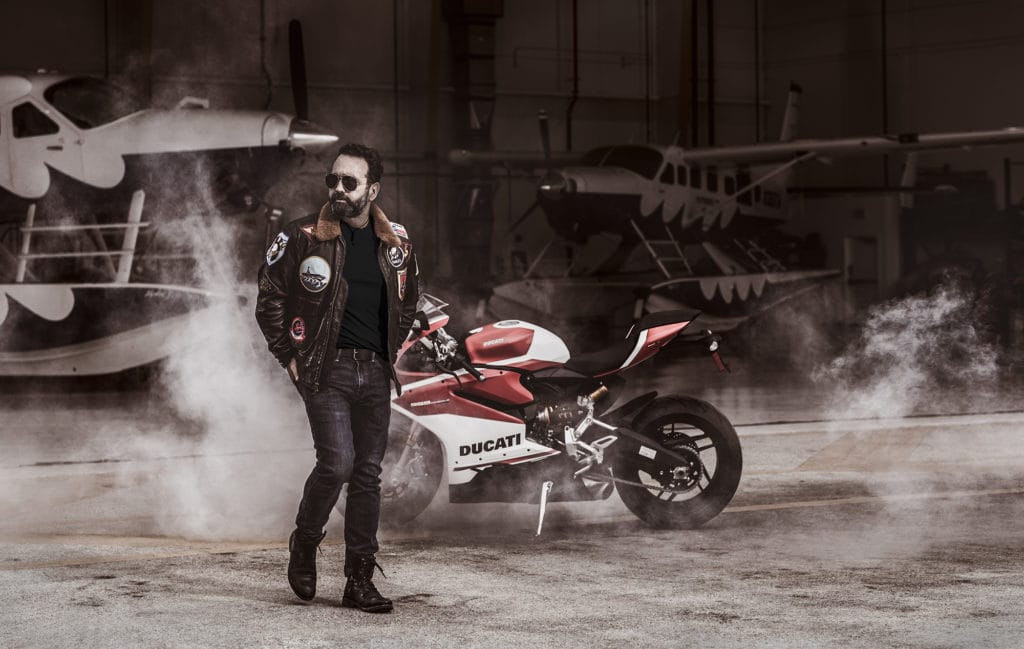 Rebuilding their bombed factory after World War II, the Ducati brothers foresaw the need for innovative and stylish motorbikes. They adopted and stuck to a unique engine-design principle that even today gives the bikes high performance with a virile sound. And sleek Ducatis have always been nimble through traffic and in the corners, whether on road or track.
In the 1950s, the Ducati name gained renown from racing exploits. By the following decade in the U.S., being neither cheap nor well supported with marketing efforts, Ducatis were seen as the exotic two-wheeled equivalents of Ferraris. Volkswagen Group's Audi division purchased Ducati in 2012 and lavished support on product development and juiced up the marketing. Current Ducati street bikes—the Diavel cruiser, ultra-maneuverable Hypermotard, all-purpose Monster, versatile Multistrada, and SuperSport and Panigale sport bikes—as well as the Scrambler lineup prove the rightness of the company's thinking.
Events in Bologna have benefited Morse. Thrusting forward from the scooped single-seat, he checks the rearview mirrors clipped to the short handlebar. "The years of me trying to pop wheelies on bikes… I'm not that guy anymore," he says. Launching from a standstill and shifting up through the six gears, he experiences just a tingle of vibration in the engine's middle ranges. His aggressive riding position enhances the alertness that's a key part of motorcycling. Guidance comes from the Scrambler Café Racer's old-fashioned round headlamp equipped with today's LED technology. The 10-spoke alloy wheels are golden blurs; gold accent striping on the tank is just about the only static ornamentation; there's no gaudy chrome. (To see a comparable design aesthetic, look at this season's Salvatore Ferragamo hammered-calfskin ankle boot with crossed straps and a lone buckle.) Just for fun, the number plate on each flank carries "54" in tribute to retired racer Bruno Spaggiari.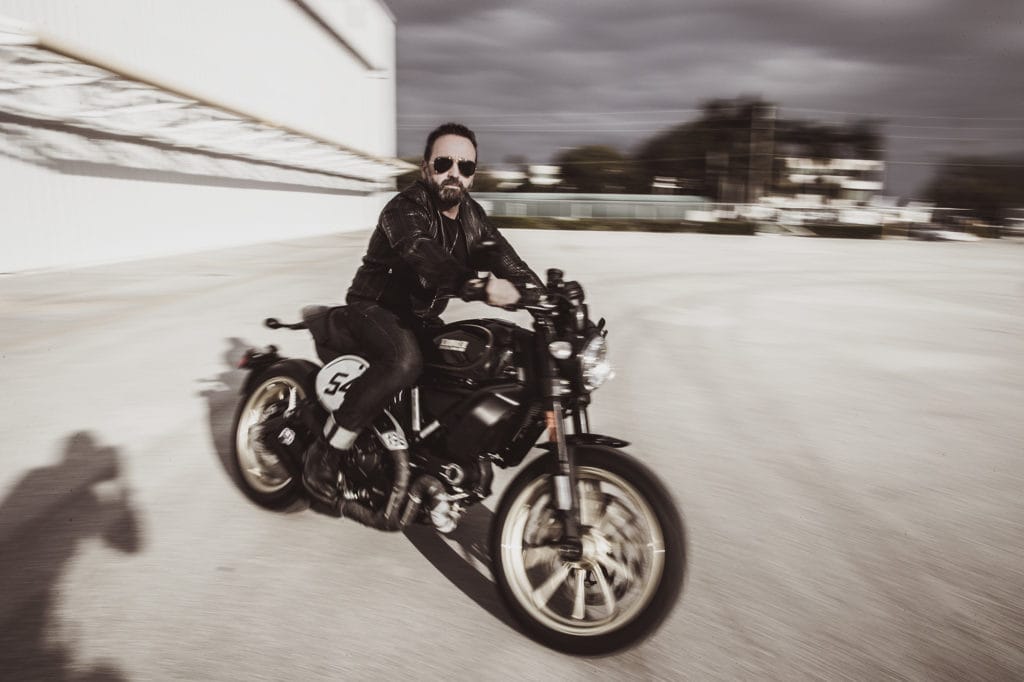 The Scrambler Café Racer leaves Morse feeling rectified and awakened. The best moments are going down A1A. "But I'm talking late when there's no traffic," he says. "You try to do that during the day, and it's a nightmare. There's a point where you get up over the 17th Street Causeway Bridge—it looks over Port Everglades and the cruise ships, and you have the iconic Pier Sixty-Six Hotel right there." His native Fort Lauderdale soul stirs. "To be in the moment—I have that when I'm playing with my daughters. Whether it's going on a trip, being with your family, riding the motorcycle… The thing is to recognize the moment."
As it turns out, Morse has added another regular stop in his online browsing. Given his avowals of sanity and caution, the irony is that now he follows Ducati's racing exploits. In the 2018 season, Ducati riders won six of 19 MotoGP races—not bad for a company that has stuck to its guns on engine design. That pedigree is part of the deal every time Morse presses the starter button, kicks down to first gear and releases the clutch of his remedy from Bologna.
Photographer: George Kamper
Stylist: Danny Santiago
Groomer: Leslie Munsell
Set assistants: Miguel Mori and Felipe Patino
Personal Assistant: Gabriela Colmenares
Digital Tech: Mike DeJanon
Gear & Lights: Vortex Production Packages
Retoucher: Christine Craig
Groomer's assistant: Sherryl Kamper
Special thanks to Rob Ceravolo, Steve Lopez, Dan Petrovich and Kevin Follett of Tropic Ocean Airways, flytropic.com, and to Two Wheels World.
This article originally appeared in the Winter 2018-2019 Issue.