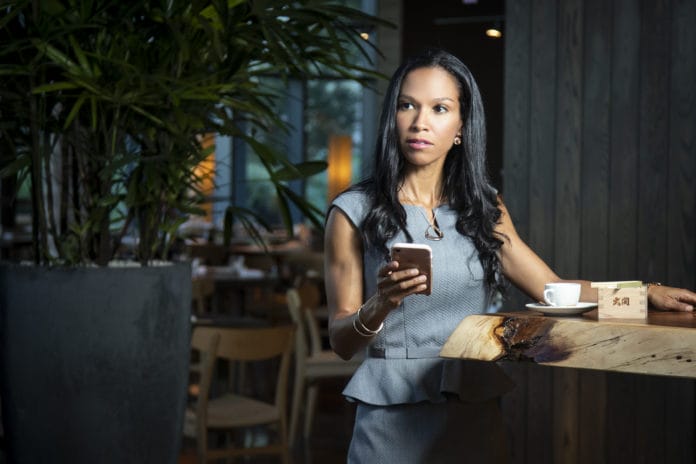 By Christie Caliendo
Portrait by Eduardo Schneider
Dr. Edna Tello remembers feeling  a sense of righting injustice while driving a van through Miami's Overtown. As a chemistry major on a pre-med track at the University of Miami, she was part of a research team bringing preventative care to pregnant Overtown women and the drug-exposed babies they would eventually give birth to.
"Doing that research, I not only fell in love with pediatric medicine, but I also saw the importance of being part of the community," says Tello, 47. "We were looking at something very grave but also very promising. I realized it's not all hopeless."
For her, those visits planted the seeds for what would later become a career making old-fashioned house calls. Since then, Tello has found ways to continue her individualized care, leading her to launch Personalized Pediatrics, a practice in its 13th year—and so successful that it has continued its expansion from Miami-Dade and Broward counties into Palm Beach County.
Born in Puerto Rico and raised in the countryside of Colombia near the edges of a lush jungle, Tello knew from a young age that she loved nature, science and serving others, a combination that would lead her to the field of medicine.
"It was a way to combine science and service," she says. "It was in my DNA."
Tello and her family settled in South Florida when she was 13, after violence in Colombia began to encroach on their quiet life. Upon graduating from medical school at the University of Connecticut and completing a residency at Connecticut Children's Medical Center, she returned to South Florida and joined a large pediatric practice. Due to the state of affairs in the medical industry, volume was king, forcing doctors to see up to 40 patients a day, she says.
"I would see a new mommy with this new bundle of joy, overcome with anxiety and love and so many questions, and I could only be with them for seven minutes?" Tello says. "I don't think so."
After spending a couple of years at this practice, Tello became a mother herself and began to feel more disheartened about the lack of personalized care she could provide patients. Due to her connections as a doctor, she could skip the long wait and see a pediatrician immediately. She also admits to being able to use the back door to get into the doctor's office. "I know what kind of things are in waiting rooms: hand-foot-and-mouth disease, roseola," she says. "I didn't want my little bundle around that." She wanted other new moms to enjoy the same privileges she had, including extended time with her child's pediatrician and answers to her many questions.
One could claim that weather also helped create Personalized Pediatrics. During the hurricane seasons of 2004 and 2005—amid power outages and closed doctors' offices—neighbors  would knock on Tello's door and ask if she could check on their children who were sick or who had hurt their arm in a fall.
"A light bulb went off, and Personalized Pediatrics was born," says Tello, who has counted children of Miami Dolphins players as her clients.
Nowadays, Tello can spend as much time on a visit as she and her patients need and want, usually seeing an average of five to seven patients each day at their homes. She has privileges at several hospitals—such as Broward Health Medical Center, Broward Health Coral Springs, Joe DiMaggio Children's Hospital and Boca Raton Regional Hospital—and relationships with specialists to provide the entire scope of services needed by the children in her care. Technological advances have also aided in her ability to be a doctor on the go. She can do sick visits, lab work, vaccines and simple diagnostics outside of a traditional clinic setting.
"It all goes back to personalized service," she says. "I can coach you through the challenging and exciting parts of being a parent. I can really connect with patients, usually with their dog or cat sitting in my lap. With Personalized Pediatrics, I get to do something amazing that most doctors don't get to do."
That connection with her patients and her passion for children merged with another cause she has thrown her energy behind: water safety and drowning prevention. When a friend lost her 19-month-old daughter to drowning, Tello was devastated. The child's mother turned her sorrow into advocacy by starting the McGovern Foundation, which Tello now supports through connections with Broward Health programs, a recent tri-county symposium and fundraising through yet another interest of hers: running. She has used several of her competitions as opportunities to raise funds and awareness for her friend's foundation.
In addition, Tello is a founding member of Doctoras Boricuas, a group of female physicians from across the country who aim to aid Puerto Rico in recovering from the devastation left by Hurricane Maria. She has visited her birthplace several times to deliver supplies to the island and 27 orphanages there.
Despite all her endeavors, Tello, wife to Dan and mother to Sarah and Daniel, is not ready to rest on her already impressive laurels. Her dream is to spread the personalized care model nationwide.
"I want to bring the doctor-patient relationship back to what it was meant to be," Tello says.
This article originally appeared in the Fall 2018 Issue.