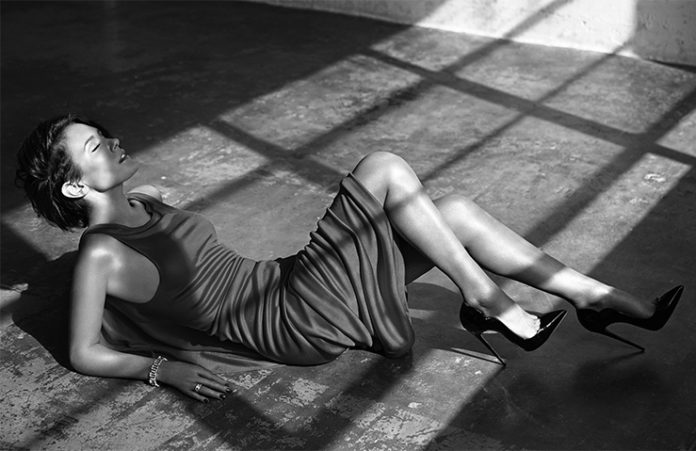 By Brandon Palas
Photography by John Russo
Styling by Kyle Blackmon
After a long, successful week of shooting in Puerto Rico, Australian actress Nicky Whelan slinked slyly through Fort Lauderdale's airport on her way home to Tinseltown. Most may not have recognized her right away—as of now, Whelan's main fan base stands in Australia and the United Kingdom—but if her upcoming film roles have anything to do with it, that will all change.
At the terminal, she took a moment, looked out the window past the jetway toward the lush horizon, and was reminded of home. "I've never been to Florida," she says. "From here, it reminds me of home, of California and Oz." The foggy round of breath she exhaled upon the glass was the sole proof of her inaudible sigh. "Everything happens when, and if, it should," she says. "I'll be back."
The itinerant actress has manifested the life of her dreams. "When I was really young, maybe 5 years old, I used to pretend that I was an actress with an American accent," Whelan says, laughing. "I truly felt that this is what my future had in store from the onset." Though she grew up worlds away from Hollywood in the tiny seaside town of Mornington, where she says, "I?still know everyone,"?Whelan was certain of her calling from a very young age.
Marie France Van Damme caftan, Neiman Marcus at Bal Harbour Shops; Elizabeth Hurley swimsuit, Saks Fifth Avenue at Bal Harbour Shops; Sam Lehr ring, Neiman Marcus at Bal Harbour Shops.
Whelan got her break in the industry because, of all things, Australian rules football. Her grandfather, Marcus Whelan, was a recipient of the prestigious Australian Football League Brownlow Medal, and the sport was always a part of her childhood. With a knack for sports and an eye on entertainment, the beauty auditioned for a role as a local presenter. Whelan was quickly hired—her feline facial features were made for television and film.
She honed in on her craft early on, working as a reporter for local news stations. Her agent then approached her with a major recurring role on the Australian mega-soap, "Neighbours."
"I'd never been given an audition for an acting part before," Whelan confesses. "It was perfect timing and fell into place beautifully. The character came up and, at the time, was very me. I knew in my heart that it was meant to be."
After 81 episodes, Whelan decided to hop the Pacific pond in order to try her luck in Hollywood. Shortly after her arrival in 2007, she landed guest spots on "Entourage" and the remake of "Melrose Place," as well as a recurring role in the final season of "Scrubs." Her performance as Sandoz Lilly on an episode of "Funny or Die" (titled "The Carpet Brothers") stood strong next to veteran funnymen Will Ferrell, David Spade and Tim Meadows. "When doing comedy, there's a part of you that has to remain fearless, " Whelan says. "You literally just take the piss out of yourself all day."
Soon after, Whelan moved to films, cast as an attractive waitress in the 2011 comedy "Hall Pass," co-starring Owen Wilson, Jason Sudeikis, Stephen Merchant, Jenna Fischer and Christina Applegate. This has been what Whelan had been working for her entire professional life: an American hit.
Since her successful stint in comedy, she has been looking toward dramatic projects as challenging, new endeavors. She landed a part on Robert Rodriguez's "Matador" series, airing on the newly launched channel El Rey. "I play a hard-ass head of the CIA," she proudly says. "I like to break it up, to expand my horizons." The show has already been renewed and will start filming a second 13-episode season in February 2015.
Perhaps the biggest role of her career thus far, a role in acclaimed director Terrence Malick's 2015 film "Knight of Cups," will be the breakout role she's looking for. Working alongside fellow actors Christian Bale, Natalie Portman, Cate Blanchett and Freida Pinto, Whelan was humbled to work with and learn from Malick, calling it a high point in her career.
"Working with Terrence Malick is an experience I will remember for the rest of my life," Whelan assures. "He is a magical, talented, kind, wonderful human being with a renegade spirit."
Whelan's eye remains on the prize, but she likes to keep her forward-thinking dreams to herself. "I try not to talk about a lot of my highest aspirations, I just sort of put them out there," she attests. "The scary thing about acting is that you can't really manage your future. You just have to have full faith; and I believe that fate is friendly."
Originally appeared in the Winter 2014 issue.