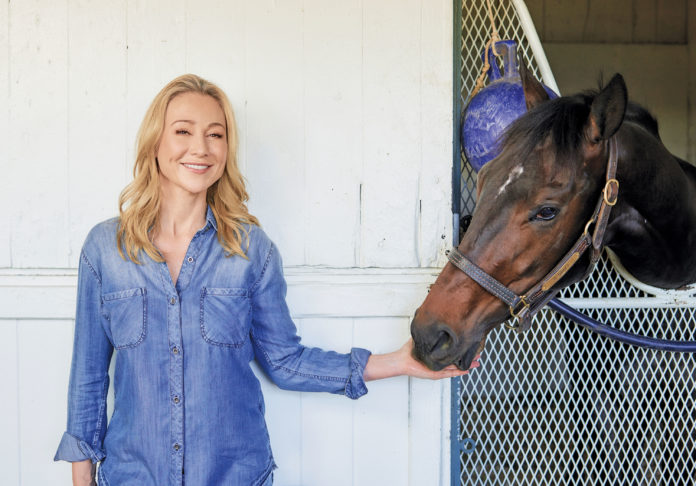 By Madison Flager
Portrait by Kelly Serfoss
Belinda Stronach's knack for overcoming obstacles has proved itself valuable in business, government and philanthropic ventures. Her latest challenge? Modernizing the world of horse racing.
Stronach is taking a big leap toward this goal with the Pegasus World Cup Invitational, a two-day extravaganza taking place on January 27 and 28 at Hallandale Beach's Gulfstream Park Racing & Casino. Set to become the world's richest thoroughbred horse race, surpassing the Dubai World Cup with a $12 million USD purse, the Invitational is conceived by Stronach as a way to bring new fans into horse racing.
"We want this to be an event and an experience," Stronach, 50, says. "We want this to be a global event, where eyes are not only on the horse racing, but also on the city."
Gulfstream's iconic Pegasus statue, which stands more than 110 feet tall, helped shape the event and was key both in planning the race and choosing South Florida as its location. Set to become an annual event, the Invitational is poised to eventually join the ranks of local staples like South Beach Wine &?Food Festival and the Fort Lauderdale International Boat Show. Sound like a lofty goal? For Stronach, it's
business as usual.
A savvy businesswoman, Stronach is president of the Stronach Group, which owns six racetracks in Florida, California, Maryland and Oregon. Her roster of past achievements is lengthy, and includes two terms in
Canada's House of Commons and a No. 2 ranking on Fortune magazine's list of the World's Most Powerful Women in Business.
These days, Stronach splits her time between Miami, Canada and the West Coast, overseeing Stronach Group operations and continuing her charitable work, much of which benefits women facing tough circumstances—breast cancer, homelessness and poor education, to name a few.
Stronach is committed to building something great in the Miami area and making Gulfstream Park a go-to spot for locals—whether for a fun night out, as a chill spot to grab beers and burgers, or as an entrée into the horse racing world. "We want this to become the Caesars of racing," Stronach says.
Technology and style are key components in this evolution. A newly developed wagering app will be ready for use at the World Cup, and the venue itself is getting an update. Gulfstream's main dining room, Ten Palms, will transform into a 1950s Cuban/Miami-themed haven, under the guidance of former Ralph Lauren home collection designer Karan Brady.
The Invitational will bring together some of the best horses in the world, and while the January 28 race is the main event, there will be plenty of additional entertainment for the thousands of spectators expected to attend. Food trucks, regional food and drink, and musical performances reflecting the many cultures of South Florida will be present, Stronach says. On January 27, a charity auction will bring together owners, stakeholders and celebrities in the name of a local cause.
Stronach sees entertainment as key to modernizing the sport and bringing in a younger audience, whose median age was recently reported by The Jockey Club as 51 years old.
"We are viewing this as an entertainment company with a horse racing focus," Stronach says. "I go to tracks and not all are great entertainment centers, and they have to become that—that's the future."
Race Date: January 28
Location Gulfstream Park, 901 S. Federal Highway
Can't Attend? Watch Live on NBC, 4:30-6 p.m.
Originally appeared in the Winter 2016 Issue.