By Elyssa Goodman
If the new Marcel Duchamp exhibition at NSU Art Museum Fort Lauderdale leaves you with a taste for Paris in the 1920s, you're in luck: Two legendary hotels are making Paris more relevant than ever.
Four Seasons Hotel George V
Built in 1928, the Four Seasons Hotel George V, Paris is renowned for its commitment to luxury, style and elegance. The hotel sits in the heart of Paris' chic 8th arrondissement, footsteps from the Champs-Élysées, couture shopping on Avenue Montaigne and the Eiffel Tower. Throughout its lifetime, the property has hosted visitors such as Greta Garbo, Duke Ellington, the Beatles, Mariah Carey and models Kendall Jenner and Bella Hadid.
The George V's pristine white stone art deco exterior, a symbol of the hotel's dedication to sophisticated simplicity, carries through to the interior, where a delicate color palette of beige, off-white and pale gray is accented with lush tapestries and classic preserved wood paneling from the Normandy region. For the last 16 years, it has also become known for its sumptuous floral displays designed by the hotel's artistic director, Jeff Leatham, who has done floral design work for the Museum of Modern Art in New York; brands such as Tiffany & Co., Dom Perignon and Bulgari; and the weddings of Chelsea Clinton, Eva Longoria and Tina Turner. He also recently spoke to a sold-out crowd at the biennial Garden Club of America event in Palm Beach. Leatham creates a new floral theme for the hotel every three weeks, and arrangements are refreshed every day. Approximately 12,000 new stems are delivered every week.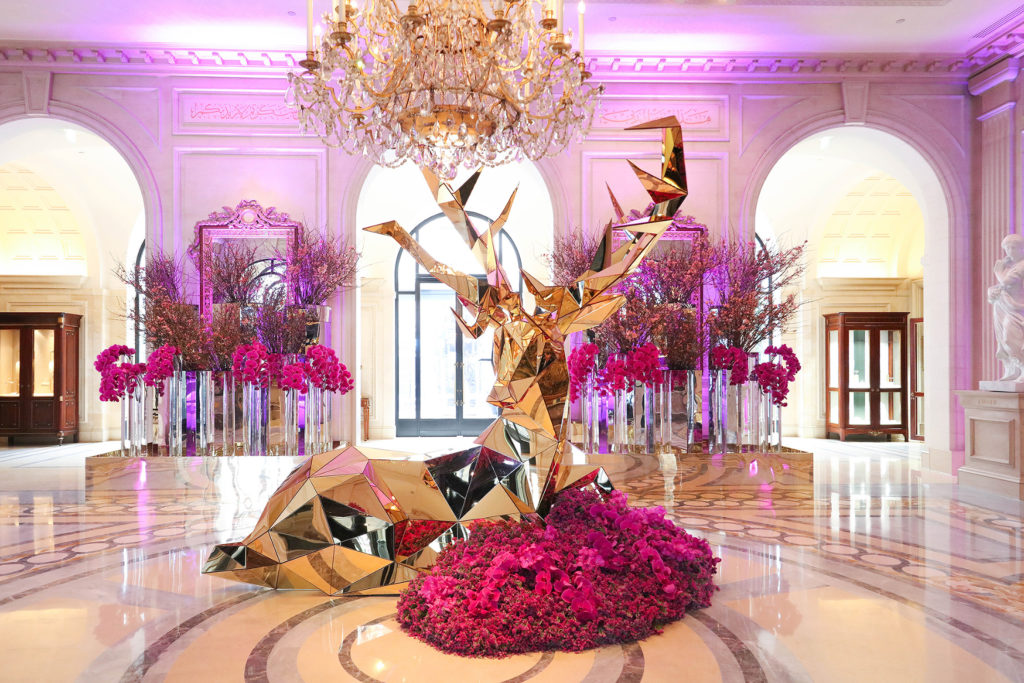 Aside from its luxe interiors, the George V is also a top culinary destination. As of this year, it is the first palace hotel in Europe to house three Michelin-starred restaurants: Le Cinq, which draws on classic French cooking techniques; the Mediterranean-inspired Le George; and the lush, light, yet still contemporary French flavor palate of L'Orangerie.
José Silva, regional vice president and general manager of the hotel, says the key to maintaining such quality is always looking forward. He is constantly looking at trends in hospitality, technology and dining to keep the George V ahead of the pack. "The magic of great institutions lies in their ability to surprise and reinvent themselves," he says.
Hôtel Plaza Athene
The Hôtel Plaza Athénée has been open for more than 100 years on the luxurious Avenue Montaigne, Paris' answer to Palm Beach's Worth Avenue. The hotel has played a significant part in French cultural history in its lifetime. It was known as one of silent film actor Rudolph Valentino's favorite homes away from home, and its renowned restaurant, Le Relais Plaza, became a cafeteria for soldiers during World War II. It's also said that famed fashion designer Christian Dior opened his first couture salon next to the hotel in 1947 just to be near its signature art nouveau balconies dotted with red geraniums and scarlet awnings and, of course, its high-profile clientele. With iconic views of the Eiffel Tower, the Plaza Athénée enjoyed the regular company of Grace Kelly and Jacqueline Kennedy Onassis, and more recently Anna Wintour, Natalie Portman and Jude Law. The hotel prides itself on being "the haute couture hotel in Paris," says Aude Bourgouin Lebarbier, the property's international spokesperson.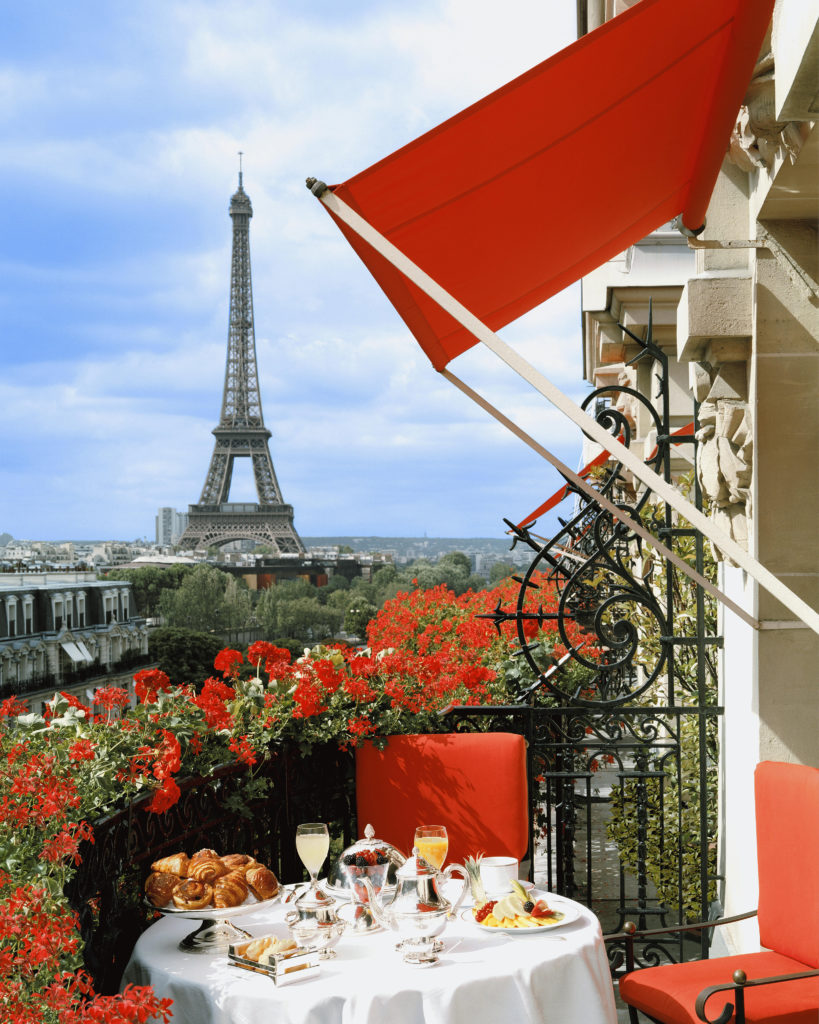 In the last 20 years, Plaza Athénée, now a Dorchester Collection hotel, has also become known for its culinary program. The hotel's five restaurants are overseen by star chef Alain Ducasse. His restaurant, Alain Ducasse au Plaza Athénée, in particular procured three Michelin stars since 2001 and is today considered one of the world's best restaurants. In the summer, Plaza Athénée stirs with energy as guests also flock to La Cour Jardin—the hotel's tranquil outdoor restaurant that's only open for lunch and dinner from May until September—to escape the hustle and bustle of Paris life.
Inside, the hotel's Carrara marble lobby smells of amber as clear, twinkling chandeliers welcome guests. Rooms are outfitted in taffeta, velvet and gold-embroidered details inspired by Louis XVI, but its famed seventh and eighth floors are also done in an art deco style. History is important to the hotel, Lebarbier says, but as with the George V the goal is to have guests experience tradition and progress at the same time. "The idea is really to keep our vision, which is 'Once upon a time meets the palace of tomorrow," she says. "We want to keep our historical side, but we will be more and more connected.'"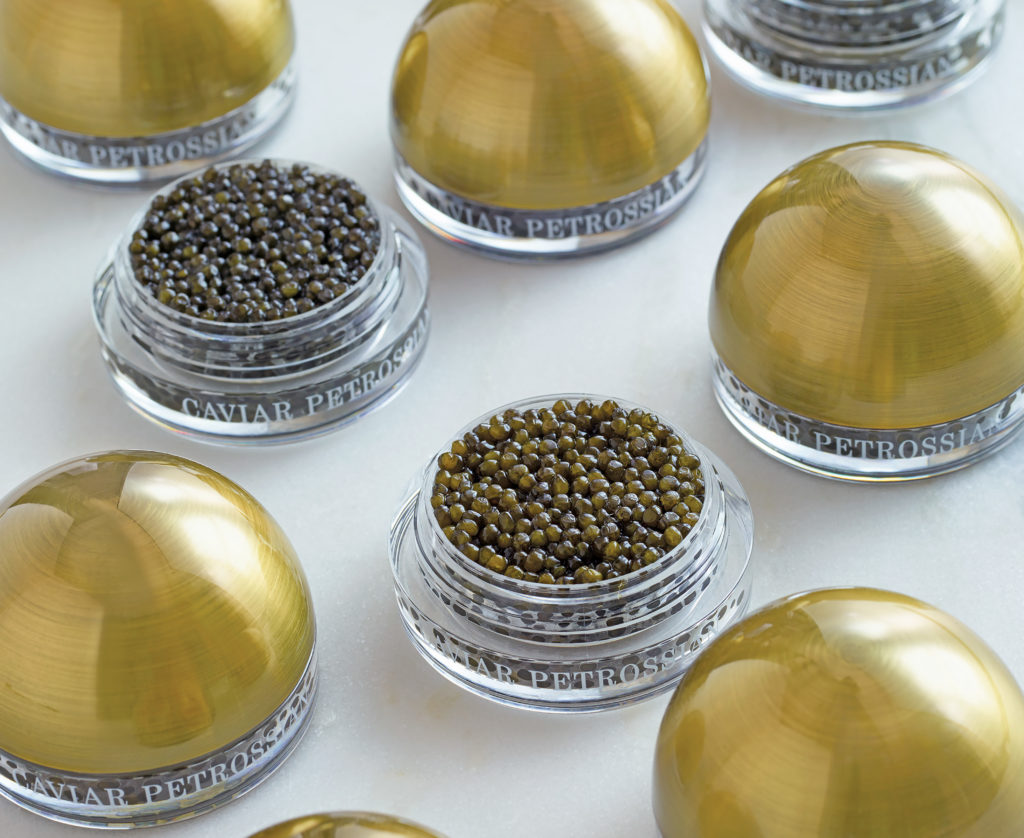 CAVIAR GRADING 101
While in France, we had the opportunity to participate in an exclusive caviar tasting with Alexandre and Armen Petrossian of the world-famous Petrossian Caviar. Here, they share some of their grading processes for discovering the best-tasting caviar.
APPEARANCE
Caviar should be shiny in appearance. The whole surface of the caviar should be "shining like diamonds," Armen Petrossian says. "Caviar is diamonds!" When air hits caviar, it loses its shine—so if it's not shiny, it has been tampered with somehow, whether it has been pasteurized or left out for too long. You also want to be able to see clearly through the caviar, which should be small and tightly concentrated in the tin.
SENSATION AND SOUND
When you put your spoon (mother-of-pearl, preferably) into the caviar, it should have a simple texture—not hard, but hard enough that you get a nice tension in the spoon. Caviar should not make a lot of noise as the louder it is, the stickier it is. Caviar should never be dry or sticky, but rather "unforgettable, euphoric and timeless," the Petrossians say.
SCENT
"The nose is the most important tool we have," Alexandre Petrossian says. There are a variety of smells caviar could have: Is it nutty, woody or earthy? Ideally, there should be a nice aroma, and you should smell the ocean in the caviar without smelling the fish—a scent the Petrossians call "sea embrun."
TASTE/AFTERTASTE
The best caviar will have a deep flavor that's long-lasting, the Petrossians say. The more you move your tongue over the caviar, the more the taste will develop. Each tin should be properly matured so the whole container will taste the same. There should be no fishiness; instead, the flavor should be round and not overpowering.
Originally appeared in the Summer 2017 Issue.