Fashion on the Move
Macy's new line 'And Now This' coming soon to a city near you.
Say hello to the newest addition to an already impressive lineup of vendors at MASS District's Art Walk. Retail giant Macy's hit the road with its latest line, And Now This, spotlighting ready-to-wear styles and trend-based options. The mobile fashion truck, which took a trip to Fort Lauderdale in July, is packed with selections of sophisticated basics that can be mixed and matched for any occasion. The collection was created for shoppers looking for of-the-moment pieces, like ribbed dresses, tanks and bodysuits; outerwear and athleisure; and casual dresses and denim in all-inclusive sizes from S to XXL.  
Personal shoppers are on hand to help you coordinate outfits or to assist you with ordering anything not in stock, shipping directly to your home. Plus, returns and exchanges are as easy as visiting your nearest brick-and-mortar Macy's store. The line's three-city tour included New York, Chicago, and Fort Lauderdale.
Follow #MacysFashionTruckTour on social media to find out where the brand will pop up next. Or visit macys.com
LIKE THE LOCALS DO
True Floridian clothing gives back.
Giving back is always in style, but for clothing label True Floridian, it's the No. 1 goal. "We're not just local, we're true," the company's tagline reads. The brand offers shirts, hats and hoodies, with a percentage of profits supporting organizations that focus on Florida's youth, beaches and people in need. truefloridian.com
The Easton
Dance, swim and rosé the day away at this new rooftop destination.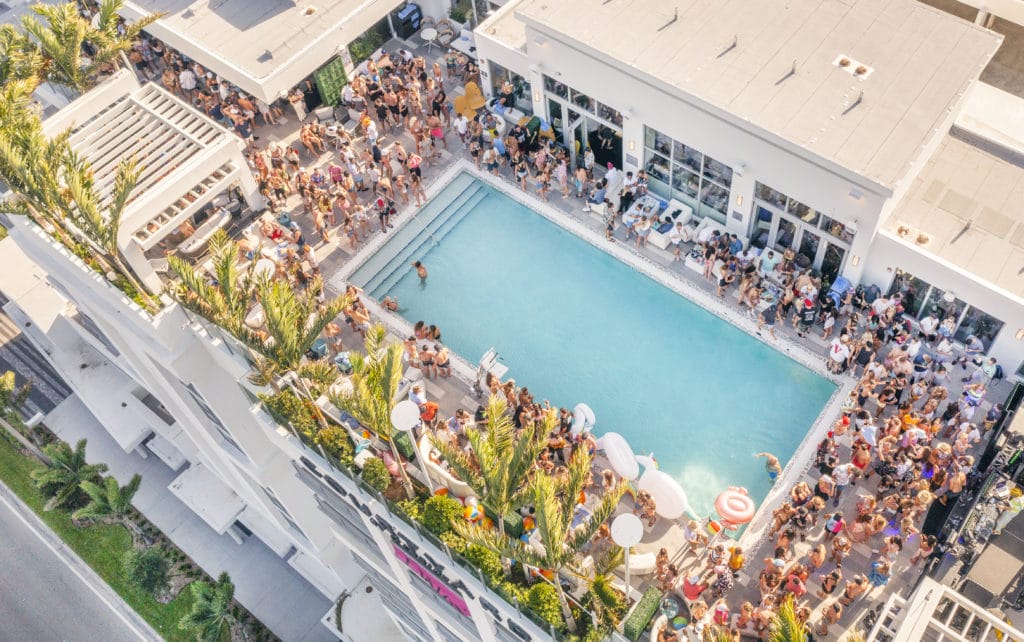 THAT CERTAIN JE NE SAIS QUOI
Meet your new favorite travel companion.
Louis Vuitton's latest edition to its Connected Objects collection—the Horizon Light Up Speaker—is portable, glowing and made with the fashion house's incomparable savoir faire. The speaker provides the ultimate audio-visual experience, turning a utilitarian item into a work of art.
Its unique shape is inspired by the brand's iconic "spinning top" handbag. When at home and not in use, it becomes an objet d'art. Only when the device is switched on does its purpose become obvious in an explosion of sound, light and movement. The covered woofer vibrates like a heartbeat as a dynamic light show synchronizes to the beat with a colorful digital interpretation of Louis Vuitton's iconic monogram flower. louisvuitton.com