It could be said that we're in the golden age of ice cream, where the classic dessert gets treated with next-level flavors and innovations such as rolled ice cream and herb-infused concoctions. So next time you say to your friends, "Let's get some ice cream," be prepared to try scoops that aren't as straightforward as they were a decade ago. These South Florida locations exemplify just that.
Crema Rolls
By Ari Bernick
Crema Rolls recognizes that a proper ice cream experience is a personal one. With its two locations, one in West Palm Beach and the other in Delray Beach, Crema is riding on a popular wave of Thai-rolled ice cream eateries that has swept through the United States in the last decade that has seen glaciers work in rapid-fire pace to spread and roll ice cream concoctions on a below-freezing stainless steel slab in less than 5 minutes. Less than one foot away and behind a clear Plexiglas panel, it's like an ice cream action movie playing out right in front of your eyes.
Guillaume de Chalambert, co-owner and manager of the Delray Beach location alongside partner Tanzie de Chalambert, notes that Crema's mission is to provide toppings and flavors that "talk to the clients," especially adults who want to relive their joyful childhood memories. Bam Bam, a sweet treat named after the young Flintstones cartoon character, is full of fruity pebbles that melt in one's mouth. This dessert depicts a colorful, flavorful and nostalgic experience that allows anyone to be a kid at Crema.
The menu isn't limited to only rolled ice cream. The staff are quasi-mixologists known for their smoothies, coffees, açaí bowls and handcraft fun-filled milkshakes jolted with a fun factor, like a roasted marshmallow, gooey cookie dough or even a layer of creamy condensed milk.
Crema's soy-based vegan ice cream options allow a diverse community of people to have their well-deserved "right to ice cream," says Guillaume. According to a 2019 Grand View Research report, the market for dairy-free ice cream in 2018 was $455.9 million and expected to increase to $1.2 billion by 2025, a growing statistic that Crema has covered with its selection of a half-dozen vegan ice cream flavors and multitude of smoothie and açaí bowl combinations.
Beige-colored hardwood floors, plush blue couches, and the smell of coffee and ice cream in the background creates the Salon de thé vibe that the French-born Guillaume grew up seeing. Crema creates positive energy where people can relax and enjoy a tasty dessert. Guillaume says, "If people are happy here, that makes me feel good."
Jaxson's Ice Cream Parlour and Restaurant
By Jordan Levine
At Jaxson's Ice Cream Parlour and Restaurant, customers are transported back in time to a whimsical world where they leave their worries at the door. Jaxson's is adorned from floor to ceiling with memorabilia from the shop's 65 years in business. The license plates collected from around the country, nostalgic photos and family heirlooms are all intentionally placed for customers to enjoy. Approaching its 65th anniversary in November, Jaxson's has been a South Florida favorite for generations. Linda Udell Zakheim (daughter of Monroe Udell, the late founder) smiled as she recounted all of the faces that have walked through Jaxson's doors. Zakheim explains, "Families come with four generations and have made it a point to keep the Jaxson's tradition alive."
Jaxson's success stems from its opening days. When Jaxson's first opened, Udell charged a dime for his ice cream rather than a nickel the competition was charging. He knew his ice cream would be worth it. The line around the block for a scoop of ice cream continues to be a testament to the quality of Udell's masterful flavors and hard work. Udell spent years perfecting his vanilla ice cream. Jaxson's "Kitchen Sink" sundae is yet another example of Udell's dream to serve the biggest and the best ice creams. Four pounds of ice cream piled high served in a, you guessed it, kitchen sink. Jaxson's serves 50-plus flavors, all of which are made in-house using high-quality and fresh ingredients. Zakheim explains how her dedication to quality is second to none: "I would close the restaurant before compromising the quality of our product."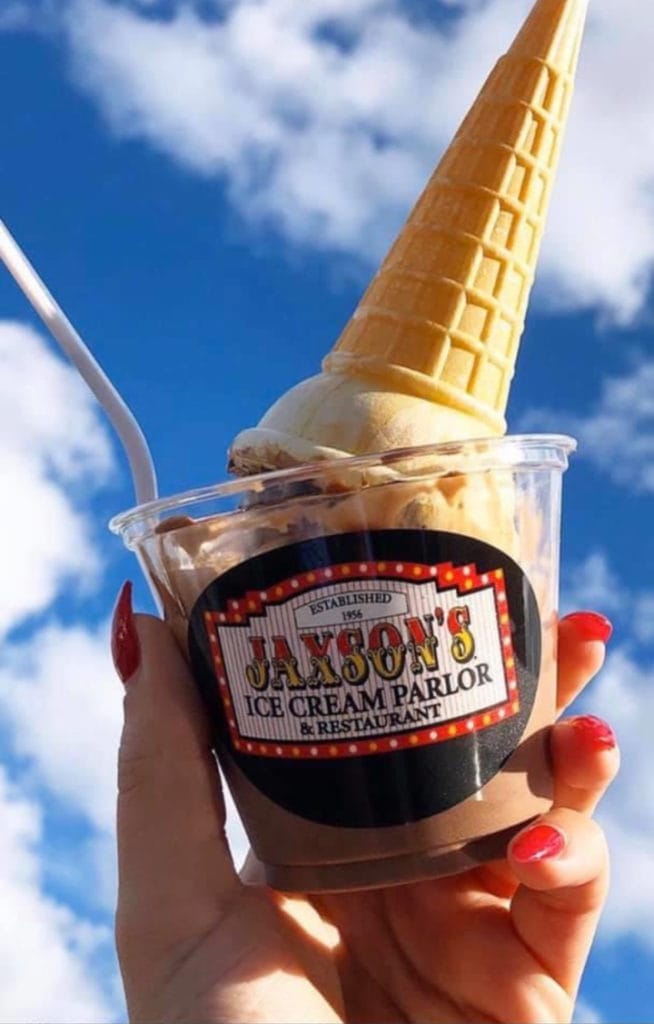 Tucked in the heart of Dania Beach, Jaxson's has been and continues to be a strong force in the community. Zakheim and Jerry Smith, the general manager, explain how their love for their customers is infused in every detail and scoop: "Jaxson's is a South Florida tradition," says Smith.
"From the popcorn on the tables, to the birthday siren, to the over-the-top ice cream, we want everyone to feel at home and leave happy," Zakheim says.
Wilton Creamery
Wilton Creamery crosses culinary boundaries that most ice cream parlors wouldn't dare approach, combining traditional ice cream with not-so-traditional ingredients. With flavors like "Black Sesame Sweet Soy," "Citrus Pesto," and "Flaming Hot Cheetos," Wilton Creamery opens customers' eyes (and taste buds) to flavors beyond imagination.
There is no limitation to what managing partner Daniel (DJ) Colby is willing to try. Having spent years in culinary school, DJ is trained in utilizing flavors that most other ice cream chefs wouldn't dream of. DJ, the brain behind dozens of Wilton Creamery's renowned flavors, has a unique perspective that sets his ice cream apart. DJ explains how his synesthesia (a neurological condition that stimulates several of your senses at once) allows him to see colors when he tastes certain flavors. While distracting at times, his synesthesia helps make sure his flavors are consistent and it inspires him to concoct unexpected but delightful ice cream.
DJ's dessert philosophy rings true to his execution: "Dessert should be as intense as possible." Known by the community of Wilton Manors for inventing new small-batch flavors every Friday, local chefs and fans present DJ with ingredients to use. DJ never turns down the challenge; to this day, he has created 614 small batch flavors in six years. – J.L.