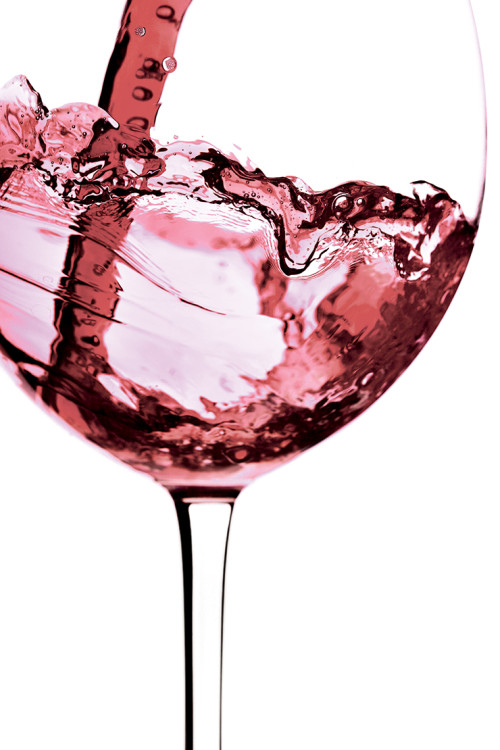 By Lyn Farmer
Ask the manager and head sommelier of a casino-based steakhouse about his favorite wine and you could bet money he'll emphatically say, "red." Seriously, what's better with a steak than a big red? But that makes it all the more refreshing when Don Derocher of Council Oak Steaks & Seafood at Seminole Hard Rock in Hollywood quotes Julia Child and avers, "Rosé goes with everything."
"A red with steak is easy," he says, but Derocher is juggling tables where one diner has a rib-eye and two others might have lobster. This is where he finds rosé to be a good tool of culinary diplomacy. "It's not always an easy sell," he says, "but once I give someone a taste of a good dry rosé, I can see something click.
"I'd be remiss as a sommelier if I didn't have at least one dry rosé available by the glass," Derocher says. In stressing "dry," he is also wordlessly acknowledging that the rosé category was nearly killed off by cloyingly sweet white zinfandels. That pink specter has mostly passed from quality wine lists as restaurants seek drier, crisper options to match South Florida's cooking out and dining out mentality.
If history tells us anything, 2015 will be the 10th straight year of double-digit growth for rosé in the U.S. At the end of summer last year, the New York Post even reported a shortage of rosé in the restaurants and wine shops in the Hamptons due to such high demand.
Derocher gladly offers his willing customers a chilled glass of La Chapelle Gordonne, a bone-dry and beautifully pink wine from the Côtes de Provence. This is the trendy area for rosé, and not because it is where Angelina Jolie and Brad Pitt established their winery. "It's trendy because it is so good," says Andreas Schreiner, one of the founding partners of Miami's Pubbelly Group of restaurants. "I just love the color of a good Provence rosé, the wonderful aroma of strawberries and that crisp acidity that let a good rosé match with so many foods."
"If history tells us anything, 2015 will be the 10th straight year of double-digit growth for Rosé in the U.S."
Paula DaSilva, the dynamic executive chef at 3030 Ocean at the Marriott Harbour Beach Resort, says she likes rosé more than many of her customers. "I love it, but dry rosé is still unfamiliar to many of our guests. I enjoy it with lighter fare like a good salad or oysters. It reminds me of vacations to Northern California and the south of France." And while France is famous for its rosés, DaSilva is quick to point out there are some excellent examples from California that are not white zinfandel. "I really enjoy Blackbird Vineyards' Arriviste—it's a nice blend [of grapes] with a clean finish."
Co-owner and wine director Kirsta Grauberger of Market 17, Fort Lauderdale's premier farm-to-table restaurant, agrees with DaSilva that many wine regions are producing interesting rosés. "People naturally gravitate to Provence," she says. "But for younger couples and groups of women, the desire is often for something fruiter. For them, I love to suggest an Italian rosé because it often has a bit more punch." She has also noticed an interesting trend. "Market 17 is open only for dinner; I have a feeling that if we were open for lunch, we'd sell even more rosé. People love it especially during the day, and that's regardless of the season." Something is definitely working with rosé because Market 17 has a dozen of them on the wine list. Day or night, still rosé (we haven't even touched on the joy of rosé Champagne!) definitely has a place in South Florida's year-round wine calendar.
Six Rosés For Right Now:
Whispering Angel NV – This very dry and elegant wine showcases the balance of fruit and acidity that is emblematic of Provençal rosé. The same property makes three other rosés at even higher prices, and all are delicious.
Beni di Batasiolo Rose 2011 – This wine from Piedmont, Italy, has a great deal of depth and a pretty, creamy texture from its nebbiolo, barbera and dolcetto grapes. Good fruit and bone-dry, it's a classic Italian rosé.
Château la Gordonne la chapelle 2014 Vintage – The Provençal rosé comes from the exceptional vineyards in the Massif des Maures. The beautiful pale pink color is followed by the fresh and delicate palate, bursting with fruit while revealing its rich mineral quality.
Château La Gordonne La Chapelle Gordonne 2012 – Pale pink with an apricot tinge, beautiful soft fruit and just enough acidity matches this wine with everything from lobster with drawn butter to grilled salmon.
Château Miraval Rosé 2014 – This rosé created by Brad Pitt and Angelina Jolie is much more than an average wine riding the coattails of media stars. In fact, it's a classic Côtes de Provence rosé that is delicious as well as a great conversation piece.
Muga Rosado 2014 – This rosé from Piedmont has a darker color than wines from Provence, and it's a bit beefier as well, thanks to some time in barrels. It's an elegant wine that, in Andreas Schreiner's words, "has something for everyone, and it holds up to paella!"
Originally appeared in the Summer 2015 issue.