By Alona Abbady Martinez
Photography by Felipe Cuevas

It was the tantalizing aroma of curry goat paired with jasmine rice that ignited chef Kevin Baker's passion for food early on.
"Both my parents are very good cooks," the Jamaican-born chef says. "People in the neighborhood would always come to enjoy their meals."
He smiles, recalling how the culinary gift went further down the generational line, when the house would fill up with eager guests hoping for a sliver of his grandmother Cynthia's sweet potato pudding, a treasured Jamaican dessert. These Caribbean flavors that focus heavily on tropical fruits and seafood molded and guided Baker through his trajectory as a chef, landing him most recently at the newly opened Caribbean-American eatery Steelpan.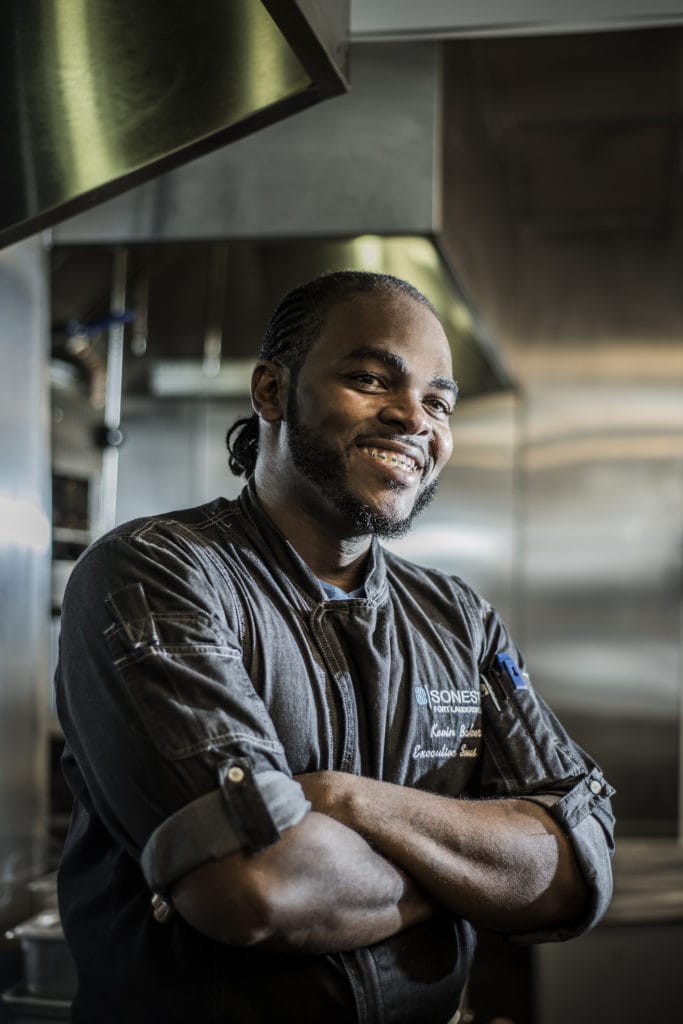 Inside Sonesta Fort Lauderdale Beach, Steelpan—named after the cooking vessel and the drums originating from Trinidad and Tobago that serve as the soul of Caribbean sound—aims to marry island flavors with Florida style. Strategically perched on the corner of Sunrise Boulevard and A1A, the restaurant, which seats 115 guests, offers commanding views of Fort Lauderdale Beach, particularly for those who opt to enjoy their meal alfresco on the patio. The space is airy and light, with gray and white colors accented by contemporary potted plants and indigo dishes and napkins chosen to harmonize with the ocean and sky.
Baker, who prides himself on his creativity, offers dishes that are rooted in his Jamaican upbringing while also highlighting his inventive style. Take, for example, one of the restaurant's signature dishes, the whole baked snapper. Popular in the Caribbean, the fish is typically deep-fried. At Steelpan, the presentation is a bit more thoughtful.
"Instead of making it a whole snapper with the bone, we deconstructed the fish, and it's roasted," Baker says. "You don't have to fight it to enjoy it."
Indeed, those who may be put off by navigating through the bothersome spine and bones will appreciate a presentation spotlighting the delicate flavor worry-free. The snapper arrives served on a banana leaf with mixed potatoes and pickled vegetables on the side.
The menu brims with dishes incorporating fruits from the Caribbean and South Florida. Starters like the Caribbean jerk wings come with papaya and jicama slaw, and coconut shell ceviche presents a refreshing combination of shrimp and fish nestled inside a coconut topped with crispy malanga and plantain chips. Guava-braised short ribs, which marry the fragrant fruit with the heady, fall-off-the-bone beef tenderness, rest atop Peruvian garlic mashed potatoes, while the mahi sandwich arrives with pimiento dust and mango salsa.
"The Caribbean carries itself with the naturalness of tropical fruits and the ocean," Baker says.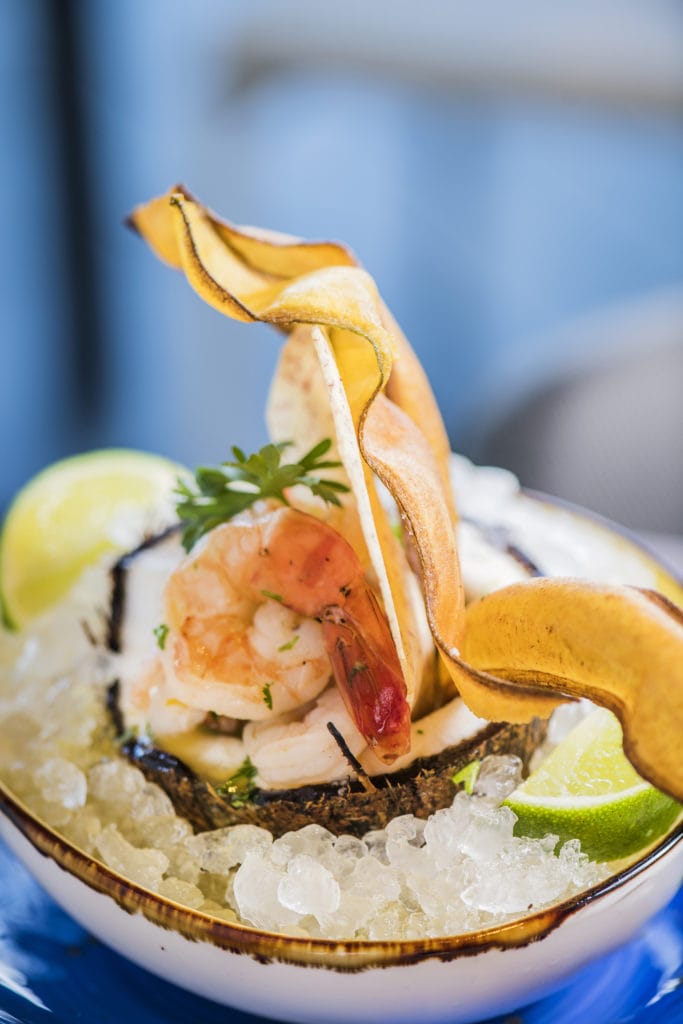 When asked to divulge his favorite dish, Baker remains as friendly and charismatic as ever, announcing he loves them all. "Every dish has a special meaning," he says, referencing the Blue Mountain coffee-dusted burrata served with grilled pineapple bread, which pays tribute to Jamaica's tallest mountain.
The jerk chicken and dumplings, an elevated rendition of the island's comfort food, has been a bestseller as well. The chef presents the jerk-spiced roasted chicken breast with curry pineapple relish and creamy potato dumplings that are lightly fried and served as an addictive base to these bold flavors.
Baker thrives on pushing himself beyond his comfort zone, which would explain why, at 19 and fresh out of culinary school, he left his native Jamaica and headed to the polar opposite of the warm Caribbean, a place that had nursed him his whole life.
"I went from Jamaica to Alaska," he says. "It's beautiful. Seeing the northern lights was something different."
While he garnered his first real-world experience as a line cook during his tenure in Alaska, it was working under the tutelage of Charlie Hansji at Hawks Cay Resort in the Florida Keys that had a lasting effect on him, setting an internal compass that still serves as his guide. "Consistency. Passion. The love of the food," are the one-liners Baker offers when asked to elaborate.
A playful rendition of "La Bamba," popularized by American singer Ritchie Valens in 1958, rings through the restaurant's sound system. It is bright, fun and aptly performed on a steelpan. The Caribbean take of the song echoes the eatery's ethos, and it delivers it well.
"Steelpan's vision is to make sure everyone gets a chance to experience the culture of the Caribbean infused in American cuisine," Baker says.
This article originally appeared in the Summer 2019 Issue.