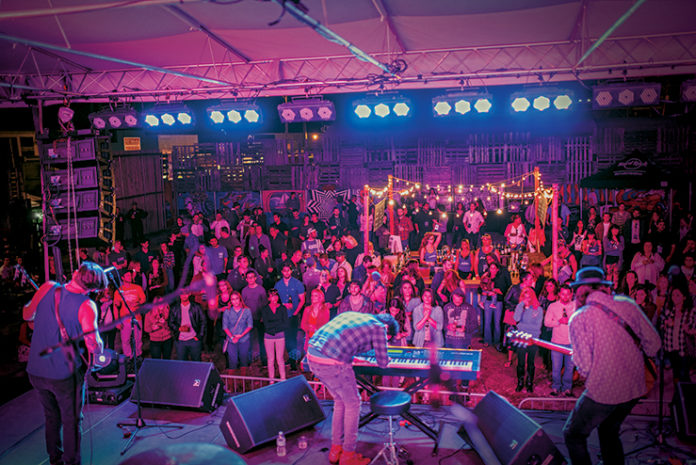 By Charlie Crespo
Photography by Ian Dawson and Justin Mein/C&I Studios
On an any other day, the sounds emanating from the former warehouse on Northwest First Avenue would have been jarring. The music produced by a banjo, fiddle, harmonica and guitar, mixed with stomping, shouting and singing, are apropos for a Southern Baptist revival service in the mountains of Tennessee—not for a media company's office in FATVillage.
But Saturday, February 7 was not any other day. On this day, For The Love, a music festival in its inaugural year, was in full swing with more than 1,000 concertgoers flooding the city streets.
In this context, the music of Forlorn Strangers not only threatened to send even the nonbelievers among the crowd into religious ecstasy, but it fit perfectly with the unique event going on around it. As soon as the Nashville-based Americana quintet left the stage, another group took the baton and kept the party going until midnight. Joining Forlorn Strangers at For The Love were more than 20 musical acts appearing on four different stages in a 12-hour span, including well-known local and national groups such as the Jacob Jeffries Band, -kids-, Civilian and headliner, Lakeland-based Copeland.
"For The Love is another testament to the fact that if you build something great in Fort Lauderdale, the community will support you."

– Sara Shake, co-creator, For The Love
Exposed PR and C&I Studios—the collective minds behind For The Love—started the event in an effort to build Fort Lauderdale's music scene. "For The Love is another testament to the fact that if you build something great in Fort Lauderdale, the community will support you," says Sara Shake, founder of Exposed PR, who hopes to make the concert an annual happening. "We saw people come from all over South Florida be a part of For The Love."
In addition to the all-day music, For The Love brought some of Greater Fort Lauderdale's hippest independent businesses directly to ticket holders for an experience that went beyond just music. Funky Buddha Brewery was on hand serving up their locally crafted beer, and local food trucks such as Mobstah Lobstah lined the area. Even indie pop-up stores, including Skinny Buddha clothing company, set up shop to give the crowd, ranging from teenage hipsters to young professionals, a chance for retail therapy.
But this wasn't just about supporting the community. By attending For The Love, locals were not simply taking in an event occurring in the place where they reside; rather, they were actively celebrating Fort Lauderdale—both for how far the city has come and the potential it has to keep growing into something even greater.
As Shake describes it, "For The Love is for the love of our city and for the love of music."
Originally appeared in the Spring 2015 issue.