FORT LAUDERDALE, FL (AUGUST 22, 2022) – Last Friday, Fogo de Chão, the internationally acclaimed restaurant from Brazil that allows guests to make culinary discoveries at every turn, opened its first Fort Lauderdale location on the corner of Southeast Third Avenue and Las Olas Boulevard at The Main Las Olas, a 1.4 million-square-foot mixed-use office, residential and retail community for gathering, dining and shopping. A portion of the first week's sales will be donated to Feeding South Florida, a local nonprofit dedicated to ending hunger in the Greater Miami area and beyond. Fogo is a longstanding partner of Feeding South Florida and was able to provide residents in need with over 140,000 meals from the Coral Gables opening in April 2022.
The expansive 226-seat dining room is centered around an open-air charcoal grill, where guests can dine while watching gaucho chefs demonstrate the culinary art of churrasco as they butcher, prepare and grill different cuts of protein over an open flame. The new location also showcases dry-aged meat lockers for in-house aging, and soaring wine cases displaying South America's finest varietals. To further enhance the dining experience, the new restaurant includes a large, covered outdoor patio and Bar Fogo area for al fresco churrasco dining, as well as private dining spaces to accommodate intimate gatherings or larger celebratory events.
"We're humbled to bring our Southern Brazilian hospitality and latest innovative experiences to Ft. Lauderdale as we continue to expand in South Florida," said Barry McGowan, Chief Executive Officer of Fogo de Chão. "Fogo started in Brazil over 43 years ago and we have been fortunate to grow our brand in the United States for the past 25 years. August 19th is a special date for us as it marks the opening of our Las Olas location and the date we opened our first U.S. location in Dallas, TX in 1997."
Simply seasoned, fire-roasted proteins are the core of the churrasco dining experience, where guests can discover a variety of flavors ranging from premium filet mignon to bone-in cowboy ribeye, decadent beef ribs and lamb chops; and house specialties like picanha (prime cut of the top sirloin) and fraldinha (bottom sirloin with strong marbling for robust flavor).
Fogo Fort Lauderdale offers a range of menu selections and prices to fit guests' needs for lunch and dinner, including:
Full Churrasco Experience: The signature prix fixe menu selection includes all premium and classic cuts, plus the fresh and seasonal Market Table & Feijoada Bar and authentic Brazilian side dishes.
Indulgent Cuts: Guests can enhance their experience with the 20 oz. Wagyu New York Strip, which is carved tableside on a Himalayan salt block to complement the cut's intense marbling and buttery texture. The decadent, dry-aged 32 oz. Long Bone Tomahawk Ribeye and 24 oz. Wagyu Ribeye are also available to order for the table.
Additionally, restaurant and menu features include:
Weekday Lunch: Includes the seasonal Market Table & Feijoada Bar, plus family-style service of Brazilian side dishes for $15 per person. Guests may choose to add a single cut of fire-roasted protein or have the Full Churrasco Experience.
Weekend Brazilian Brunch: Includes the Full Churrasco Experience combined with Brazilian-inspired brunch items like Braised Beef Rib Hash along with made-to-order omelet and crepe stations.
Bar Fogo: The Las Olas location offers an elevated experience with a contemporary bar area, both indoor and outdoor lounge seating and dedicated staff designed to allow guests to linger and discover something new with each visit.
All-Day Happy Hour: Guests can enjoy all-day happy hour every day in the main dining room, patio and Bar Fogo area featuring $9 Brazilian-inspired cocktails, $7 glasses of South American wines, $5 beers, small plates like Lobster & Shrimp Tacos, churrasco meat boards and the mouthwatering grilled Brazilian cheese.
Seafood: Brazilian-inspired seafood options are available à la carte, including Chilean Sea Bass and a Seafood Tower.
Fogo To-Go & Catering: Bring the Fogo experience home with individual churrasco entrées, à la carte offerings, catered events and ready-to-eat or ready-to-grill options.
Group and Private Dining: Whether celebrating a special birthday or hosting a corporate meeting, Fogo's Las Olas location has a dedicated sales manager and offers customizable menus, beautiful private and semi-private dining spaces and complimentary A/V equipment.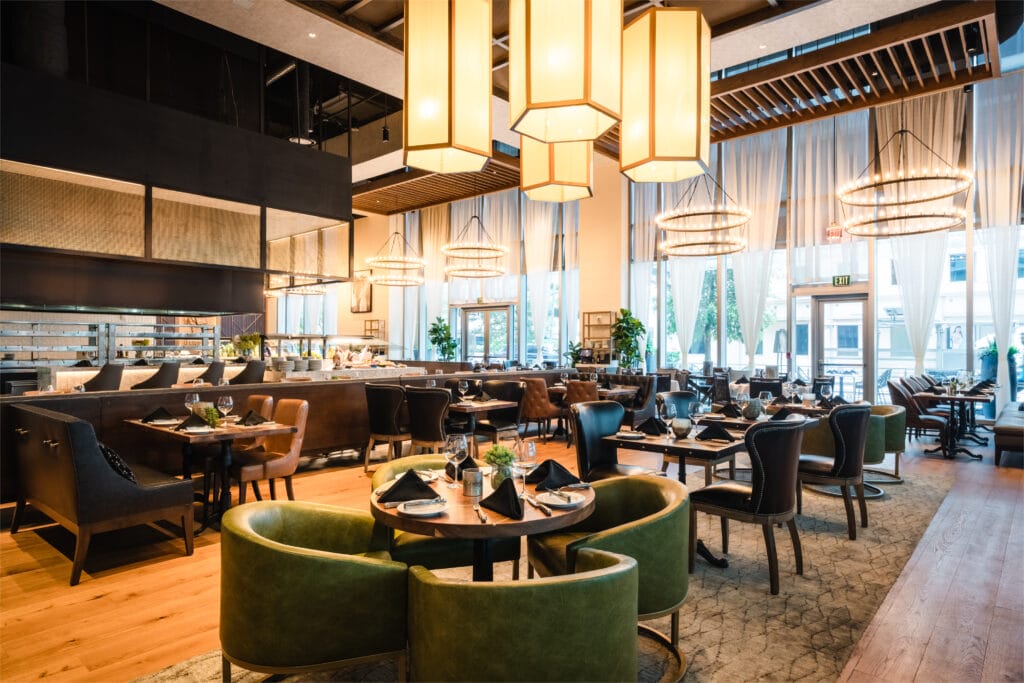 A dining experience for all ages, children 6 and under enjoy complimentary dining at the Fort Lauderdale location and ages 7-12 can enjoy the Full Churrasco Experience for half-price.
The restaurant is located at 201 E. Las Olas Blvd, Suite 100, Fort Lauderdale, FL 33301. For more information, visit https://fogodechao.com/location/fort-lauderdale/ or call 754.900.3111.
The Company announced in 2022 a 15 percent planned annual growth rate through company-owned restaurants, with an additional international capital light franchise development strategy. With the goal to bring the centuries-old culinary art of churrasco to more guests worldwide, the Company has announced 8-10 company owned and 1-2 international franchise restaurant openings for 2022, supported by a strong pipeline of new restaurant development to meet demand in new and existing markets. In the first half of 2022, the Company opened locations in El Segundo, Calif., Coral Gables, Fla., Rio de Janeiro, Brazil and Monterrey, Mexico, with additional planned openings in Queens, N.Y., Paramus, N.J., Reston, VA and others expected later this year.