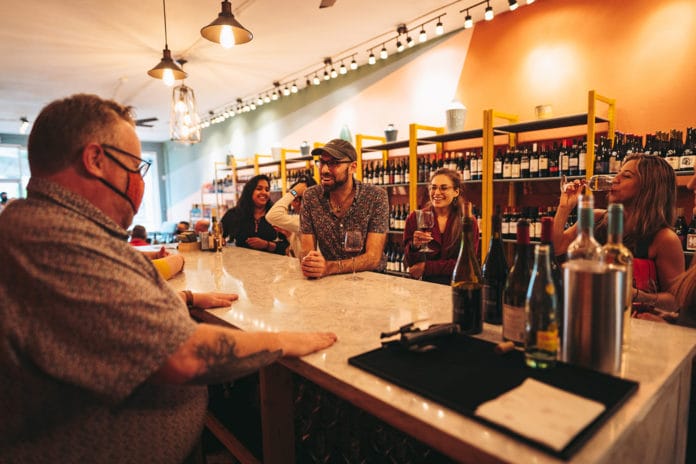 By Charlie Crespo
Photography by Alyssa Del Valle
Timothy Graham laughs as he says that it took a "kick in the pants" from his wife and Small Wine Shop co-owner Tracy Pell to open Fort Lauderdale's first natural wine store. Pell and Graham—who is a 20-year veteran of the industry, a DipWSET candidate and a certified specialist of wine—zeroed in on Flagler Village after falling in love with the area and unveiled the Small Wine Shop in late July. With about 250 wines in the store, the couple is ready to introduce a unique style to South Florida audiences: natural wine.
Why introduce Fort Lauderdale to this type of wine shop? If you go into any other store in the area, there is no diversity of product. When you come in here, the odds are that you haven't seen 90% of what's on our shelves. I also see Fort Lauderdale as both a "foodie" and health-conscious town, so its residents are more inclined to try something that is organically or biodynamically grown and doesn't have a lot of additives.
How do you define "natural wine"? The classification of "natural wine" still hasn't been set. Like other industry proponents, I think natural wine should come from organic or biodynamically farmed vineyards. Once the grapes are taken from the vineyard, the wine should be naturally fermented, should be bottled with little to no sulfur dosage and should contain no additives. Under current U.S. guidelines, several dozen additives (like egg whites and isinglass) can be added to wine, and most bottles do not have any ingredient label. I think a natural wine tastes fresher and alive.
What are some challenges with selling this type of wine? These aren't "big" wines for the most part, so you won't see the alcohol content creeping into the 15% and 16% range. Body styles could also present a challenge. For people who like heavy, chewy and juicy reds, it might not be the style for them, but we can come close to finding something that approximates that.
In a post-pandemic world, what are some things we can expect from Small Wine Shop? We hope someone can come in and have wine with a snack before grabbing dinner or seeing a show at the Broward Center for the Performing Arts. I'd love to host classes and have winemakers visit and talk about their wines while we pour. I'd also like to have pop-ups with local restaurants and food trucks and events that focus on a particular region or style of wine.
This article originally appeared in the Fall 2020 Issue.