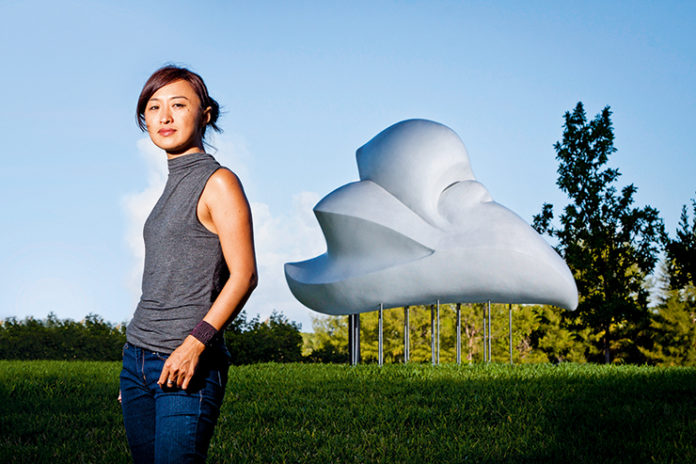 By Ana-Christine Cook
Photography by Eduardo Schneider
Valeria Yamamoto's roots are extraordinary. She was born to a Japanese immigrant family in the far reaches of rural Florencio Varela, Argentina. Growing up in a small Japanese colony of floriculturists within greater Buenos Aires proved to be one of the artist's strongest influences.
Though she did not initially realize it, Yamamoto, whose work has shown at the Patricia & Phillip Frost Art Museum, Bernice Steinbaum Gallery and Art Vision Gallery, now sees that pieces of her childhood are mirrored in her artwork. Her distinct sculptures—from tiny works made of porcelain and eggshell to 6-foot-tall works built from cement—mimic nature, and Yamamoto believes her artistic roots were planted as a child when she and her sisters would help their mother in the family flower shop, arranging and organizing flowers. As she puts it, "The elements that I saw growing up are reflected in the pieces."
Without any museums or galleries close to her hometown, Yamamoto recalls a serene landscape of hills as "the art" that surrounded her youth. Then, in 2001, Yamamoto moved to Miami and enrolled in art courses at Miami Dade College and later Florida International University where she graduated with a bachelor's degree in sculpture in 2008. Since then, Yamamoto's work has been shown in galleries locally and abroad, and what will be her most visible—and largest—project to date is set to be unveiled in Fort Lauderdale's Flagler Village this fall.
In 2001, Yamamoto moved to Miami. Taking English-speaking courses at Miami Dade College eventually led her to where she is now. What started out as a few classes to practice her speaking skills soon turned into college-level art courses that inspired her to continue her education.
The project came about after Yamamoto was introduced to Rebecca Bradley and Gage Couch, founders of local landscape architecture and urban design company, Cadence, last year. The two had been planning an outdoor space in downtown Fort Lauderdale that would promote walkability and engage the community and wanted to bring in a sculptor to create works to run alongside a walking trail. After months of searching, Bradley and Couch chose Yamamoto last November as the artist to help fulfill the vision.
A collaboration of Cadence, Girls' Club, Flagler Garden, the Community Foundation of Broward (which awarded $20,000 for the project) and Yamamoto herself, Mockingbird Trail aims to become one of Fort Lauderdale's biggest attractions. "This is a trail that opens up neighborhoods in one component or another," Couch says.
A path that routes around the Flagler Village neighborhood of Fort Lauderdale, Mockingbird Trail (which Yamamoto named for Florida's state bird) will be open to the public starting in October when its first section is complete. The 2-mile-long nature trail will exhibit work by other artists as well, and across mediums to stimulate all of the senses. "It's not always about what you see, it's about what you hear," says Yamamoto, and then asks "Is it speaking to you?"
Originally appeared in the Summer 2015 issue.