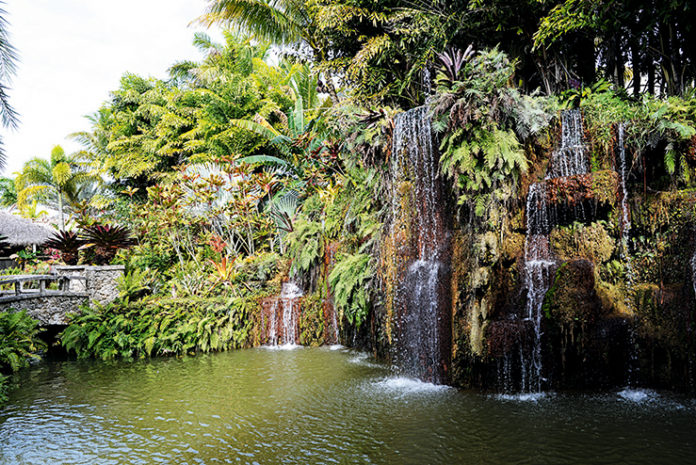 By Wade Sheridan
Photography by Alissa Dragun
The roads are long and clear. On the right are big fields with men collecting their crops, and on the left a tractor slowly drives by. Traveling down the two-way paved road, farms appear miles apart from each other. An occasional peacock can be found roaming the roads. Palm trees sway in the wind. Cell phone reception is hard to come by in these parts, where modest clapboard houses are the norm. Relax, you haven't been sucked into some obscure dimension far from the comforts of South Florida. You are in Redland.
An agricultural area in Homestead, Redland is the second-oldest city in Miami-Dade. So named because of the large amount of red dirt found in the region and underneath torn-down trees, the fertile land in Redland has long captivated agriculturalists and nature lovers, including famed botanist Dr. David Fairchild and ornithologist John James Audubon. Unlike its neighbor Miami, whose well-known party scene and fast-paced, glamorous lifestyle is the antithesis of Redland, life here is much slower. It's a region known for its very close-knit community, where hard work is highly valued, calloused hands are equivalent to battle scars, and family is everything.
Upon entering this area and leaving the crowded urban sprawl of South Florida behind, the first stop for most visitors is the renowned fruit stand, Robert Is Here. Located near the Everglades Alligator Farm and about 30 miles southwest of downtown Miami, the popular stand immediately grabs visitors' attention with its big white-lettered sign announcing Robert is Here and bright green tractors parked along the edge of the property. As he describes it, this fruit stand earned its name when owner Robert Moehling was sent out to sell his dad's cucumbers on the side of the road when he was 6. After an unsuccessful first try, Moehling's father sent his son back out to sell the fruit, this time holding hurricane shutter signs that read Robert Is Here. The name has stuck since then.
Today Robert Is Here is one of the most successful and recognizable landmarks in Redland. Specializing in fresh fruit, vegetables and milkshakes, Robert Is Here has become a premier destination for healthy eaters. What sets this store apart from a typical grocery store is what sets most of the retailers in Redland apart from what's found in a big city. Visitors can see the produce being grown and nurtured, and even at farm stands such as Knaus Berry Farm, strawberries can be picked out personally for purchase. These farm-to-table-centric businesses offer a level of authenticity and freshness that's hard to match.
Moehling's 50 acres of farmland supplies the store, and what he can't grow he buys—but only if the product matches the high standard that his customers are used to. "We farm and buy from local growers," Moehling says. "We get it from north Florida, Georgia, and I only buy the best. It's cheaper to buy the best. I don't even care what it looks like, I want the best quality. I don't bring in the kind you find in the store."
Robert Is Here's family-run operation includes Moehling's four children and two daughters-in-law. The 62-year-old Moehling works at his stand just about every day of the year. His staunch, unmatchable work ethic has helped the store sustain success and notoriety for more than 50 years. It has kept competitors away as well, he says.
"Nobody works as hard as me," Moehling says. "I closed one day to bury my mother and my father, and when Hurricane Andrew came. Nobody can compete with being open every day."
Today, the store is open daily from the first weekend of November until Labor Day, but Moehling is even considering changing that schedule and adding more days. As for his own work, Moehling plans to transition his kids to running the store, partly due to focusing on a soon-to-be-published biography and a brand-new motorcycle he bought. Still, Moehling says, he probably will be the greeter outside even when he is too old to work.
What Moehling has built here though is fascinating. Not just with Robert Is Here, but with the community present in Redland. Together he and other local businesses, including The Monkey Jungle, Coral Castle and R.F. Orchids, have united in making Redland a destination spot for travelers and tourists. In 2006, they formed the Historic Redland Tropical Trail, an idyllic 16-mile pathway stretching across the entire Redland that highlights and promotes historical sections of the area for tourists to get the most out of their visit.
As Moehling will always point out, his mission is to connect his customers to his compatriots, whether it's Bonsai Garden, antique and collectibles shopping area Cauley Square, or Schnebly Winery & Brewery located just down the road.
To visit Redland is to experience a side of Miami-Dade you never knew existed. When describing why after many offers Robert Is Here will never franchise, Robert's son, Brandon, seems to perfectly capture the essence of Redland and how its businesses have been able to flourish with its fresh produce and authentic services.
"It can only happen here," Brandon Moehling says. "Everything here is a necessity. We are the end result of doing things the same way for 55 years. There are a lot of moving parts to this. We are the result of our area. Not everyone can do this. Not everyone can have this quality. A limitless budget could not re-create this."
Originally appeared in the Spring 2015 issue.