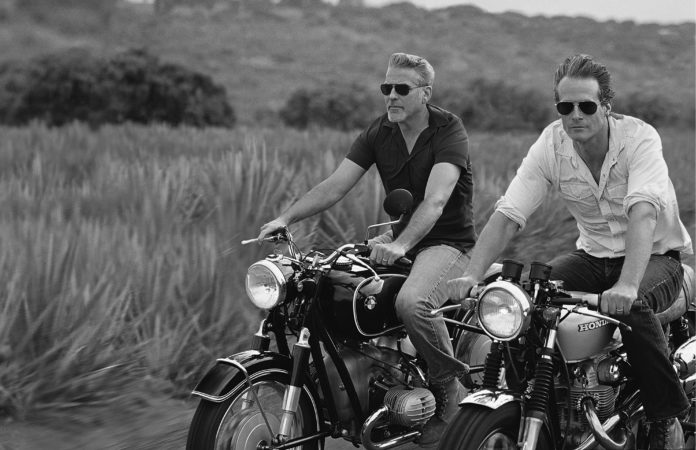 By Caris Harper
Two men, two motorcycles and the open road, all in the hope of spreading the word about good tequila. Perhaps there's no greater formula for a modern-day bromance than what Academy Award winner George Clooney and businessman Rande Gerber have found.
"We love tequila," Clooney says. "On the rocks, by the shot, at times straight from the bottle."
That's one reason the two launched Casamigos Tequila in 2013 with friend and Discovery Land Company founder Mike Meldman. Casamigos, named after Clooney and Gerber's homes in Mexico, roughly translates to "house of friends" and, as they put it, signifies getting away for good times. Over the last year, the ultra premium tequila not only opened an importing company, but it also has more than doubled its volume, proving that its non-traditional approach has broken the mold in the spirits industry.
"Our idea was to make the best-tasting, smoothest tequila whose taste didn't have to be covered up with salt or lime," Gerber says.
Clooney and Gerber have taken an annual motorcycle trip for the past 15 years in which tequila is second only to their spontaneity. Past locations included the French Alps, the Dolomites and across the Great American Desert. They select the route as they ride—no GPS, only maps and intuition. As Clooney says, this is his area of expertise; he knows the terrain and how to find the road less traveled. Some days they ride for 18 hours straight before looking for a place to rest.
Their most recent trip took them to the Casamigos distillery in Jalisco, Mexico. Before heading to Jalisco, they traveled across the United States on historic Route 66, stopping every so often for fuel, to see landmarks such as the Grand Canyon, and to share Casamigos with the people they met along the way. They rode through Utah and Colorado while Gerber documented the trip on his Instagram account.
Normally, they ship their Harley-Davidsons out for a trip, but for the Jalisco trip they needed smaller motorcycles for the area's rough terrain. Clooney rode a vintage BMW and Gerber a Honda 750. Around the distillery, they rode through the highlands, home to thousands of acres of agave plants, with thorny and blue tinted spines.
They made a tequila pit stop, where they sat and drank with some of the jimadors, farmers who harvest the agave hearts. Gerber and Clooney pulled out a bottle of Casamigos and canteen cups, sharing a drink and toasting to life.
Originally appeared in the Winter 2016 Issue.