By Monique McIntosh
Portrait by Ron Hill
Old leather, wet grass and fuzzy tennis balls fresh from the can. The oddest, and perhaps best, descriptions of wine often have less to do with taste and more to do with memory. One sip can conjure up a place or a mood out of thin air. For Donae Burston, rosé will always taste like the sun in St-Tropez, France, on his 30th birthday, which he spent on Pampelonne beach, laughing and lounging with friends.
Back then, Burston was no novice when it came to wine; he had already transitioned from corporate IT consultation to wine and spirits marketing at the prestigious French luxury giant LVMH. But he found the culture surrounding St-Tropez's signature wine to be unique. In the coastal town on the French Riviera, his experience of rosé exuded pleasure without pretension. He noticed his fellow imbibers had no qualms about plopping a few ice cubes into their glasses. "I don't really remember what it tasted like because I drank so much that day," says the 45-year-old with a laugh. "But I remember falling in love with the idea of how people were drinking it there. That was really the allure."
After approximately 15 years of building his reputation at LVMH and Armand de Brignac, in 2019, Burston launched his own wine label, La Fête du Rosé—the first entirely Black-owned rosé produced in St-Tropez. The memory of his introduction to day-drinking rosé in France stuck with him through the years and formed the foundational philosophy of his brand: It's the drinker—each with individual joys and experiences—that gives wine its true flavor. "You can always remember where you were the first time you heard your favorite song," Burston says. "We want to make La Fête the same way."
Even with its focus on one-on-one experiences with wine, the South Florida-based rosé brand is unequivocally for all, and its inclusive ethos is a refreshing departure from how the blush-colored wine has been traditionally marketed in America. Picture a rosé drinker, and you'll likely immediately think of a white woman swathed in layers of pink-hued girlishness. In the ad campaigns of the most prominent rosé brands, Burston was not seeing Black men like himself—nor any men, for that matter. People of color didn't seem to be invited to the rosé party either, which meant many were left out of enjoying a wine that has been consistently growing in popularity. Pre-pandemic, rosé sales had the fastest growth rate among all wine categories in the U.S., increasing by more than 40% per year on average, according to market research firm Nielsen.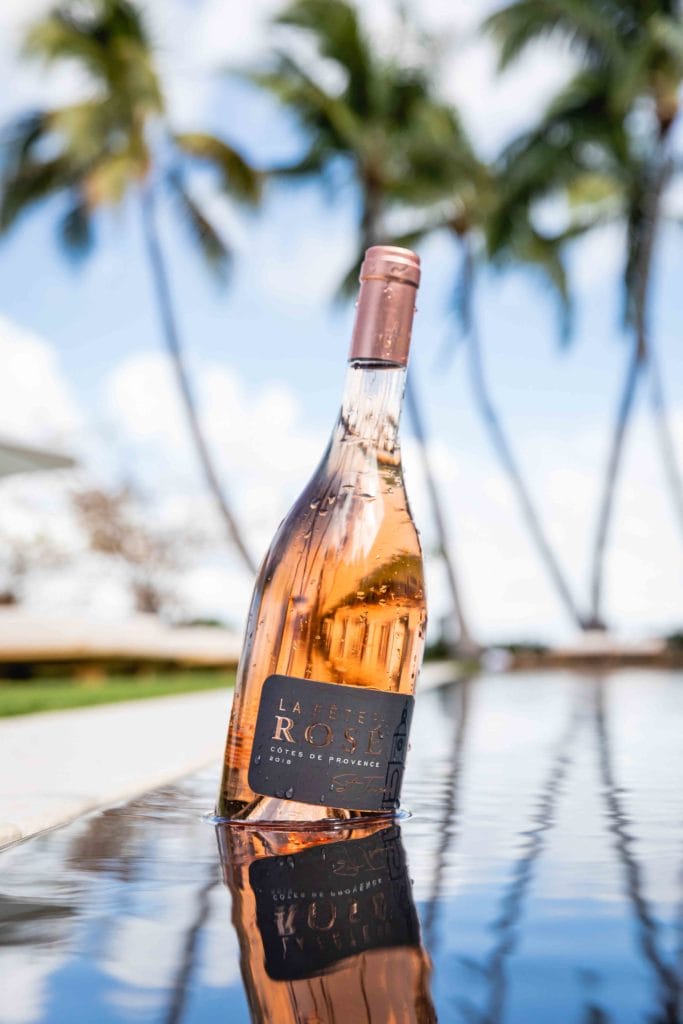 Such racially skewed and gendered marketing echoes the exclusivity of wine culture in general with its presumptions about who drinks what and who has good taste. "We're trying to remove all that snobbery because it's a form of gatekeeping," Burston says. In contrast, a quick scroll through La Fête du Rosé's social media showcases a diverse community of fans. "I want to show that rosé is for everyone and shouldn't just be seen in white hands," Burston says. "It's important, especially as people of color, to see ourselves."
The brand also challenges the reputation of rosé wines among American drinkers as nothing more than sugary frills, despite the wine's fine vintner tradition in France, especially in St-Tropez. In fact, La Fête du Rosé comes with some serious bona fides. For two years, Burston worked closely with Domaine Bertaud Belieu winery, one of the oldest and most esteemed in the region, to develop his signature blend of grenache, mourvèdre and syrah. The result of his efforts is a dry drink with notes of fruit, bonbon and hazelnut. Avoiding overt sweetness also makes La Fête du Rosé a contender as a gastronomic wine, a key goal for the brand. "The mission is to not only make it more inclusive in terms of who is drinking it but to also break seasonality, so you can drink rosé year-round," Burston says.
2020 enabled the brand to provide that year-round opportunity, albeit in an unexpected way. When the COVID-19 pandemic shuttered the luxury hotels and restaurants Burston and his team had previously catered to, they expanded to direct-to-quarantining-consumer online sales. La Fête du Rosé even went viral when DJ D-Nice rocked a bottle during one of his Instagram Live sets with over 100,000 people watching—including Oprah Winfrey and Michelle Obama—and sales jumped 300%.
There is always profit in leveraging a market's blind spots, which Burston aims to do with La Fête du Rosé's inclusive messaging and latest product release, a limited-edition Provence white wine. Championing pleasure for all, however, is more than just good business for Burston. He uses some of the company's profits to support organizations, such as All Abroad, which provides global travel opportunities to underrepresented high school students. Burston knows firsthand how transformative those experiences can be. After all, it was time spent in a place far from his native Baltimore and that unforgettable first taste of joie de vivre that changed his trajectory and inspired a wine that never fails to recreate that rosy feeling.
Originally appeared in the Summer 2021 issue.