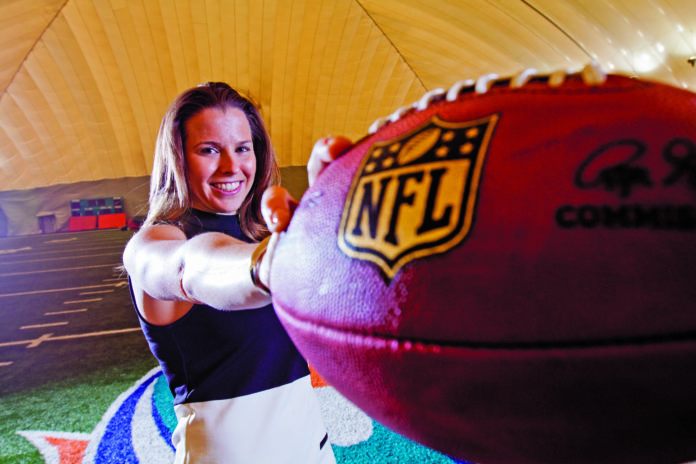 By Nila Do Simon
Portrait by Eduardo Schneider
Mary Ellen Bingham watches Miami Dolphins games a little differently than the rest of us. In particular, the Dolphins' team sports nutritionist is focused on the fourth quarter. That's because every move a player makes, how quickly he accelerates and decelerates, and how he bursts out of a three-point stance in the game's final moments are all crucial elements to Bingham's work. "If players are performing well in the fourth quarter, then all the work we've done leading up to this moment is paying off," she says.
The Dolphins are currently one of 10 NFL teams to have a full-time registered dietician on staff. The 34-year-old was hired in 2014 as part of the team's efforts to maximize player performance, injury prevention and overall health. Her focus is to educate the athletes and get them to understand how proper nutrition can help them with recovery.
And Bingham should know. She was a Division I athlete at Boston University, where she competed as a triple jumper. Along the way, she realized how and when she fueled her body directly correlated with her track and field performance. In fact, it was an exact science.
"How I took care of my body could help me or hurt me as an athlete," she says. "How I slept, how I ate, all of that. It can be the difference between getting that extra half of an inch or not, which is a huge margin in sports."
Bingham earned her master's in clinical nutrition from New York University and then completed her clinical training at the James J. Peters VA Medical Center in the Bronx. In 2010, she was hired by the University of North Carolina to serve as head sports nutritionist, overseeing 21 varsity teams and working closely with the football squad for nearly five years before transitioning to the Dolphins.
When Bingham was hired by the Dolphins two seasons ago, she notched another credential in her professional belt: the league's first female full-time registered dietician. Since then, three other NFL teams have hired full-time female RDs. In an industry full of men—many of whom are three times the slender Bingham's size—building trust with these towering athletes and coaches was of utmost importance to her.
"The players know that I really care about them and their performance," she says. "They understand that I'm only trying to help them in the long run with all these tools that I've studied and picked up along the way."
Along with the entire Dolphins' performance team, which includes sports science specialists, strength and conditioning coaches, athletic trainers and physicians, Bingham calibrates how each player recovers after all the hits he takes or gives, practice after practice, game after game.
"We want to maximize recovery and decrease inflammation after a workout," she says. "The trick is finding out how to decrease it in each player. They've taken quite a few hits over the season, so it's our job to help them with it."
To do so, Bingham consults with each player to concoct individual recovery shakes to refuel them with necessary fluids and electrolytes that have been lost during a workout. She also zones in on the proper nutrition timing (the strategy that involves the consumption of combinations of nutrients in and around an exercise session) to bookend their workout and ensure an effective recovery. One player in particular, the Dolphins' top wide receiver Jarvis Landry, sought out Bingham's advice to increase his performance level.
"With Jarvis, we were able to dial in a pre- and post-workout recovery nutrition plan to fine-tune his nutrition timing," she says. "How he recovers really affects how he feels in the fourth quarter."
The result? Landry was voted to his first Pro Bowl last season, something Bingham attributes to hard work—and a heavy dose of sports science.
Originally appeared in the Summer 2016 issue.