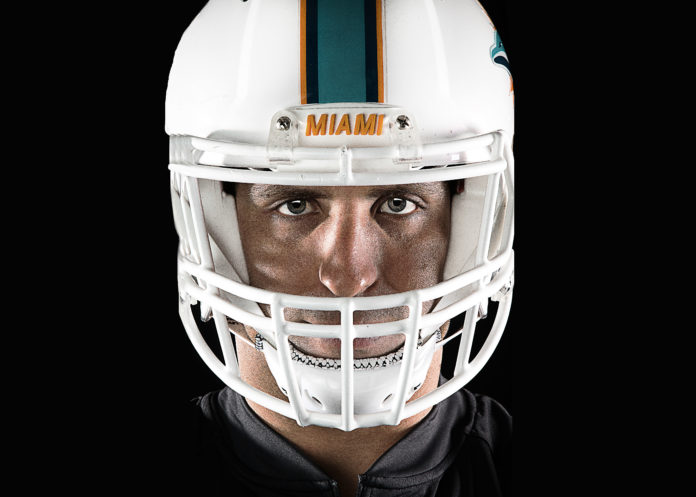 By Jon Warech
Portraits By Eduardo Schneider
Anthony Fasano is a presence. When the 6-foot-4-inch, 258-pound Miami Dolphins tight end walks into a room, heads turn. You assume he's an athlete, and at the very least, you know he's definitely "somebody." There are two places, though, where he is just one of the guys: on the football field and at Next Chapter, a male-exclusive addiction and trauma treatment center that the 33-year-old Fasano opened a year and a half ago in Delray Beach.
"Addiction doesn't discriminate—age, race, religion—it doesn't matter," Fasano says. "At Next Chapter, patients ask me football questions, but mainly I sit in on groups and tell my story and listen to theirs."
His story—about a family member struggling with addiction—helped spark his new business venture in South Florida, an area that always had his heart. Fasano sat down with Venice to talk about
Next Chapter, returning to the Miami Dolphins after stints with the Tennessee Titans and Kansas City Chiefs, and plans for the next chapter of his life, including raising his young daughter.
Was drug addiction something you saw a lot of growing up in New Jersey?
Not at all. I was regretfully one of those people who didn't understand addiction. I thought addicts were weak people who had an excuse for something. Unfortunately, it took seeing a family member—who I knew was a good person—succumb to the disease of addiction for me to open my eyes and have more sympathy.
Was it hard to watch his struggle?
Yeah. I was away from New Jersey at the time so I didn't see a lot of the signs leading up to it. We got a phone call informing us that he was missing, and through some investigating by our family we figured out it was drugs. It really shocked us.
How did you turn this family struggle into a business venture that helps others?
He came to Florida to get help. Luckily, he's been sober for almost three years now, so we're grateful for that. He started working in the industry after he was a patient. I was picking his brain about what his life was like, and he started putting the pieces together. I was looking to invest in some part of the business. He met some people—a clinical director and other employees—who would be able to start a program, so we created Next Chapter.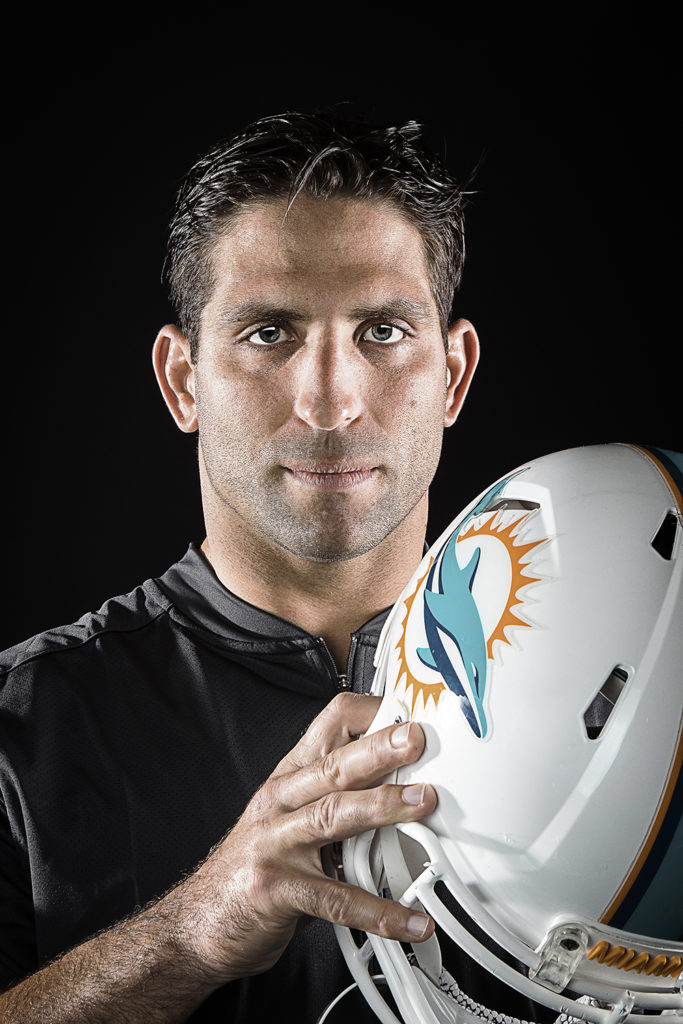 Next Chapter started with 10 beds and is now up to 18 beds, with about 60 patients coming and going in year one. What's your role in the growth of Next Chapter?
This year I think we will more than double our number of patients. I'm involved as much as possible without taking away from football, which is my main priority. In the offseason I like to be in the office about three days a week, working with Abe Antine, Next Chapter's CEO and clinical director, on general practice about which way the business is going, hires and fires, and our growth plan.
How have you taken a different approach to drug treatment?
We set out to not only be a drug and alcohol rehab facility, but our main focus is trauma. A lot of times we have veterans whose main issue is not drugs or alcohol—it's the trauma they're living with. It's post-traumatic stress disorder. It's certain childhood traumas that we're treating. So it's really not your typical 30-day drug and alcohol program. We go a lot deeper into our patients' issues.
As a father, does seeing some of this trauma affect how you parent?
You definitely think twice about how you parent. A lot of our patients' problems started in their childhood, and I wouldn't necessarily blame the parents 100 percent, but there are things that could have been done a lot better that I definitely want to try to avoid as a parent. I think trauma comes in a bunch of different forms. It's not necessarily physical abuse; it may be neglect or not knowing how to love your child the right way or not knowing how to have the difficult conversations with them. It might be that you're too involved in your kids' life and you don't have boundaries. So I think the word trauma gets thrown around, but there's a whole bunch of traumas that can have a big effect on a child's life.
What do your teammates think of this venture?
A lot of them are into it. Tight end Julius Thomas said he'd like to go back to school and go into counseling. He'd like to sit in on meetings and talk to our staff a bit more. I don't try to push what I'm doing outside of football on my teammates much, but if they ask I'm happy to talk about it.
It must be hard to juggle both jobs. How do you do it?
This time of year, I'm focused fully on football. I owe that to my teammates and the organization. I have free time, but I'm never totally off. I used to play golf, but that's taken a back seat. I love fishing down here, but I don't get out as much as I'd like to. Between trying to get this old body into shape, going up to Delray Beach and being a dad, I'm pretty jammed up. After retirement I think we'll slowly expand Next Chapter, and I'll step into a bigger role. I'm not really sure what that role will be, but it definitely consumes my life in the offseason, and in retirement I assume it will do the same.
What are the expectations for this season?
High. The quarterback situation was definitely a blow for us, but I think we're going to move on and make the best of it. Quarterback Jay Cutler has worked with Coach Gase before. He knows him and the system, so that's a leg up to start. Coach is in his second year. I'm just trying to help out however they're going to use me.
That theme of commitment and consistency carries over to your job at Next Chapter as well, doesn't it?
Yeah. I'm always on email or working out even when I'm on vacation, which I love. I wouldn't have it any other way. I'm someone who wakes up with a list of things to do even when I have nothing to do. It's what makes me happy.
We know football is judged by wins and losses, but how do you define a win at Next Chapter? 
I'm really happy with the program, the census and the length of stay—which is really what we are trying to harp on with our patients. But, I don't know what success is. Is it a year sober? Is it a lifetime? Is it getting back on your feet? I wouldn't know our success rate, but we definitely have people who come back or people who are on their sixth treatment and just trying to find a solution. But when we get testimonies from the patients who leave and their loved ones about how well they're doing and how thankful they are—that's what it's all about.
This article originally appeared in the Fall 2017 Issue.