COMING SOON
BACON BITCH – WEST PALM (Fall 2022)
Bacon Bitch, the innovative breakfast concept inspired by a love for bacon owned by Joseph Natale and Peter J. Bolanis II, is intended to dismiss the notion that breakfast has to be boring. The entrepreneurs are set to open their fifth location mid-November 2022 in the heart of downtown West Palm Beach at 330 Clematis St. The brand's flagship location opened in South Beach's  Essex House by Clevelander in 2017, followed by Bayside Marketplace in Downtown Miami, St. Petersburg (2019) and recently in Orlando (Summer 2022).
The spot offers diners a crave-worthy, photo-ready menu that, despite the brand's playful nature, shows a dedicated-seriousness to quality. A focus is placed on locally and responsibly sourced ingredients including the use of 100% gluten-free, MSG-free, nitrite-free bacon, made using old-world charcuterie techniques by Niman Ranch's independent family farmers, who raise livestock humanely and sustainably, and ethically produced, pasture-raised egg from Vital Farms.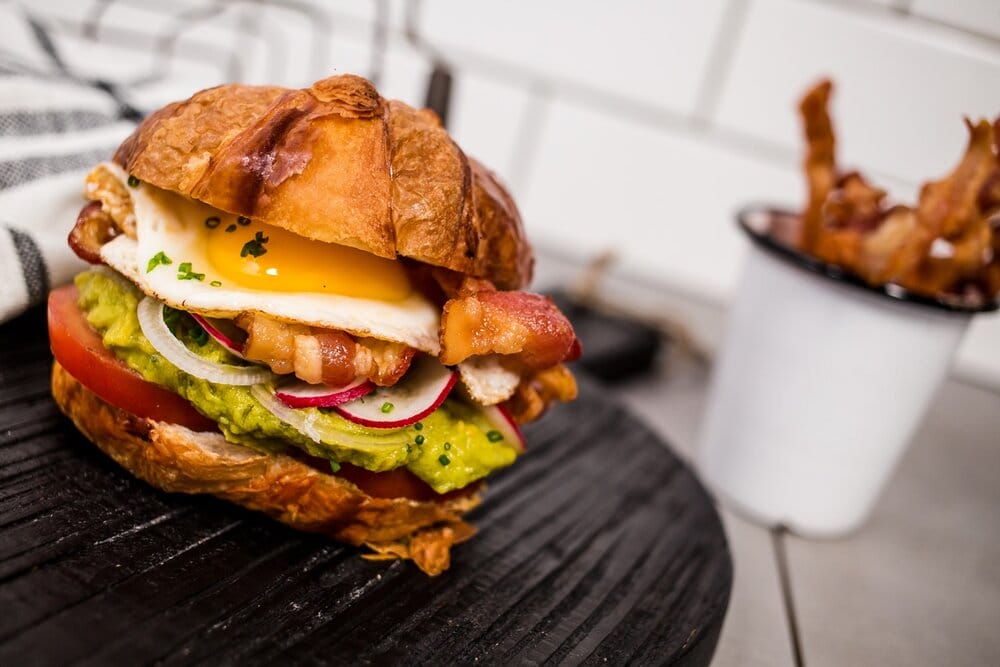 Created to be a fun and memorable dining experience, the brand puts its best "Bacon Bitch" face forward from the moment guests are greeted upon entry. The menu is dedicated to "Hungry Bitch" offerings that begin with loaded flavorful sandwiches served on daily baked croissants (Main Bitch), breadless platters (Naked Bitch), accompaniments (Side Bitch) and a selection of coffee options (Café Bitch), as well as a comprehensive beverage program with Champagne, wine, beer, and cocktail choices to get the party started. Bring all your favorite "bitches" together to enjoy popular Main Bitch menu highlights such as Queens ($13) with applewood smoked bacon, scrambled eggs, melted cheddar cheese; Juicy ($16) with grilled marinated flank steak, sunny side up egg, caramelized onions, roasted peppers, chimichurri aioli, Swiss cheese; and Boujee ($14) applewood smoked bacon, sunny side up egg, smashed avocado, sliced tomato, bitch sauce. Must-try Naked Bitch selections include Chicken & Waffles ($22) served with sunny side up egg and applewood smoked bacon, Fit ($15), an egg white omelet stuffed with tomato, spinach, grilled pepper and onions, and Thick ($24) with applewood smoked bacon, smoked honey ham, andouille sausage, sunny side up eggs, and melted cheddar cheese stuffed hash browns. Drink specials include signature drinks like the over-the-top Hangover Bitch ($30) made with vodka, Bloody Bitch mix, cheddar cheese-stuffed hash browns topped with a fried egg, slices of Niman Ranch bacon, olives, and a lemon slice, the Drunk Bitch ($30) appropriately described as "a little bit of everything, definitely order that uber," and a selection of Mimosas ($14) – orange, cranberry and pineapple.  Other beverage options range from Frozens, Margaritas and Mojitos to varying options of champagne bottle service (Dom Perignon and Moet & Chandon Brut).
The restaurant will serve breakfast daily from 8 a.m. to 6 p.m.
ELEVENTH STREET PIZZA (Fall 2022)
#PizzaAndLove is the fitting brand motto boasted by Eleventh Street Pizza, the loved-by-locals restaurant, which officially announces the anticipated opening of a second location in the ever-expanding Dadeland area (9025 SW 72nd Place) in South Miami Fall 2022.
Since the launch of the flagship in February 2021, Eleventh Street Pizza has become a favorite among foodies and snapshot-happy visitors, influenced by a menu oozing with delicious Neo-New York-style dishes.  Eleventh Street's trademark is their exclusive sourdough pies and naturally leavened Sicilian sourdough pies that taste as indulgent as they look and keep loyal patrons coming back again and again.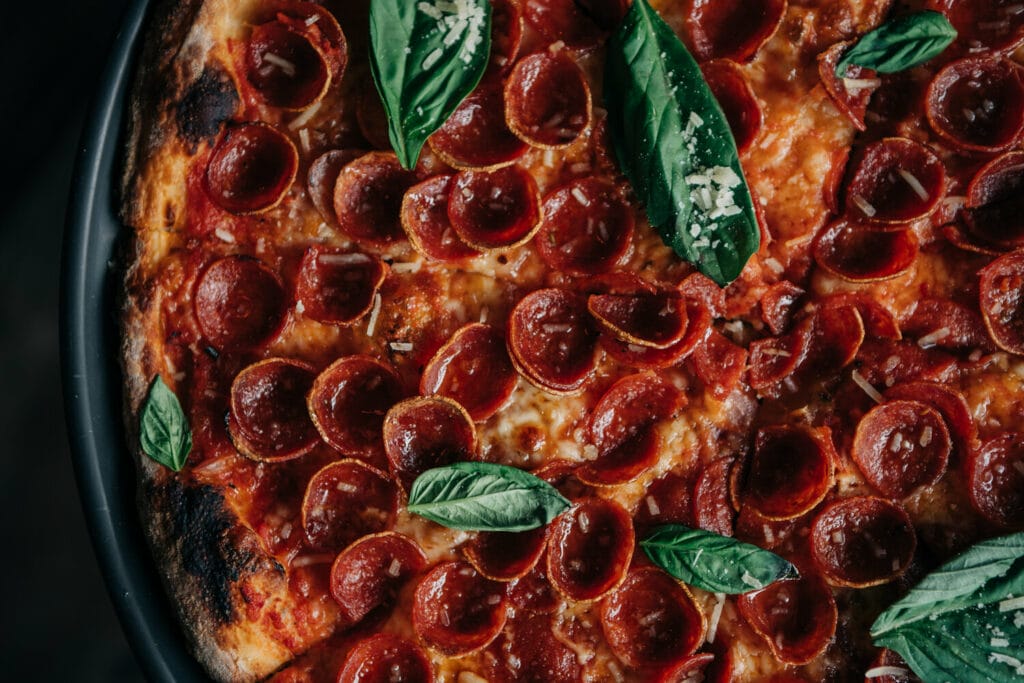 The new Dadeland location will nearly double in size to its sister, with more than 25 indoor seats and 40 outdoor seats.  A menu provides a roster of signature pies – available in both small and large – that can be varied in ordering styles including by the slice (lunch only), rounds, square and Sicilian-style. Pies including classics like The Carmine Cheese ($28), which received an outstanding 8.2 score by Barstool Sports "One Bite": The Brooklyn Cheese ($32) with sauce on top, a Pepperoni & Hot Honey ($36/$42) and a classic Pepperoni and Mushroom.  Other pies show off Foulquier's epicurean influence, like the Wild Shroom ($36), crimini mushrooms, thyme, shallot, mozzarella, garlic confit, caramelized onions, parsley and sourdough breadcrumbs; Tomato & Burrata ($32), with organic Bianco DiNapoli tomatoes, local burrata (made fresh daily), garlic, olive oil and fresh basil; and La Provençal ($28/$38) with organic Bianco DiNapoli tomatoes, confit garlic, roasted red onions, zucchini, basil and pepperoncini.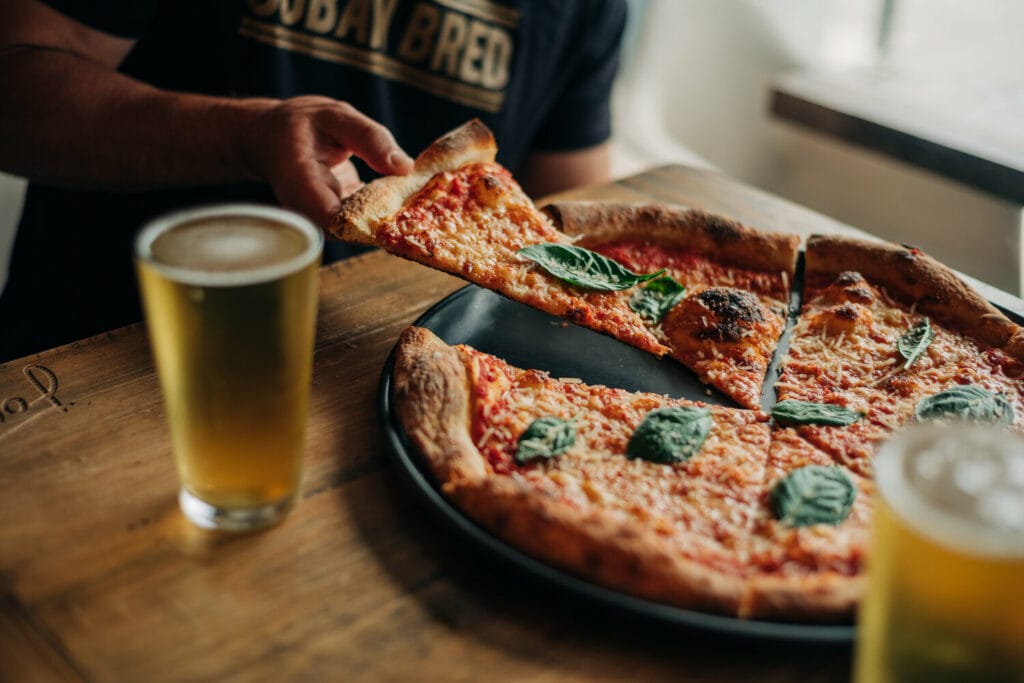 Exclusive to the Dadeland location, guests can enjoy an expanded dine-in menu including the addition of a freshly sliced Prosciutto, Stracciatella & Cherry Tomato Salad, Hot Honey-Glazed Chicken Wings, and a thinly-pounded Chicken Parmigiana as well as buzzed-about sweet finishes like a Chocolate Pistachio Budino, a milk and egg-custard Italian pudding, and a seasonally-rotating made-in-house gelato.  Eleventh Street Pizza in Dadeland is located at 9025 SW 72nd Place, Miami, FL, 33156. The restaurant will be open daily, Sunday-Thursday 11:30am-10pm; Friday and Saturday 11:30am-11pm.
SUSHI | BAR MIAMI BEACH (Fall 2022)
Sushi | Bar Hospitality principals alongside Executive Chef Ambrely Ouimette are expanding their distinguished Sushi | Bar omakase experience to Miami Beach, Florida opening October 2022. The popular omakase-style, speakeasy concept originally opened in Montecito, California (2018) and expanded to Austin, Texas (2020), will be located just steps from the Española Way promenade on the ground level of the Esmé boutique hotel. Each evening, a limited number of guests will be able to enjoy a 17-course full omakase for $145++ per person.
Upon its initial launch, reservations will be available for two seatings an evening for 12 people per seating. An addition of a third seating time will come at a later date. Ouimette, is one of the country's only female omakase chefs. Her resume includes captaining the teams at iconic destinations Matsuhisa Denver (Chef Nobu Matsuhisa) and Ironside Fish & Oyster Bar in San Diego (Chef Jason McLeod). At Sushi | Bar Miami she will provide her interpretive take on the traditional sushi counter experience, preparing unexpected riffs on long-standing sushi classics with her signature finesse of house-made accouterments like koshos, ferments, pickles, and salt-blends.
The menu at Sushi | Bar changes often but is steadfast in showcasing the freshest fish sourced and flown in weekly via some of the best markets in the world, including Japan, Australia, and California. While the omakase menu will shift almost daily, Sushi | Bar Miami will feature some of Ouimette's signatures including Aged Bluefin Akami with dehydrated red miso and everything bagel spice; Hokkaido Scallop with white truffle salt, shaved black truffle and spherified truffle caviar; and Kanpachi with pineapple, passionfruit, shishito vinaigrette and shaved coconut.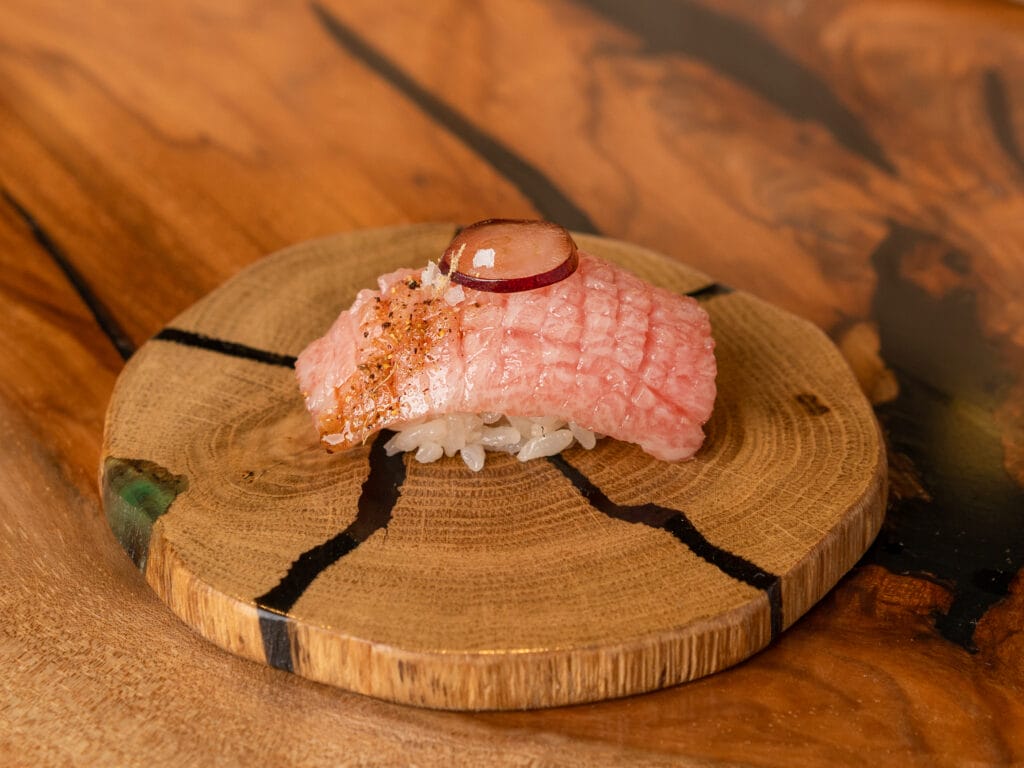 Additional Miami-exclusive dishes will be included in the chef-guided experience, influenced by the region's leading purveyors and artisan growers. Every location of Sushi | Bar is designed to transport diners to traditional Japanese sushi bars found in the 1930s with a sexy, mysterious allure that fades into a friendly, intimate experience between chef and guest. Nightly diners will be offered a selection of available drink pairings, including sake, cocktails, wine, and beer. Guests are encouraged to arrive 30 minutes before their selected seating and enjoy a welcome cocktail to ease their way into Ouimette's playful reverie on nigiri and other delicacies.
Sushi | Bar Miami will be located at 1435 Drexel Ave., Miami Beach, FL 33139. Reservations for Sushi|Bar Miami will go live on September 1, 2022, and are exclusively available via Tock.
TANUKI (River Landing) (Fall/Winter 2022)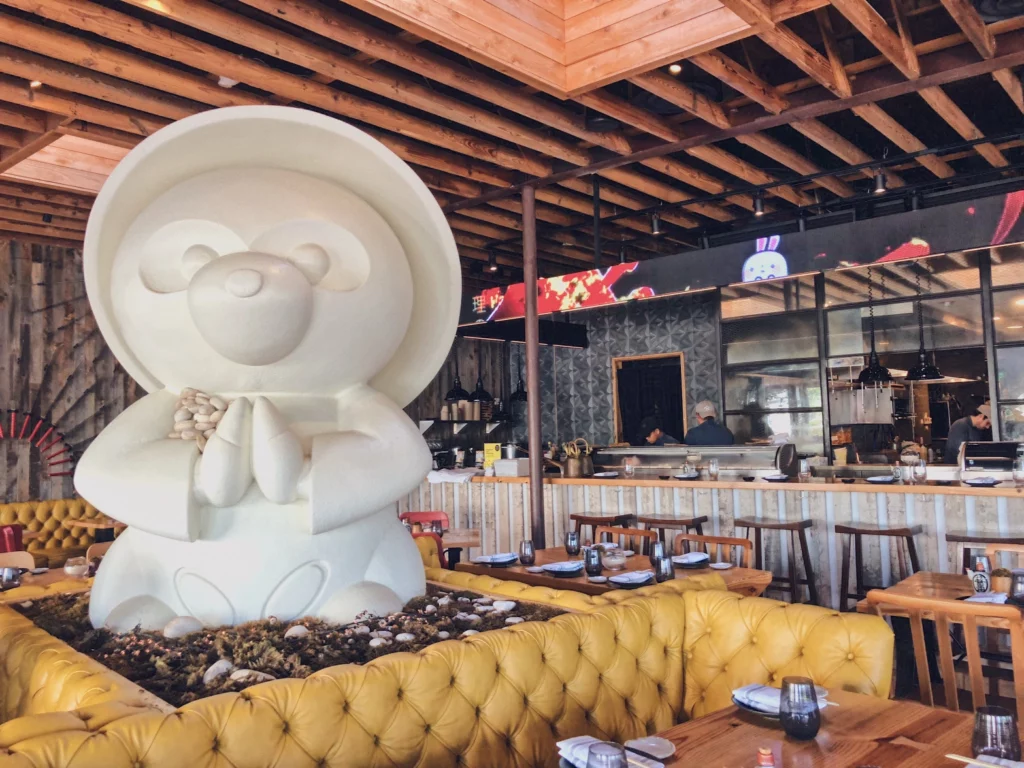 TANUKI will open its second location in Miami this December with a 4,500-plus square-foot space in the up-and-coming River Landing community.  With plenty of indoor and outdoor seating facing the historic Miami River, the modern Asian eatery will serve up its signature dishes including sushi, sashimi, dim sum, and hot and cold Asian fusion dishes all created with a contemporary approach in preparation and presentation. In addition to an impressive sake and wine list, unique Asian fusion cocktails will complement the cuisine.
TANUKI's new location will be located at River Landing Shops and Residences at 1400 NW N River Dr, Miami, FL 33125.
RECENTLY OPENED
LA ROMANITA RESTAURANT AND LOUNGE (August 2022)
La Romanita Restaurant & Lounge, the first restaurant by Prestige Hospitality Group, launched in August 2022. Adjacent to the 515-acre Amelia Earhart Park, La Romanita is located in the new Amelia District that was founded and developed by Prestige Companies.
The district is the city's newest mixed-use development located in the heart of Hialeah and is poised to be South Florida's next dining destination. At the helm of this neighborhood eatery is Executive Chef Reinier "Rey" Mendez, who draws from both Cuban and Italian influences when creating his menus.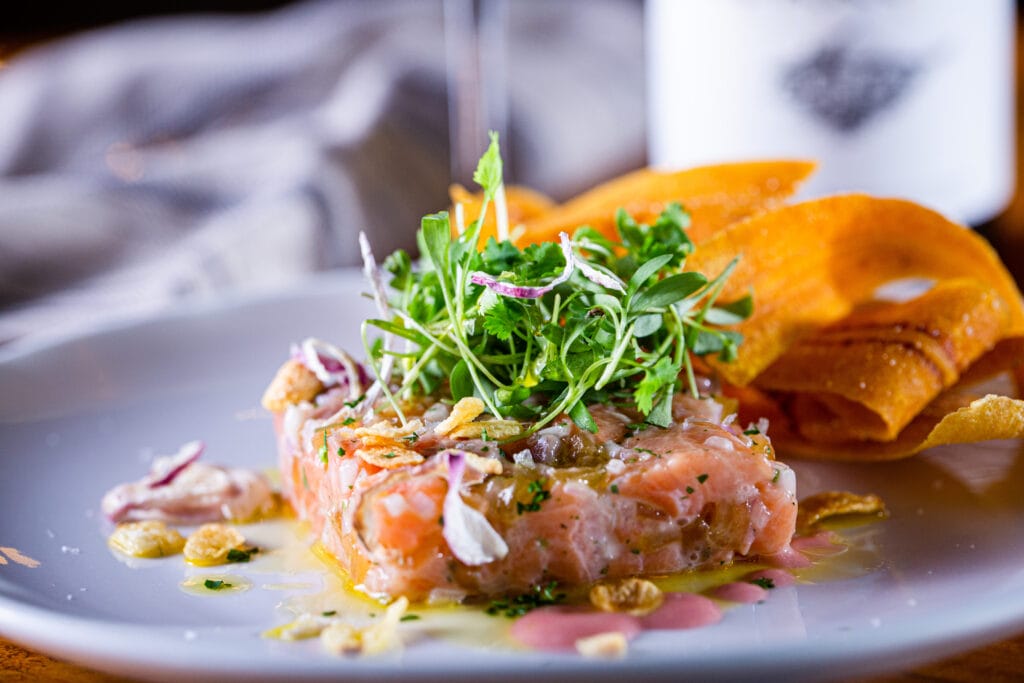 Hailing from Havana, Cuba, Chef Rey began has worked in some of Miami's most notable concepts including STK Miami, Shula's Steakhouse, Naked Crab Restaurant in Fort Lauderdale, alongside celebrity chef Ralph Pagano, Casa Tua Cucina in Brickell City Centre, and most recently Lure Fish Bar at Loews Miami Beach Hotel.
Upon arriving at La Romanita, guests will be greeted with a welcoming atmosphere complete with an outdoor patio with seating up to 40, full bar, dining room that seats 65 people, and open kitchen. The menu is a selection of Latin-inspired dishes, seafood, garden fresh salads, select cuts of meat, hearty entrees as well Italian-focused dishes such as pastas and pizzas. The Pastas are made in-house and come with a choice of orecchiette, spaghetti, penne, or fettuccine with sauce options ranging from rich to light and savory. Lasagnas are also made daily with vegetarian and meat options. Perfect for sharing, Chef Rey's Pizza uses a homemade dough made into a thin, crispy crust with a variety of toppings. The globally sourced boutique wine list includes over 80 different types of wines from regions all over the world.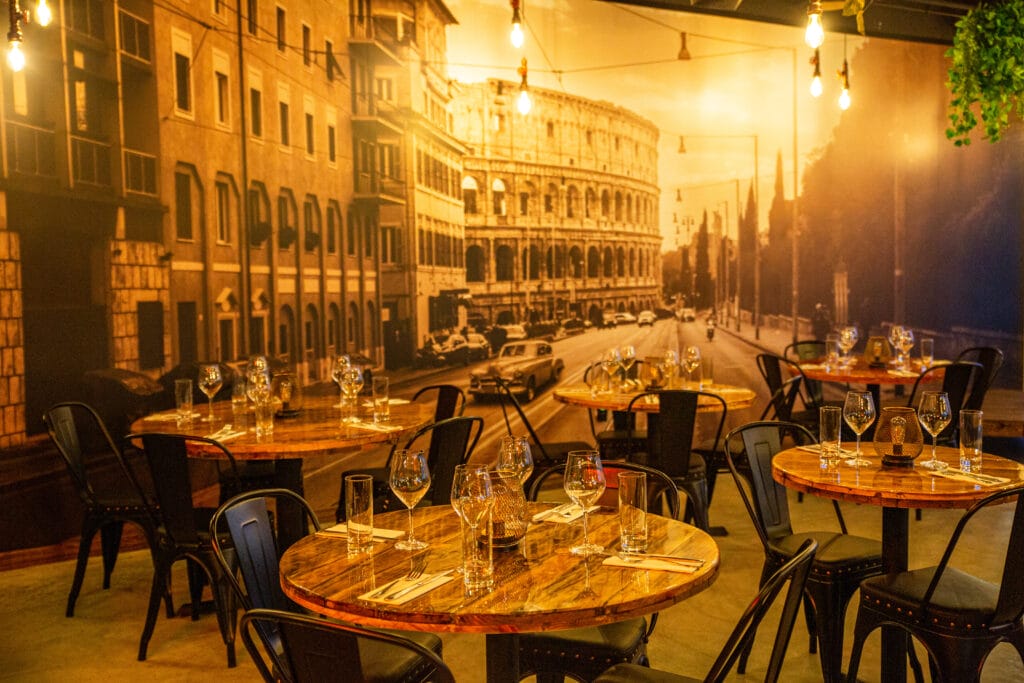 The wine program features everything from grower champagnes, vintages, unique terroirs, and notable wineries to more approachable labels and bottles for any occasion. Additional libations include craft cocktails and beers as well as fresh-squeezed juices and made-to-order coffees. Live entertainment, including live jazz will be a late-night, weekend must-see featuring local musicians and performers.
La Romanita Restaurant & Lounge is located at 7755 W 4th Avenue in Hialeah. Hours of operation: Monday through Thursday from Noon to 10 p.m.; Friday from Noon to 11:30 p.m.; and Saturday and Sunday from 11 a.m. to 11:30 p.m.
BODEGA TAQUERIA Y TEQUILA COCONUT GROVE (August 2022)
The brand's first South Miami location brings high-end mezcaleria along with signature taco shack and speakeasy lounge to Miami's most buzzed-about neighborhood. The brand's new bi-level, hybrid concept will offer a three-part experience: a fast-casual, taco shack; a speakeasy lounge for specialty cocktails, live music, and entertainment; and the newest addition to the brand, a mezcaleria serving high-end mezcal and tequila along with exclusive tasting experiences.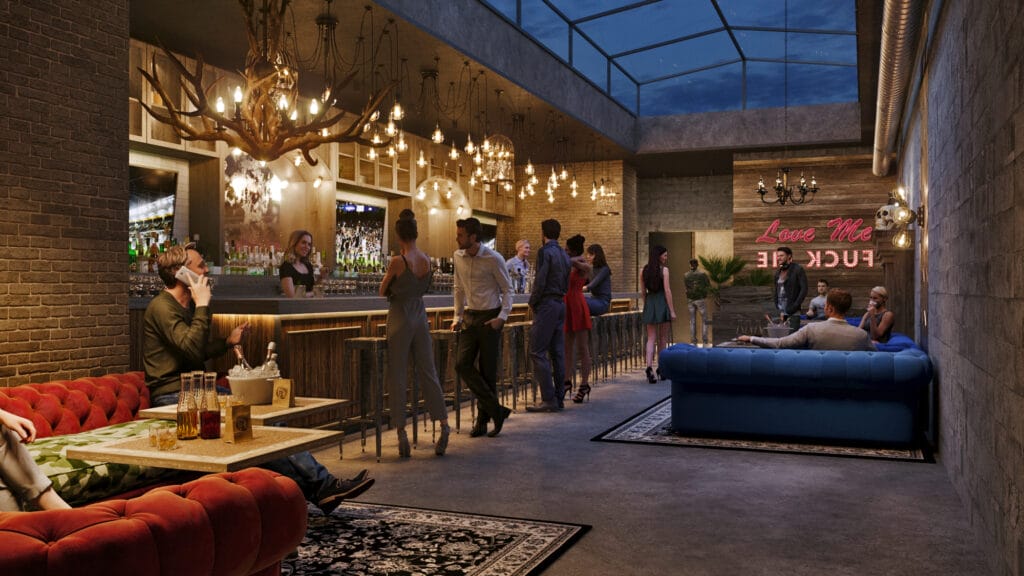 Journey past the first-floor taqueria — down a graffiti-lined hallway with commissioned artwork by legendary local artist, MSG — and emerge in a sprawling speakeasy lounge disguised behind a porta potty door. Here, beneath a jaw-dropping 30-foot skylight, guests can enjoy signature cocktails and regular weekly programming including Live Music Wednesdays, sporting-event watch parties, excuses for day-drinking, and more. Venture upstairs for a more upscale and intimate experience with the mezcaleria, featuring an extraordinary collection of rare tequilas and mezcals for patrons interested in leveling up their agave-based spirits' knowledge.
Bodega Taqueria y Tequila Coconut Grove is located at 3419 Main Highway, Miami, FL.
TIMPANO LAS OLAS (August 2022)
The 292-seat restaurant, which has anchored the city's namesake Boulevard for more than 20 years, reopened in August 2022. Part of the Tavistock Restaurant Collection, the reimagined Timpano offers a bold approach to contemporary dining for guests who want to be surrounded by sophistication with a modern menu inspired by culinary heritage. The completely revamped menu was carefully created under the direction of Tavistock Restaurant Collection's Vice President of Food & Beverage, Michael Ferraro and is executed by Executive Chef, Omar Lorenzana, and Corporate Pastry Chef, Stuart Whitfield. Chef Ferraro and Chef Stuart developed the menu over the past year together, a reunion of sorts for the duo who both shared kitchen-rank in several New York City restaurants.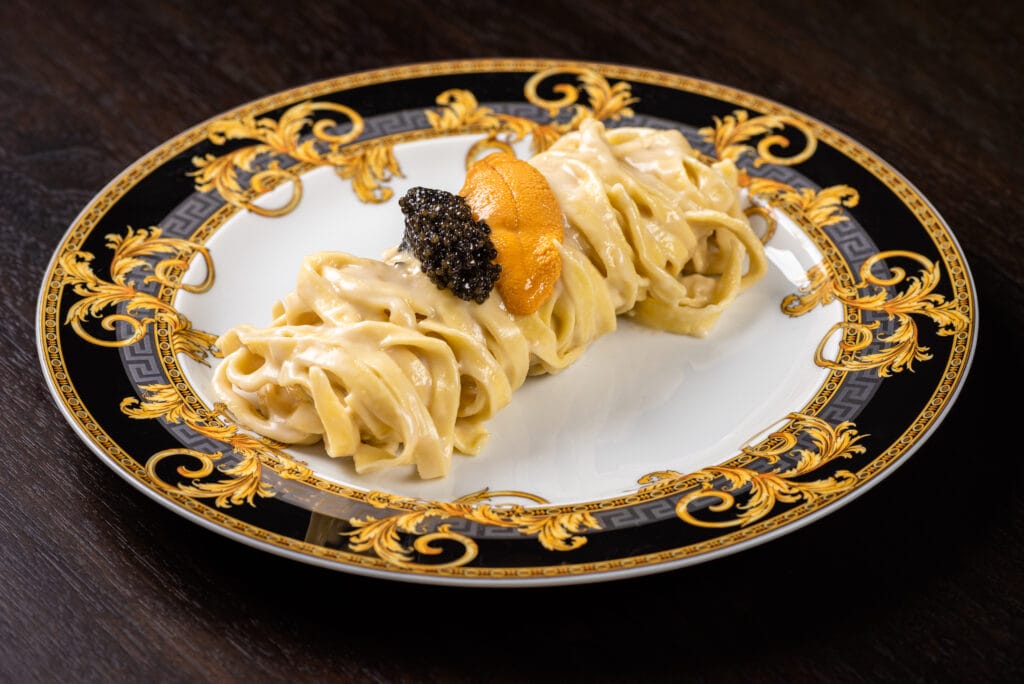 The addition of more craft and scratch practices can be seen throughout the menu, which includes an in-house baking and pastry program as well as handmade artisanal Italian-flour pasta. Specialty farms are also highlighted by foraged Colusa Farms mushrooms and Wagyu beef sourced from the rangelands of Queensland, Australia. The restaurant offers weekday lunch, nightly dinner, and weekend brunch. With nostalgia and comfort in mind, Ferraro brought his family recipes to the table, from a family red sauce to his dad's namesake Georgio's Meatballs antipasti.
Other classic starters include Stuffed Portobello Mushrooms made with fennel sausage, local mozzarella, and caprese crumbs, as well as selections of Cured Meats and Semolina-Dusted Calamari. Modern-day references stretch beyond the plate at Timpano, with shareable picture-worthy moments that continue the narrative of chic and contemporary. Dining room gueridon service includes the "Parm to Table Experience" – Uni Alfredo with an enhancement offering of Timpano branded caviar served on the finest Versace plates – and Chef Whitfield's Tableside Bomboloni, which unveils an illuminated version of this rustic Italian favorite. A nod to South Florida's iconic Art Deco design, Timpano is characterized by striking color combinations of emeralds, aubergines, golds, monochromatics, and pops of pink.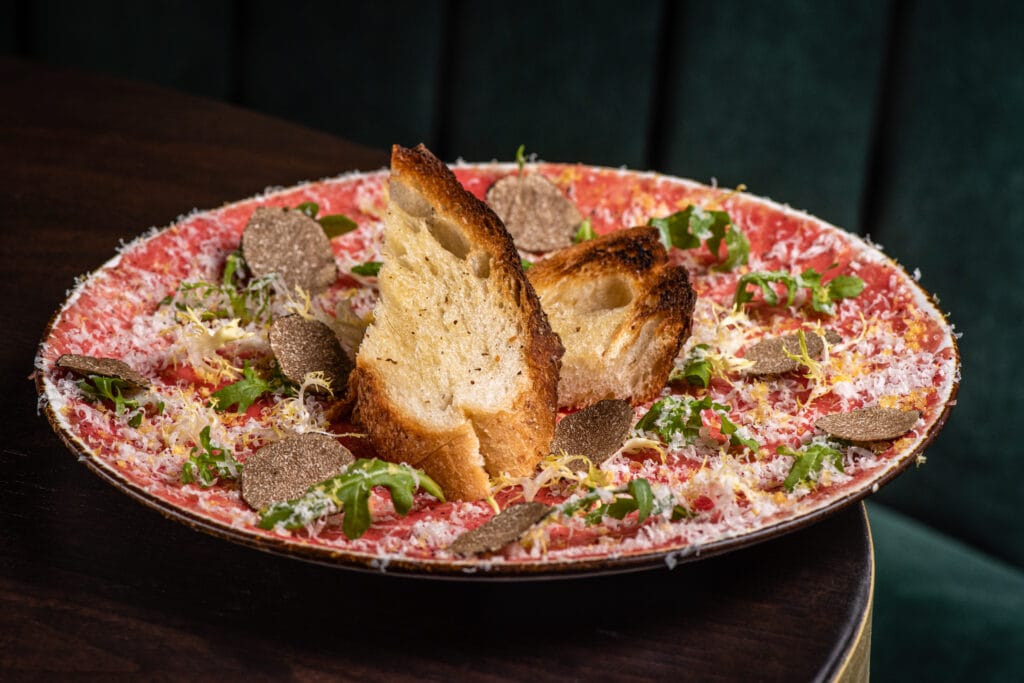 Complementing design inspiration includes bold geometrics throughout the space, such as a black and white checkerboard floor tile, flame stitch and metal-chain curtains, and customized wall coverings that bares Timpano's signature icon – the peacock. The focal point of the dining room is the dramatic bar lounge, with a seductive and sophisticated vibe complemented by resident DJ's. The wine and beverage program were carefully crafted by General Manager and certified sommelier, Mark Molina and Drew Romanos, front-of-house manager, who joined the team from Abe & Louie's Boston. An impressive list of curated whiskey stretches beyond the traditional and an extensive wine list features well-known producers but rewards the curious with hidden gems such as Arnaldo Caprai from Montefalco decanted into Vera Wang crystal. The restaurant also offers a private wine tasting room, which doubles as a dining room.
The room is home to an intimate dining table, temperature-controlled wine refrigerators, and audio-visual amenities. Beyond the interiors is a breathtaking outdoor patio (Il Giardino) that borrows inspiration from The Secret Garden, replete with mirrors and all-weather coverings.
Timpano Las Olas is located at 450 E. Las Olas Blvd., Fort Lauderdale, FL. Dinner is available Sunday through Wednesday from 3 p.m. – 10 a.m. Friday and Saturday from 5 p.m. – 11 p.m. Lunch is available Monday – Friday from 11:30 a.m. – 3 p.m. Brunch is available Saturday and Sunday from 10 a.m. – 3 p.m. The bar and lounge are open Monday – Wednesday 11:30 a.m. – 12 a.m. Thursday – Friday 11:30 a.m. – 1 a.m. Saturday 10 a.m. – 1 a.m. Sunday 10 a.m. – 12 a.m. For more information, please visit www.timpanolasolas.com or call 954.462.9119