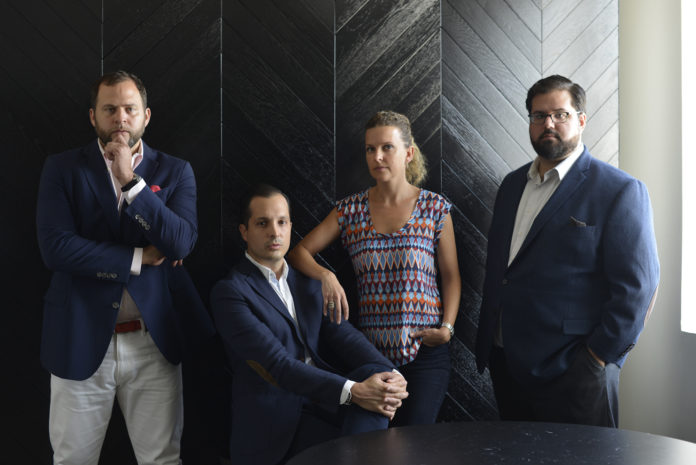 By Robin Hodes
Portrait by Stephan Goettlicher
The four principals of Urban Robot Associates live by a simple code: Tell stories by making places. Starting this year, the Miami Beachbased full-service firm is looking to do just that in Fort Lauderdale.
Led by husband and wife Sebastian and Justine Velez, Giancarlo Pietri and JJ Wood, Urban Robot employs a multidisciplinary approach that not only results in astonishing projects but also engenders elevated human experiences. After unveiling Etaru Las Olas this summer, the company looks to plant firm Broward County roots with the upcoming Gale Boutique Hotel & Residences Fort Lauderdale Beach.
While owners have already moved into the residential portion of the property—a $90 million condominium building—the Gale's hotel component is set to debut next summer. Urban Robot looks to bring its signature touch to various aspects of the Fort Lauderdale project through architecture, landscaping and interior design. The firm has left its mark on past projects including Gucci's flagship store in the Miami Design District and a nearly 8,000-square-foot home in the exclusive Golden Beach community.
Housed in a 1948 landmark structure steps from Fort Lauderdale Beach, the Gale hotel was once known as the Escape Hotel, the area's original authentic resort. Outfitted with exceptional dining, a pitch-and-putt golf course and the first hotel swimming pool in Fort Lauderdale Beach, it drew throngs of guests looking for a unique destination to spend their vacation. Despite the eventual rise of large-scale resorts along the strip, the Gale managed to retain the original property's intimate persona and midcentury charm. Urban Robot grasped the importance of preserving the hotel's history.
"The district had so much character in that era, and the Gale was its crown jewel," Sebastian Velez says. "We wanted to infuse the property with nostalgia but didn't want to be too didactic."
So, while Urban Robot has been influenced by certain elements of the original hotel—for example, the new terrazzo floors are inspired by the original flooring—the team also plans to introduce a modern, neighborhood vibe that will attract locals as much as out-of-towners.
"We're coming in with an approach that's sensitive to the history but also brings a new perspective to attract a wide demographic," Pietri says. "It will be a tailored yet approachable and inclusive experience. You can be in flip-flops or high heels."
Another universal draw of the property is its integration of nature. Hotel guests can explore meandering paths and interior courtyards—each with its own planting concept—intended to evoke a feeling of mystery and discovery. Water features are also emphasized. "There's a feeling of walking through nature as opposed to your ordinary street experience," Justine Velez says. "You have to walk outside and cross a reflecting pond to get to your room."
With all the talent in the region, one might wonder why Newgard Development Group and Menin Hospitality selected Urban Robot for this endeavor. "One of the things we like to do is combine our love for the locals with practicality, all with a 'get-it-done' attitude," Wood says.
Urban Robot also offers the logistical, everything-under-one-roof factor. Although each member of the team dabbles in a little bit of everything, Justine Velez is a landscape architect and urban planner, Pietri is an interior designer, Wood is an architect and urban designer, and Sebastian Velez, who considers himself "the glue that keeps everybody together," is an architect who also collaborates on interiors.
"We have the ability to cross-pollinate our ideas and get things done faster since we coordinate internally rather than externally," Wood says.
As for the firm's name, the principals admit that after bouncing around ideas, Urban Robot just stuck. "Our name is ironic because we design with a lot of soul," Justine Velez says, "even though the word 'robot' implies otherwise, so we like that play."
This article was originally published in the Fall 2018 Issue.