By Nila Do Simon
Photography by Eduardo Schneider
The South Florida dining scene doesn't hesitate when it comes to trends. When the food truck craze hit about a decade ago, we were there, sprouting the weekly Food Truck Monday at Hollywood's ArtsPark, among other fetes. When on-demand food delivery spiked, we were there before other places, with Delray Beach-based Delivery Dudes hitting the market ahead of Uber Eats and DoorDash.
And then there are trends that evolve into movements, or cultural shifts in how we as a society think and live our lives, like farm-to-table dining. We're experiencing one movement now: the impact of the millennial restaurateur.
More than a physical, tangible trend, these restaurants are delivering an energy. There's a hard-to-place feeling when walking into one of these millennial-founded eateries. Inventive and envelope-pushing—like Notorious Creamery, the decadent and hip ice cream joint founded by rapper Tory Lanez that delivers as much sweetness as it does swag—these restaurants reflect the millennial spirit itself.
We talked to a few leaders in the field who shared their insights and perspectives on what makes this trend one of the most impactful movements to date.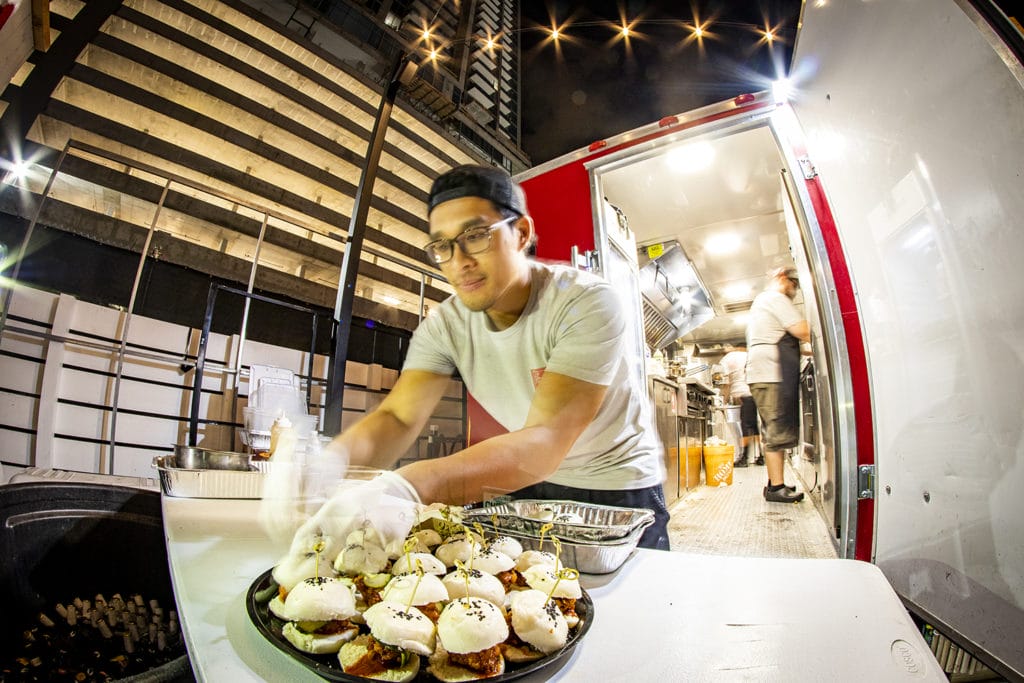 ALEX KUK, 37
Co-founder and chef of Temple Street Eatery and Hou Mei Asian Cuisine
When you opened Temple Street Eatery five years ago, how did you differentiate it from the crowd?
We simplified. Co-founder Diego Ng and I wanted to keep it simple and homemade. My family has been doing Chinese restaurants for years, and there's a tradition of doing things by hand instead of having items shipped in. We wanted to carry on that tradition in a modern way.
How has the millennial crowd helped patronize your restaurant?
There was this misconception that no one goes to Chinese restaurants to eat anymore, that people only do take-out. We wanted to change that mindset. It helped that millennials are well-traveled and willing to try new things. TV shows that marry travel and culture, like the ones by Andrew Zimmern and Anthony Bourdain, helped feed our curiosities.
How have dining dynamics changed?
To compare, my grandfather had this 300-seat restaurant; at Temple Street Eatery, we have a few dozen. There's a trend toward smaller, simpler concepts. It might mean having a great-looking, streamlined Ikea chair instead of a custom upholstered one. For previous generations, it might be too casual, but for millennials, it's just right.
What are some trademarks of a millennial-founded restaurant?
We're always asking ourselves what makes the energy in a restaurant run and have a good vibe? It's a combination of a lot of things. For example, if you have good music, but bad lighting, you're screwed. Before I opened Temple Street Eatery with Diego, I worked at RA Sushi, a modern, inventive Japanese restaurant. One night we ended up blowing the subwoofer—all because we wanted a fun place with a lively eating experience. We wanted to rebel.
In terms of service, we have an approachable, fun style. At Temple Street, we're not saying "ma'am," "sir," "ladies" or "gentlemen" when we greet customers; instead, we're saying, "What's up, bro?" Regarding our restaurant's food, we're experimenting by melding together flavors and cultures, including Latin cuisine. Diego is Chinese-Venezuelan, so with his background he's able to help guide certain flavors. Once, we had an argument over arepas. Here, a Venezuelan and another staff member from Nicaragua were literally about to have a fight over what style is best. We were arguing over which grandma we're going to piss off.
RISH KARAM, 26
Owner of Moksha Indian Brasserie
Despite never being in the restaurant business, what gave you the confidence to open Moksha?
In South Florida, Indian restaurant and buffet have become synonymous with each other. We wanted to break that mindset. We wanted to do something very accurate and elevated, and with chef Christopher Corda in our kitchen, we felt confident we could deliver.
What envelopes have you pushed?
I wanted to be very social media-friendly, especially with the interior design. There needed to be Instagrammable moments, so we commissioned a custom mural from the Indian-American artist Kavi, encouraging guests to take pictures in front of it. That Instagrammable moment even translates to our dishes. We have a traditional Indian dish—angarey paneer—that's served flambé-style, which is not the norm for this dish. I love when people start pulling out their phones to Instagram or Boomerang it.
What's dining like at Moksha?
We're in the fun business. We want guests to come in, laughing, enjoying their time with family, friends and significant others. I love when it's a packed house, the music is bumping and there's an energy that's contagious. You can't see it, but you can feel it.
SARA SHAKE, 35
Publicist for several millennial-owned restaurants
What traditions are millennial-owned hospitality businesses creating?
People are becoming very nostalgic. You see a lot of '90s-theme nights that feature music or clothing from that era. The other day, the lounge Rank & File Social Club hosted a "Saved by the Bell"-themed night. Those are millennials who are serving millennials. They know their audience wants something beyond the average happy hour or ladies' night. Places like Tap 42 play a Pandora station called Dad Rap. You see these millennial patrons jamming to these '90s hits.
When did you start noticing this trend?
When clients were opening sports lounges around 2010, it was all about the biggest TVs or the most screens. Now we don't have many screens outside of sports lounges because we want people to talk to each other. I give credit to Julian and Lisa Siegel at Riverside Market. They're not millennials, but they serve them. Riverside Market, with its great beer menu, and communal tables and seating areas, forced human interaction.
How has social media influenced millennial restaurateurs?
We ask a question in marketing meetings: What is our Instagrammable dish? Because of Instagram, you can have this very one-dimensional concept and be successful at it. For example, the restaurant New York Grilled Cheese does these wacky grilled cheese sandwiches, and it appeals to these influencers whose followers crave hyper-nuanced ideas. Henry's Sandwich Station is another good example. It used to be that having a range of menus with all these options was the norm. Now, if you do one thing well, then you have a better chance of going viral.
What characteristics do millennials have that others can learn from?
Millennials see themselves as a little invincible. There are a lot of them who are entering the restaurant business who haven't been in food service before. But millennials don't care that they don't have a lot of experience: They will just do it, figure it out and make it happen. The idea of owning a restaurant or bar appears glamorous on the outside, but anyone who hasn't done it is in for a rude awakening. I've seen both sides: It's worked or it's blown up in their faces. Either way, it's moving the restaurant industry forward because they are taking risks.
MEMPHIS GARRETT, 36
Owner of The Poké House, JB&C and Joia Beach

What factors into a millennial's dining preference?
It's all about the experience. How you want people to feel—that's where I always start when creating a space. From the first step they take in the restaurant to their walk to the restroom to wash their hands, it's important that every part is above average. Also, convenience is a huge part these days. For example, 20% of our business at The Poké House is food delivery. People like the idea of having a restaurant-quality meal delivered right to them.
How have local restaurants benefited?
I like going to places that are locally driven. That's one reason why I moved to Fort Lauderdale—the people here really support locally owned, independently run businesses. Groups like The Restaurant People, be nice and JEY Hospitality Group have a pulse on what the local community wants, and in turn, they support local businesses.
What are some other trends that millennials are driving?
There are a lot of lanes that people can swim in these days. From pop-up to chef-driven restaurants in food halls, these places didn't exist years ago, and we can thank millennials for that. Now, not only are they popular, but they are thriving.
This article originally appeared in the Winter 2019-2020 Issue.