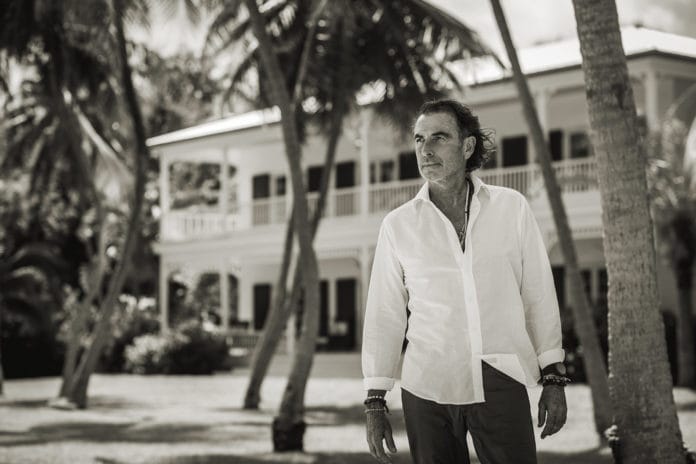 By Nila Do Simon
Photography by Felipe Cuevas
Several titles have been bestowed on Hubert Baudoin since he came to own The Moorings Village in 1988, but there's one self-appointed position that he wishes would stick until his final days. "If I had a real title," Baudoin says, "I would call myself The Moorings gardener."
It's an appropriate, if not tender, label for a man who has since his mid-20s painstakingly cared for every square inch of his palm tree-strewn Islamorada hotel property—which once spanned 18 acres before he sold a section earlier this year to Northwood Hospitality, which owns the neighboring Cheeca Lodge & Spa—through hurricanes, storms and wayward forces, both natural and man-made.
Sitting at the outdoor dining table of his home's veranda, sporting a long-sleeve shirt rolled up to his elbows, battered jeans and gray sneakers speckled with white sand, Baudoin takes a moment to reflect on what he's created. For him, an adventurous soul who left his native Ivory Coast at age 15 and has traveled the world several times over, The Moorings Village will always represent a chance for him to return home.
"This," he says, gesturing to the turquoise ocean water that fills his backyard vista, "is my cure for any problem. Every day when I see this, I'm looking at beauty."
Sliced at any angle, The Moorings Village is a picture-perfect entree to a paradisiacal setting. If heaven existed on Earth, perhaps it would hold residence at mile marker 81.5, a place where the early morning sun hovers above the still ocean horizon and the winds quietly blow kisses that the tide then carries to the shore. Touted as a destination for guests who want to do as much or as little as they please, The Moorings Village has been a favored locale for fashion magazines, celebrities and even Netflix's "Bloodline" series.
The 56-year-old Baudoin lives in the middle of the beachside property with his wife, Victoria; teenage daughter, Maya; golden retriever, Daisy; and two cats, Mambo and Luna. The white wooden one-story house boasts royal blue shutters and a veranda with an ocean view. It's the type of outdoor setting that if you closed your eyes, you'd easily imagine a linen shirt-wearing musician sitting there on wicker furnishings strumming an acoustic guitar.
The property is the epitome of Islamorada, a village that incorporates four of the Florida Keys. While its northern neighbor, Key Largo, is an extension of the southern Miami-Dade neighborhood and its southern neighbor, Key West, exudes a bit more kitsch, Islamorada maintains a sophistication that perhaps culminates with The Moorings Village. The feeling is imminent as soon as visitors turn from U.S. 1 onto Beach Road and drive until they run into the beach.
By definition, The Moorings Village is an extension of Baudoin, an inviting friend who is sharing his creation and time with acquaintances both old and new. In his view, the property is too large to be a boutique hotel and too small to be classified as a resort, so The Moorings Village created its own identity and thereby nestled into the hearts of guests who traveled back time and time again.
In its current form, The Moorings Village offers eight private cottages, ranging from one- to three-bedroom abodes. Each is self-contained, with full kitchens and living and sleeping spaces that are thoughtfully furnished—oftentimes with pieces Baudoin picked up from his travels. The famous two-story Blue Charlotte vacation home often seen on "Bloodline" served as the patriarchal house for the fictional Rayburn family. Fishing and sightseeing excursions can be arranged with third-party companies at the front office, and on-site activities include kayaking, paddleboarding and dockside fishing. But perhaps the best amenity that The Moorings Village offers is the chance for guests to disconnect.
"Sometimes you just need to be left alone and reconnect with your better half, and to look on as nature takes its course," Baudoin says. "Everything just slows down."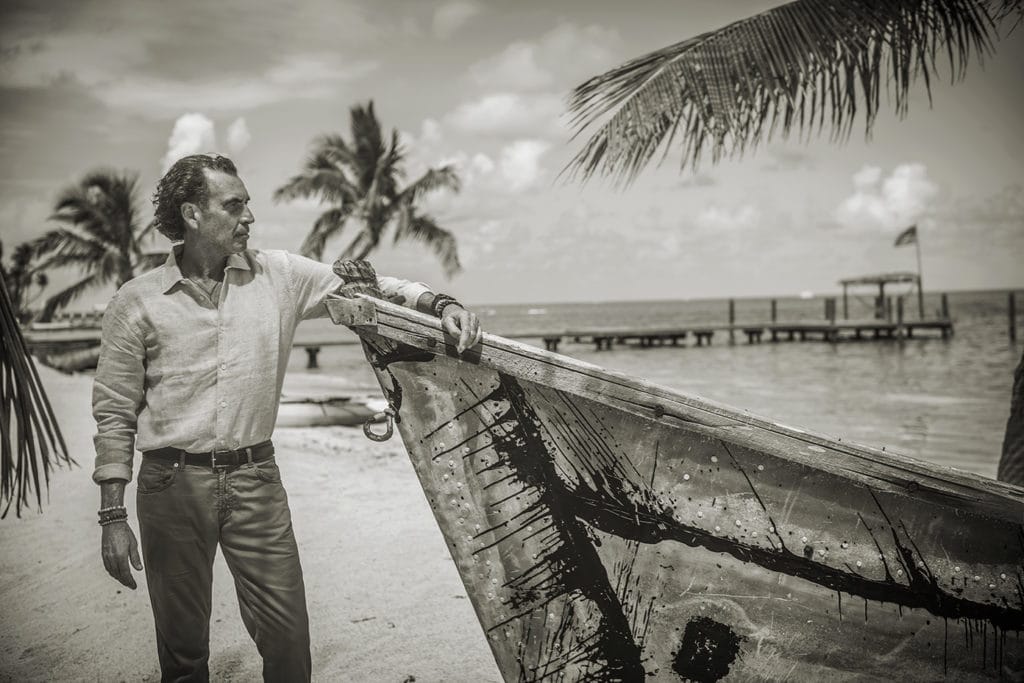 It was more than three decades ago when he himself was looking for a different pace. Then living in Austin, Texas, the new college graduate was chasing an adventure of a different variety, entering windsurfing competitions and trying to find his next move. Born in the Ivory Coast to French parents Jacky and Pierre, a coffee and cocoa company executive, Baudoin lived in West Africa until he was 15 years old, when he left for boarding school in France. He later enrolled at the University of Texas at Austin, where he majored in business. Baudoin remembers packing up his Jeep and driving to Key West to enter a windsurfing regatta. It was his first time in the Keys, and he was smitten. The swaying coconut trees, tropical flora and coastal lifestyle reminded him of the Ivory Coast. "I just thought, 'Wow, this is amazing, I need to stay here,'" Baudoin says.
When he returned to the Keys with his parents for another getaway, his love for the archipelago was solidified. Baudoin eventually moved to South Florida to start an import-export business, as well as open a small windsurfing shop that he jokes was in "flagrant bankruptcy" due to primarily catering to professional windsurfers who already had equipment from their sponsors.
All along, Baudoin became enamored with the idea of owning a little fisherman's hut along the beach. After searching and consulting real estate companies, his pursuits turned up empty. Then, on an auspicious windsurfing trip around Islamorada, Baudoin's crashed in front of a place called The Moorings.
According to Baudoin, who says he must have passed by the property dozens of times before, The Moorings had fallen into disrepair after the original owner passed away and his son, a writer, inherited the hotel. For about $50 a night, guests could stay in the dilapidated, bug-infested inn. The son was a good man who did the best he could, Baudoin says, but "a nail and a hammer were very foreign to him, so the place was really falling apart." And in a location like the Keys, with its ripping winds and dense salt air, knowledge of how to use a hammer was hardly the only skill needed to keep a structure in working shape.
Baudoin soon bought The Moorings Village, and that's when he says the real adventure began. Little by little and with no prior hospitality experience, he began building the property up, though the first days were a far cry from the magazine-quality images they are today. The Longhorn alumnus stuffed one of the cottages with items from his old University of Texas dorm, including a sculpture of the Empire State Building with a neon-pink glow emanating from its innards—a tacky souvenir he says highlighted his foreigner status in the U.S. As guests would pay their bills, he would drive to Miami to buy housewares like curtains and pillows, each piecemeal purchases lovingly made by its owner.
With his windsurfer friends, he used a barter system: He traded their labor in repairing the hotel with free lodging in The Moorings Village parking lot. Whenever it wasn't windy, the guys would complete tasks like pressure-washing and cleaning the cottages.
Baudoin would eventually add more land to his oasis, including from what he describes as a "fire sale" of the property directly to the north of the original home. Soon, he would build an additional 14 Key West-style homes and a lap pool. At its peak, The Moorings Village had 18 cottages and two-story homes, spa services and Baudoin's two restaurants, Pierre's and Morada Bay Beach Café, across the street on U.S. 1—plus a revolving door of famous guests circulating his property.
The way Baudoin sees it, the success of The Moorings Village is based on a series of lucky events, from the windsurfing breakdown in front of the property to the fire sale. Another such moment came soon after he acquired the hotel. Baudoin was cleaning up the property when suddenly a helicopter landed nearby.
"The helicopter blew sand everywhere," he says. "So I went up to them and said, 'You guys need to leave,' and they said, 'No, we need to shoot here.' I said, 'What do you mean shoot here?' I had no idea what they were talking about."
That helicopter was carrying a production crew from Japan that was scouting locations for a bubblegum commercial. The crew members selected Islamorada as the backdrop, and Baudoin allowed them to set up shop at The Moorings Village. The two-day shoot turned into five days—and at $6,000 per day, the profitability soon added up for Baudoin. He began hosting several photo shoots, sometimes two or three a day, including for brands like Chanel and Abercrombie & Fitch.
"One of the things I didn't know when I arrived is that the light is really special here," Baudoin says. "A photographer kept telling me this. It comes from the reflection from the clouds back to the water. It's a photographer's dream because of the light and the palm trees."
As The Moorings Village enters its next phase of life, so does Baudoin. He looks to transfer most of the day-to-day responsibilities to the trusted hands of his wife, who he affectionately calls "Vico." After Baudoin sold the northern section of his property along with eateries Pierre's Restaurant and Morada Bay Beach Café earlier this year, the couple is finding comfort and confidence in tending to only eight cottages and better connecting with a limited number of guests.
"Our wealth is looking at this view every morning and meeting great people," Baudoin says. "Throughout the years, we've met a lot of diverse people. The wealth came from the travelers I have been lucky to meet during my time at The Moorings, whether it's a prolific writer or a talented photographer or a great businessman. When we started building the north side and the two-story houses, I lost what I had before: contact with my guests."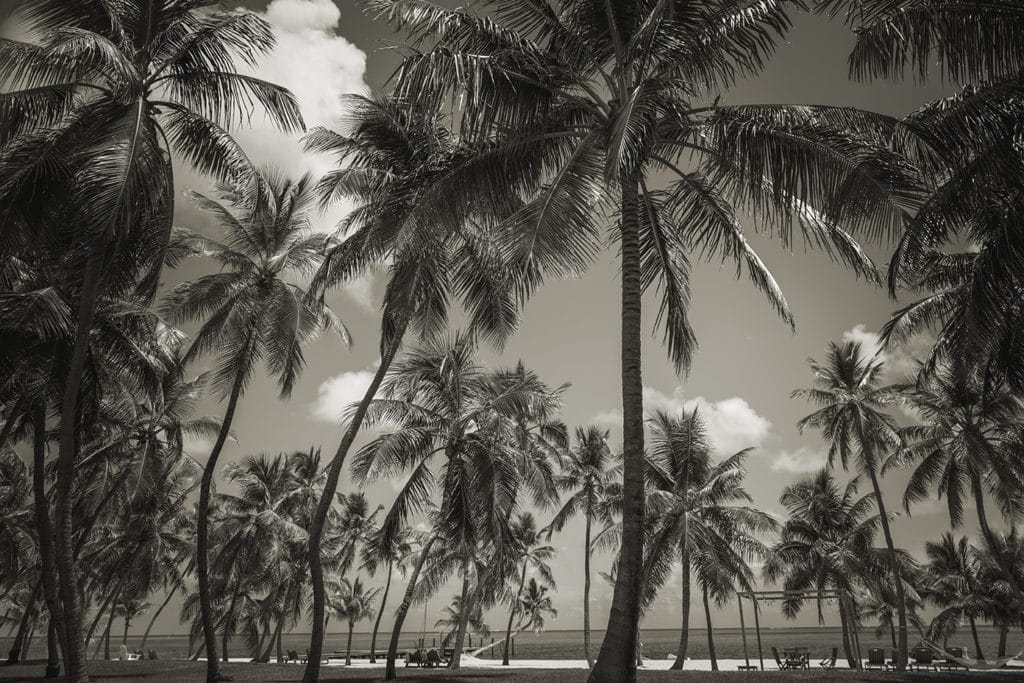 His wife admits it took time to adjust to the Keys life. Originally from France, she had spent years in New York City and was a faux finish artist when she met Baudoin during a trip to Paris. Baudoin persuaded her to move to the Keys, an idea that Victoria, a city girl at heart, had hesitations about. But 17 years ago, she moved to The Moorings Village and has been the madam of the house ever since. Baudoin couldn't think of a more dedicated soul to take his place than his wife. He remembers her weeping as trees were knocked out from their roots during the wrath of Hurricane Irma in 2017. As he puts it, she is the future of The Moorings Village, and he is the past.
Victoria plans to renovate the eight cottages, updating everything from the floors to the kitchens. Upcoming projects include building a new 25-meter lap pool, plus a private pool for one of the cottages, as well as incorporating an on-site food and beverage component and a sightseeing boat excursion.
With more time on his hands, Baudoin plans to travel more. Last year, he and several friends completed a motorcycle trip from Nairobi, Kenya, to Cape Town, South Africa. It wasn't his first multicountry motorcycle trip—and after the pandemic is over, he hopes to take more. Another memorable road trip for Baudoin included motorcycling from London to Beijing, and then hopping to South Korea. Last year, his wife even joined him on a motorcycle ride through the Garden Route of South Africa.
With each of his trips, Baudoin picks up a collection of cultural memorabilia. Authentic keepsakes from places like Bhutan, Japan and Tibet are found in nearly all of the homes at The Moorings Village, though Baudoin keeps some of his fondest souvenirs closer to his heart. An assortment of beaded bracelets and necklaces line Baudoin's wrists and neck, given to him by strangers during his travels, including "one by this guy in Africa," "someone from Botswana" and another by "an older lady from Turkmenistan." They're given to him for luck, Baudoin says. And he'll accept the kind gesture any day.
No matter which globe-trotting adventure he's on, Baudoin says the best part is returning home to The Moorings Village. "At any point, paradise can seem dull," he says. "We humans have an amazing faculty to adapt, and suddenly we take things for granted. One of the greatest things for me is to come back to my house after a trip. When you open your door, there's the smell of your house, seeing the dog through the window of the living room… I can say, 'Wow, I just traveled the world, and this is still the place I love the most.'"
A romantic at heart, Baudoin says his spirituality is connected to nature. "Everywhere I looked for God, I found nature," he says. "I think that's what I worship the most."
And perhaps that viewpoint is the best way to describe The Moorings Village's gardener, a man who over three decades has revived the property from near ruins, kept it out of the hands of developers who wanted to build a 250-unit condominium in the shape of a W on its property, and resurrected it after every single hurricane and storm that blew through.
After Hurricane Irma, a Category 4 storm that upended the entire Florida Keys, The Moorings Village stood in shambles. Palm trees were uprooted, and the buildings and infrastructure were thrashed. A longtime friend of Baudoin heard about the damage and put a call out on social media, asking the public to "Make The Moorings Green." Almost immediately, people showed up to the property with everything from trees to grass to orchids—so many contributions that Baudoin had to build a nursery to house the new plants, which now include 4,000 orchids and counting. One recurring guest even had two 18-wheelers full of palm trees delivered.
"To have people send us things, so much that we needed to build a nursery, made me realize why I have this hotel," Baudoin says. "The love that those people brought to us was amazing. Now I can show you so many trees that have been donated by our guests. I might not have a name on the trees, but there's a face behind each of them."
Baudoin points straight in front of him to the dock that's been the backdrop for so many memorable photographs and videos, where an American flag stands tall and straight as a white hammock sways under a thatch-roof canopy. He says that the rough weather in the Florida Keys has destroyed the dock numerous times, and every time he rebuilds it, it's constructed in the same exact way all over again.
"It's not higher, it's not longer," Baudoin says, "because so many people have stories on that dock. People need anchors. They need places that have not changed because there's a bit of their roots in them.
"I feel lucky to have been the caretaker of such a special place. When you build something with integrity and beauty, there is an added energy that comes in, and we've seen that throughout the years. We are very lucky to live here."
He was sitting in his home as Hurricane Irma ravished the Keys. So much sand was blown into his living room that he says he could have gone beachcombing in it. Despite the governor's mandatory evacuation, Baudoin stayed put.
"The captain needs to be on his ship when there is a storm," he says. "I'll never regret staying. I'll spend every single hurricane here because this is my life. To enjoy this view today, you have to be reminded: How long am I going to see that tree here before it snaps? How long am I going to have this beautiful view? It makes it all the more precious knowing that it's not going to be forever."
Then, this gardener glances at the white phalaenopsis orchid that's sitting on his outdoor table before looking out toward the hundreds of palm trees he's planted over the years, and smiles. 
This article originally appeared in the Fall 2020 Issue.