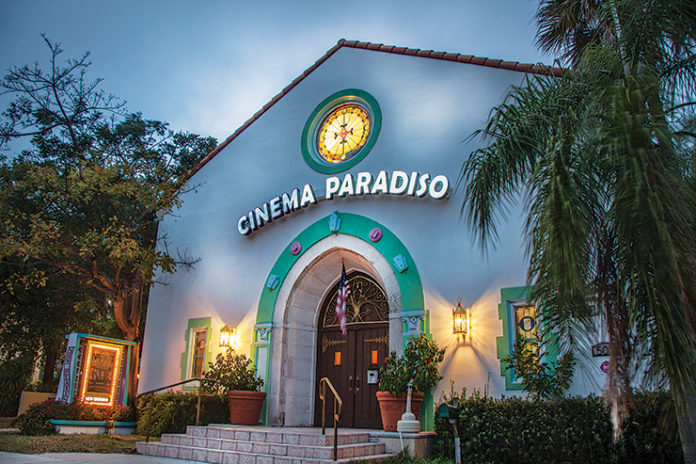 By Skip Sheffield
While countless historical events have happened in Broward County since its creation 100 years ago, the Fort Lauderdale International Film Festival is commemorating one specific high-profile aspect: movies made in Broward County. A handpicked selection of Broward County-made feature films will be screened July 9-16 at Cinema Paradiso.
"Many of the films played here during my 27 years at FLIFF," says Gregory von Hausch, executive director of Fort Lauderdale International Film Festival (FLIFF). "'Cape Fear' was shooting here in 1990 and [Martin] Scorsese came to our fest the night before he began shooting. 'Bart Got a Room' was our closer in 2008."
Perhaps Hollywood's infatuation with Fort Lauderdale began with pioneering film titan D.W. Griffith. He fell in love with the area, checking in to the newly constructed Broward Hotel in 1919. His film "The Idol Dancer" was produced in 1920, followed by "The Love Flower" and then "The White Rose" in 1923. Griffith became disenchanted with the development of Fort Lauderdale and South Florida in general, but his own era passed with the introduction of "talkies." All filmmaking in Florida went on hiatus after Miami's 1926 hurricane, which caused extensive destruction in South Florida, followed by an economic crash.
One of Fort Lauderdale's most beloved films took place generations ago. "Where the Boys Are" is in a class by itself as hit movie, song and cultural phenomenon in 1960. Though set on the famous public beach of Fort Lauderdale amid iconic locations such as the Elbo Room, it was filmed in a number of other scenic locations all over South Florida. MGM and producer Joe Pasternak noted the growing youth market for movies, and Glendon Swarthout's novel, which put angst-filled Midwestern college students on break in Fort Lauderdale, seemed ideally suited for that market. It was.
The movie and its theme song by Connie Francis (now a Florida resident) were a huge hit, firing the spring break mania to the point the City of Fort Lauderdale moved to discourage the bacchanal by the mid-1980s. Unfortunately, "Porky's" (1982) and "Spring Break" (1983), two comedies with notable college humor, weren't exactly what the Chamber of Commerce was looking for.
Though panned by critics, Jerry Lewis's 1980 film "Hardly Working" was good for a few laughs, and it gave work to many South Florida actors and technicians as well as ordinary people as extras. Similarly, "Caddyshack" had everyone and their brother and sister as extras, starring a young Bill Murray as a mumbling golf course greenskeeper. (Rolling Hills in Davie was a principal location, but Boca Raton Resort & Club was also used.) Even to this day, "Caddyshack" remains a cult favorite.
"Body Heat" was filmed all over South Florida in 1981 and achieved critical acclaim as a modern "film noir" and box office success for its steamy scenes with a young Kathleen Turner as femme fatale Matty Walker and William Hurt as her weak-willed husband. Another movie, "Bully," hit close to home. Released in 2001, the movie starred Brad Renfro and Nick Stahl, and unveiled the true-life events that led to the murder of South Broward High School student Bobby Kent. Filming locations included Fort Lauderdale, Lauderhill, Cooper City, Hollywood and Miramar.
"Revenge of the Nerds II" was hardly a masterpiece, but it took advantage of its Fort Lauderdale locations, which included the 1920s Fort Lauderdale Hotel recast as the seedy "Royal Flamingo Hotel." Not long after the 1986 filming, the hotel was destroyed by a suspicious fire.
Independent filmmaker Victor Nunez filmed "Ruby in Paradise" on Florida's "Redneck Riviera" near Pensacola in 1993. Star Ashley Judd was dispatched to promote the film in Fort Lauderdale and Miami. As a film reviewer for Boca Raton News, I was much taken with the fresh-faced young actress, whose mother and older sister were country music stars. I jumped at a chance to get a one-on-one interview with Judd at a posh French restaurant on Las Olas Boulevard. When the big, black stretch limo pulled up, out stepped Judd clutching a Dairy Queen Blizzard sundae.
I introduced myself and we were quickly escorted to a quiet table. Judd still had her Dairy Queen. "Would you like some?" she asked. "Um, sure," I said, and I realized then and there that this girl (she was 25, but seemed younger) had something special and very real.
Florida ranked No. 3 in film and television production by 1979, a record it still held in 2006, based on revenue generated. Tax breaks and other incentives have made filming in Broward attractive to the movie industry. In 2010, a special division dedicated to the film industry was created to promote and showcase Fort Lauderdale to filmmakers. The Greater Fort Lauderdale/Broward Office of Film & Entertainment has been actively working to maximize the success of initiatives to drive film and entertainment business to the area.
More recent major motion pictures and television series made here include "Marley and Me," based on the touching novel by then South Florida-based journalist John Grogan, was a popular hit in 2008. Even the Sun Sentinel's building, where Grogan once worked, had scenes filmed in it.
"'Marley & Me was a life-changing experience," Grogan says. "The book was a giant experience for me, but a lot of people see a movie, and it goes all over the world. I've heard from people in China, Brazil, all over Europe."
The 2012 movie version of the rock musical "Rock of Ages" turned Fort Lauderdale topsy-turvy, with location shooting disrupting much of downtown as it filmed at Revolution Live for nearly five weeks.
Sam Tedesco, location manager for "Rock of Ages," "There's Something About Mary" and "Striptease," hopes the state legislature will continue seeing the benefits of film production and restore financial incentives. "Many film industry people have houses here, so they keep South Florida as a home base," he says.
South Florida continues to star in movies and television. "The Glades" enjoyed healthy run on A&E from 2010-2013. The indefatigable Vanilla Ice's DIY home series "The Vanilla Ice Project" has been picked up for a fifth season. High-end horse shows and competition are featured in the Winter Equestrian Festival (WEF) in the Palm Beach County municipality of Wellington. Barrett-Jackson's collector car auction was filmed for a nationwide audience for a third season at South Florida Fairgrounds. Going into production this summer is the sequel "Magic Mike XXL."
Season three of USA Network's "Graceland" is set to premiere on June 25. Though set in Southern California, it is shot primarily in South Florida.
No doubt, movies and television series will continue to be shot locally, regardless of state legislature. We are just so darn photogenic.
Popular movies filmed in South Florida:
"Pain and Gain" (2013)
"Iron Man 3" (2013)
"Rock of Ages" (2012)
"Marley and Me" (2008)
"Bart Got a Room" (2008)
"Hoot" (2006)
"Transporter 2" (2005)
"Red Eye" (2005)
"Meet the Fockers" (2004)
"Stuck on You" (2003)
"Bad Boys II" (2003)
"Out of Time" (2003)
"2 Fast 2 Furious" (2003)
"Bully" (2001)
"Analyze This" (1999)
"Out of Sight" (1998)
"Wild Things" (1998)
"There's Something About Mary" (1997)
"Donnie Brasco" (1997)
"The Birdcage" (1996)
"Bad Boys" (1995)
"Get Shorty" (1995)
"Drop Zone" 1994)
"Ace Ventura: Pet Detective" (1994)
"True Lies" (1994)
"Cape Fear" (1991)
"Presumed Innocent" (1990)
"Married to the Mob" (1988)
"Harry & Son" (1984)
"Scarface" (1983)
"Caddyshack" (1980)
Originally appeared in the Summer 2015 issue.