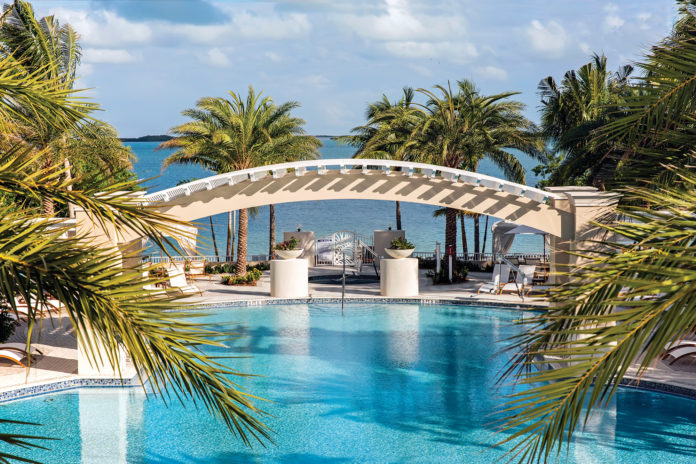 By Nila Do Simon
When Playa Largo Resort & Spa opened in late 2016, it became the first new resort built on Key Largo in more than 21 years. To say its addition was highly anticipated would be an understatement. With much fanfare awaiting its arrival, the establishment knew it had to succeed at one thing from the get-go: It had to be better than the best.
A year after its opening, one can argue that not only did the property achieve its goal, but it surpassed it. Capturing the apropos feeling of barefoot luxury on 14.5 secluded beachfront acres that overlook Florida Bay, Playa Largo Resort & Spa has garnered national attention for its high-level comforts amid a beachfront setting.
Nothing illustrates that more than its private resort within a resort, an exclusive section called The Hammocks. Nestled among natural hammock trees, The Hammocks consists of 10 two-story, full-service bungalows and a beach house complete with a private pool. Guests can enjoy the seclusion of The Hammocks while also indulging in the resort's communal amenities, which include a spa, a Peruvian ceviche bar, water sports and tennis courts.
Playa Largo Resort & Spa is still looking to impress guests, especially with its recent addition of toes-in-the-sand dining. Available upon request for private reservations, the new dining option adds yet another layer to the resort's unexpected casual luxury ambiance. Instead of traditional chairs, guests are invited to sit on plush, oversized pillows and dine mere steps from the undulating waves. Pro tip: Reserve a spot early to get the best view of the sunset.
This article originally appeared in the Winter 2017 Issue.