By Lane Nieset
As my eggshell-white, 1976 Alfa Romeo Spider convertible climbs its way up from the Adriatic Sea, zig-zagging through southern Puglia's lush green hillside, cone-shaped stone structures start appearing on either side of the street between the gnarled olive trees. At first, it's easy to write off the whitewashed huts as expertly stacked piles of rock—and that's exactly what builders intended when they started constructing the trulli in the Valle d'Itria in the 15th century. The homes—which have removable keystones, so they can easily be demolished—were not allowed to be taller than a tree, so they blended into the backdrop and helped feudal lords evade paying taxes on new settlements (or so the legend goes). "It's one of the most efficient examples of architecture," my guide, Mimmo Patrizio Palmisano, explains as we stroll around the UNESCO site of Alberobello, home to 1,500 of these elf-like homes that now house wine bars, shops and boutique hotels. Throughout centuries, about 2,000 trulli have been destroyed, but since the early 1900s, they've been protected, so building or demolishing a trullo is forbidden. In Puglia, in the heel of Italy's boot, the trulli are one of the defining features of the "Golden Triangle," which stretches from Brindisi and the international airport to the baroque hilltop town of Martina Franca and seaside Monopoli, which once served as a major Venetian trading port.
The James Bond-worthy roads that circle the hilltop towns are best explored from behind the wheel of a vintage two-seater (thus the Spider). Think of Puglia as Italy's version of the Provence: 500 miles of coastline touching both the Adriatic and Ionian seas; more than 300 days of sunshine; luxe hotels hidden away inside 15th-century convents; and some of the country's best cuisine—not to mention wine.
Lecce, a tiny town nicknamed the "Florence of the South," was the backdrop for Christian Dior's Cruise 2021 collection. The entire region, with its ornate, Romanesque and baroque building-filled squares and perched, whitewashed towns, is the embodiment of la dolce vita. The luminaries, which are lace-like, wooden installations composed with thousands of lights to decorate building facades, are a signature you'll find in many squares (a sort of homage to patron saints), and vineyards stretch from the olive groves to the sea. Tuscany has its well-groomed villas and regal, Renaissance architecture, but Puglia's patchwork of centuries-old olive groves and rustic masserie (fortified farmhouses) feels more authentic, yet just as glamorous as a scene from a 1950s Italian film. "In the last 10 years, there's been a boom, and it's really becoming a top destination in summertime in Italy," explains Vito Palumbo, who grew up in Bari and works as the brand manager for Antinori-owned winery Tormaresca, the only producer in Puglia to have estates in both of the region's major winegrowing areas: Salento and Castel del Monte. "The revolution in the hospitality business was started by Valle d'Itria, where luxury private villas and resorts attracted celebrities like Justin Timberlake, as well as private investments in summer homes and real estate," Palumbo says.
One of the hotels that helped inject a new level of sophistication into the area is Borgo Egnazia, a sprawling seaside property in Savelletri di Fasano (less than an hour drive from the Bari airport) that's modeled after a traditional village (and where Timberlake and Jessica Biel married). Owner Aldo Melpignano has been one of the region's driving forces of tourism, developing five-star spots like his family's former summer home, the 45-room Masseria San Domenico. The largest property in the San Domenico Hotels group, Borgo Egnazia is built entirely of tufo (rough limestone) and hand-cut local stone. In the evening, as the sun sets, the light reflects off the buildings, bathing them in gold. Rooms, casette (townhouses) and three-story villas (a modernized version of landowners' vacation homes) are scattered throughout the main building and behind the labyrinth-like walls surrounding the piazza and its signature clock tower. Just off the piazza, Mia Cucina, a trattoria designed to look like a typical Apulian home, offers cooking classes working mostly with ingredients sourced onsite.
As I sip a glass of white local vino around midday, chef Rocco Levante teaches me the traditional recipe for ear-shaped orecchiette pasta. "If you don't eat this dish on Sunday, you're not from Puglia," he says with a laugh as we roll the pillow-shaped dough out into long, snake-like pieces. For a more gastronomic experience, book a table at Bari-born chef Domingo Schingaro's Michelin-starred Due Camini, where you'll taste the finest Puglia's producers, farmers and fishermen have to offer in a gorgeous space surrounded by stone walls and romantic hanging lanterns. At the resort's private beach club, Cala Masciola—just a quick beach cruiser ride away through the golf course—you can sip rosé and dine on freshly caught fish chosen from the fishmonger's counter (that are weighed and cooked à la minute) in between dips in the emerald water.
Puglia was once one of the largest producers of table grapes in the country, and in the 1970s and '80s, the region was the "cellar of Europe" in terms of bulk wine, Palumbo explains as we make the two-hour drive south along the Murge hills from the seaside town of Trani to the Tormaresca winery's Masseria Maìme estate in Salento. "Growing up in Bari, my family had a winery, and I remember we had to produce large quantities quickly," Palumbo says. "Now, the approach is different—it's all about quality." With vineyards appearing like a balcony over the Adriatic Sea, the 1,200-acre estate of vines, nature reserve, olive groves and beaches is where Tormaresca makes its pale pink, terroir-driven Calafuria rosé—said to be Madonna's favorite—from hand-picked, indigenous negroamaro grapes.
When Marchesi Antinori established Tormaresca in 1998, it was the first company to invest in more modern technology, cellar design,and the replanting of vineyards. Other producers started visiting the wineries and doing the same. "Families outside Puglia came to invest after Antinori, and the growing strength of the region gave the chance for small, independent producers to start bottling their own wine," Palumbo says, adding that his family initially owned one of the two Tormaresca estates. "Now, there's a nouvelle vogue of Puglia wines—and they've raised the bar of average quality of wines." Italian rosé is slowly starting to appear next to the celeb-driven bottles famous in Provence, and Palumbo jokes that Puglia just needs Brad Pitt to invest in a winery for the region's rosé to soar in popularity around the globe. But unlike the characteristically light French rosé, Puglia's wines are more fruit-forward and savory, with elements like the coastal location of Masseria Maìme providing a freshness and vibrancy that pairs beautifully with the region's cuisine. "Compared to other regions of Italy that are more used to tourists, Puglia is a bit more authentic and has some of the best food in Italy," Palumbo says. "Food here is all about ingredients, and it's not overthought—it's really simple."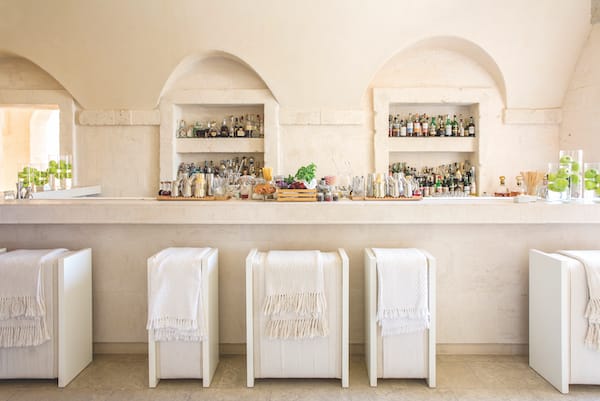 Throughout the course of the week, as we road-tripped along the coast to postcard-perfect, whitewashed towns like Ostuni, I sampled both spruced-up and low-key versions of local specialties, like panzerotti, deep-fried mozzarella-filled pockets of dough, and bombetta, cheese-stuffed meat rolls that are a street food favorite. There was also the orecchiette pasta served in a homemade tomato sauce, which I can now make on Sundays when I want to imagine I'm back in one of the family-style kitchens in Puglia.