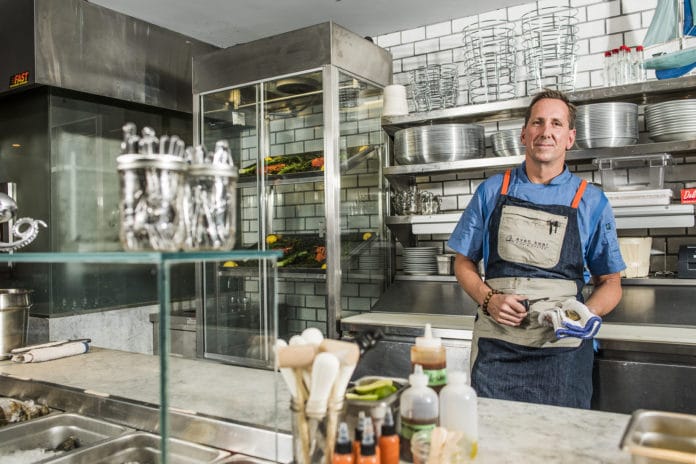 By John Tanasychuk
Photography by Felipe Cuevas
It's Thursday evening, and the 160-seat dining room at Even Keel Fish & Oyster is teeming with diners eager to sample what chef Dean James Max and his partners are offering on this modern American seafood menu. The raw bar is a succinct representation: house-made swordfish dip, Sebastian Inlet clams, spicy wahoo poke and fresh stone crab claws.
Max understands the food of Florida—seafood, vegetables, all of it—better than most South Florida chefs. That's because he was born into the food business. His childhood, spent on a Virginia farm and then on the beaches of Stuart, gave him a respect for ingredients and the people who cultivate them. He was farm-to-table before there was a name for it. His early career taught him another big lesson: Nurture the people who work for you and pay it forward. As a result, Max is now a mentor to some of the best chefs in the region.
Most South Florida foodies only know him as the chef from Fort Lauderdale's 3030 Ocean, a post he departed from in 2013 after 14 years. But Max has been operating other restaurants around the country and the Caribbean for 15 years. His portfolio includes spots in the Cayman Islands, California and Texas. While he has lived in South Florida since 1999, Even Keel is his return to cooking in Fort Lauderdale after a six-year absence.
"South Florida's my home," says Max, who also opened Blue Ocean Poke in Deerfield Beach last year. "I knew I wasn't going to leave it forever."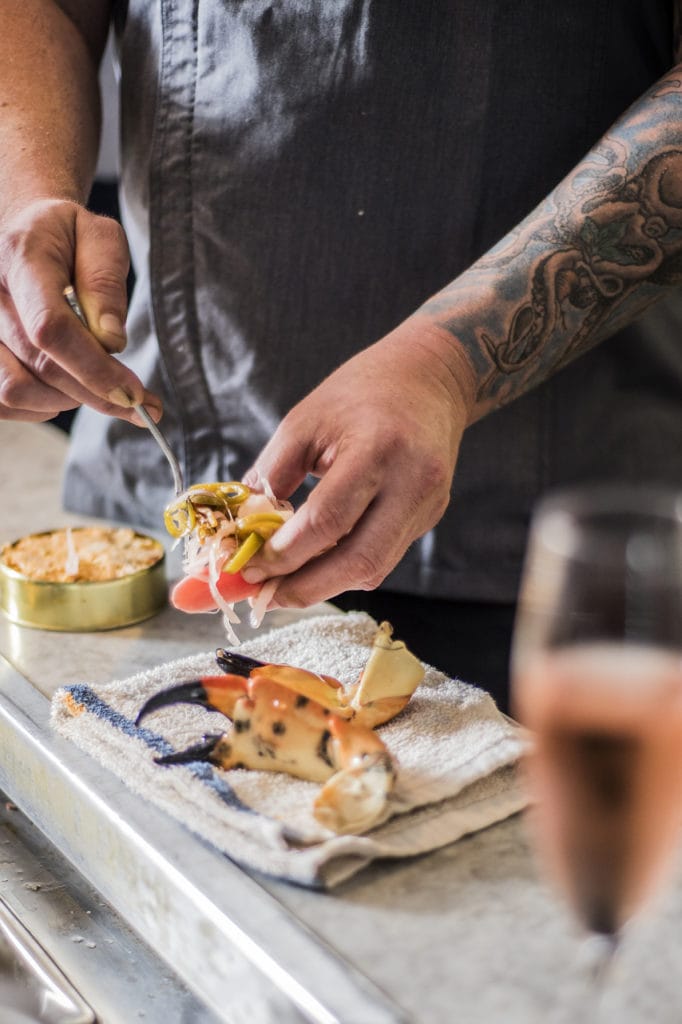 Max, 51, was born in Orlando to a father who worked as a produce broker, buying everything from corn to tomatoes for big northern chains. When Max was 3 years old, the family left Florida for the eastern shore of Virginia once his dad decided to return to the farming business of his childhood.
"The cool thing about it is that I grew up from that young age with a really hard work ethic," Max says. "Life on a farm was great because you did everything."
But nine years later, his dad went broke and the family returned to Florida, this time to Stuart, where Max's teenage years were spent mostly outdoors. He caught snook off backyard docks, and pompano and wahoo off the beach. Life in Stuart also meant a return to his father's produce business, where Max learned about the importance of quality, with his father insisting on buying the freshest corn right out of the field instead of the day-old version.
"I used to sit there waiting with the truck driver for the stuff coming in," he says. "We were eyes on sight. The warehouse down the street might have 40 truckloads of corn, but we'd pay $1 more a crate for fresh."
It was around this time that Max started showing an interest in cooking, paying careful attention to the techniques used in his mother Joni's kitchen. He also worked part time at a couple of long-gone Stuart restaurants. After high school, he attended Florida State University, where he eventually earned a degree in marketing and finance. It wasn't what he wanted to do, but the business background has served him well.
His food revelation happened during his junior year when he studied in Italy. "I was mesmerized," he says. "This was in 1988. You couldn't get risotto in a restaurant in Florida. You didn't have these dishes."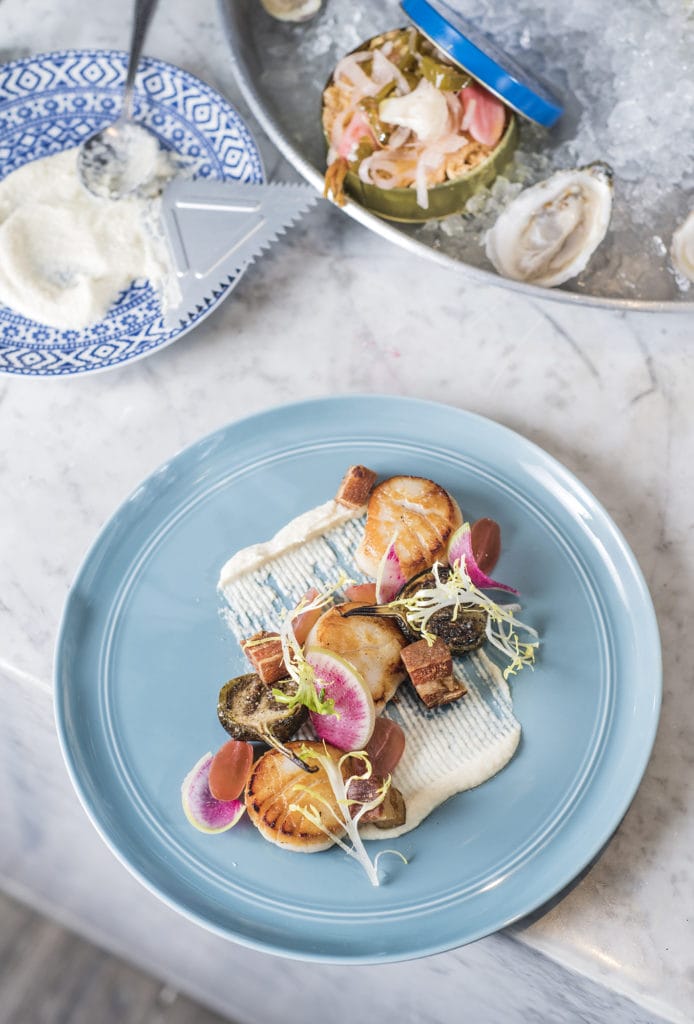 After graduation, he joined his father's business but also started cooking with a newfound intention. "I'd be in a warehouse that was the size of 14 Costcos," Max says. "I'd grab a bag and take one of each vegetable, and I'd go home and cook from 5 p.m. to 10 p.m."
From the pantry station at an old-school French place, Max quickly ascended to The Ritz-Carlton, Atlanta and then The Ritz-Carlton, Pentagon City. This was early in the history of The Ritz-Carlton, which had been founded, in part, on providing French-style cuisine. When asked what it was about his skills that so quickly saw him cooking in such respected kitchens, he says he took his craft seriously.
"I never worked for any sloppy places," he says of years working under classically trained chefs. "I just knew it was a craft like painting. You're better working with Picasso. You don't learn any bad habits. You learn flavor and a passion for food."
Max spent the late 1990s as executive chef at Brasserie Savoy in San Francisco and then as partner at the 60-seat Woodside in Brentwood, the wealthy Los Angeles neighborhood. South Florida called him back, however, in 1999 when the Fort Lauderdale Marriott Harbor Beach Resort & Spa wanted to create an independent seafood restaurant. Chef-driven restaurants inside Marriott properties were still new, but there was Max—just 11 years after that trip to Italy—creating a concept, hiring staff and overseeing 3030 Ocean.
"I tell people you can make stuff happen fast," he says, "if you're passionate, you're hardworking, you're smart and you study."
3030 Ocean was—and is—a special occasion restaurant. It was born out of Max's own classical experience, lessons he holds to this day. Those French-trained chefs from early in his career taught him about lightness of flavor and that most seafood does best when cooked gently.
If you ever dined under Max at 3030 Ocean, this explains why the food always soared. Many still recall Max's tuna with coconut sauce, ginger lemongrass mussels and red snapper with boniato and carrot sauce.
Even Keel isn't 3030 Ocean, Max says. It's certainly more moderately priced, and the menu is such that guests can share small plates, items from the raw bar or even a pizza from the wood oven inherited from the previous Italian restaurant tenant. Try the pizza topped with octopus.
"It's still modern American seafood," he says. "We're modern in thinking about food. People want to know where their food comes from. Is it healthy?"
He'll serve clam chowder, for instance, but instead of a high-calorie, high-carb roux, he'll puree the mirepoix (carrots, onion, celery, fennel and garlic) to give the soup its body. His seafood is impeccably sourced, from swordfish caught in Pompano Beach to lobster flown in from a woman in Maine who supplies top restaurants across the country.
Max's partners at Even Keel are Brad Phillips, who started at 3030 Ocean two decades ago, and Dave MacLennan. Both have been cooking at Max's restaurants for years, but like him, still call South Florida home.
Other 3030 Ocean alumni have scattered across South Florida, including Paula DaSilva of The Ritz-Carlton, Fort Lauderdale and "Top Chef" winner Jeremy Ford. "Dean taught me how to respect people and also the products we use," says Ford, chef and owner of the acclaimed Stubborn Seed in Miami Beach, of his five years spent working with Max. "There are many qualities and reasons why Dean is one of the best. It really starts with the core values of simple flavors and loving everybody around him. It's truly contagious."
Niven Patel, owner of Ghee Indian Kitchen in Miami and Kendall, worked with Max directly from culinary school at The Art Institute of Fort Lauderdale. He spent four years at 3030 Ocean and then cooked in Max's restaurants in Baltimore, Islamorada and the Cayman Islands.
"I really look up to him as a mentor," Patel says. "He paved the way for who I am as a chef and a person and how I manage my own restaurant." Patel says that means being strict with staff when it comes to food quality and technique but creating strong bonds in the kitchen. "Even to this day," he says, "if I'm working on a new restaurant concept or deal I'm going to sign, I always call Dean to get his fatherly blessing."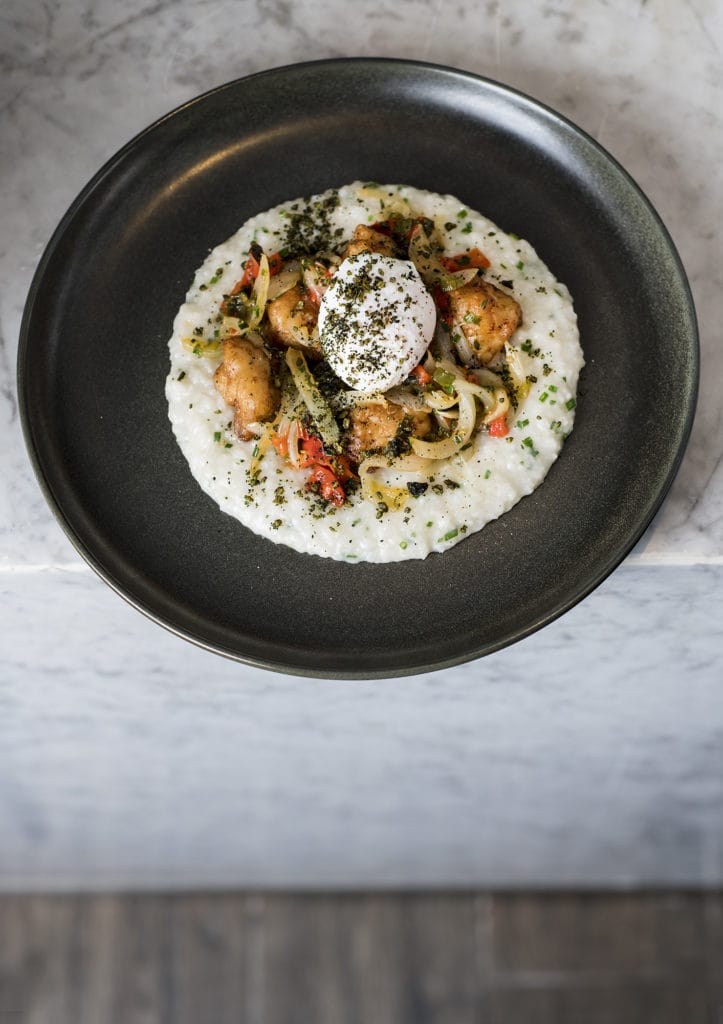 Max says he's different from his own early mentors. "They were really tough and never said anything nice about you until you were ready to leave," he says.
Instead, he offers equal amounts of criticism and praise. "Building a good team means everything," Max says. "I like teaching the thought processes that go into cooking. The ones who really take to it are the ones who are super focused and hardworking. I live for these guys who've worked under me, seeing them grow and push their careers."  
This article originally appeared in the Spring 2019 Issue.