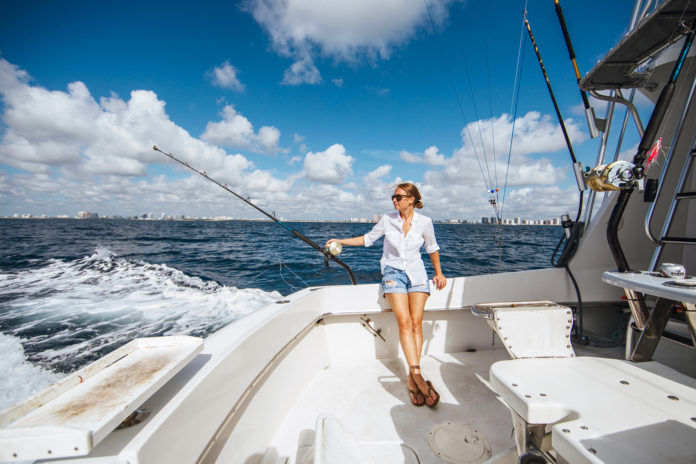 By Elaine Viets
Photography by George Kamper
Salmon are among the few animal species that always return home. Born in fresh water, they eventually make a break for the ocean, only to come back to their native waters as adults. It's a beautiful cycle in nature, one that shows animal instinct in its most primal behavior.
For Adrienne Grenier—the executive chef of 3030 Ocean, the signature restaurant at the Fort Lauderdale Marriott Harbor Beach Resort & Spa known for its meticulous seafood preparation—returning home was inevitable. Raised in nearby Hollywood, Florida, Grenier loved being on the Atlantic waters as a child. Her mother's boyfriend would take the family fishing, which Grenier credits as the basis for her love of the sport.
Today, the 35-year-old is dressed in crisp chef's whites and a striped apron, her hair twisted into a tight knot. She has serious brown eyes behind even more serious glasses. But there's a streak of humor there, too. She works in posh surroundings, but her favorite local restaurant is Le Tub, a quirky Hollywood establishment decorated with bathtub and commode planters.
3030 Ocean offers dramatic views of the Atlantic Ocean, reflecting the type of food one should expect at the restaurant. The menu features fresh-caught grouper and snapper, swordfish and tuna, and Grenier chooses each carefully. To help her decide on menu items, suppliers send her a list of fish and where they came from along with photos. On the menu tonight is hogfish, a good fish with a bad name.
After kicking off her culinary career at 3030 Ocean, Grenier left Florida in 2008 for a two-year stint in California, where she worked at Gordon Ramsay's Michelin-starred restaurant at The London West Hollywood (now closed). She felt an authentic food culture thrive on the West Coast, where farmers markets were frequented more often than big-chain supermarkets. All the farmers may have the same things for sale, Grenier says, but Californians have an almost religious belief that one farmer has the best peaches, another has the best strawberries and another has the best romaine lettuce. It sparks endless foodie debates.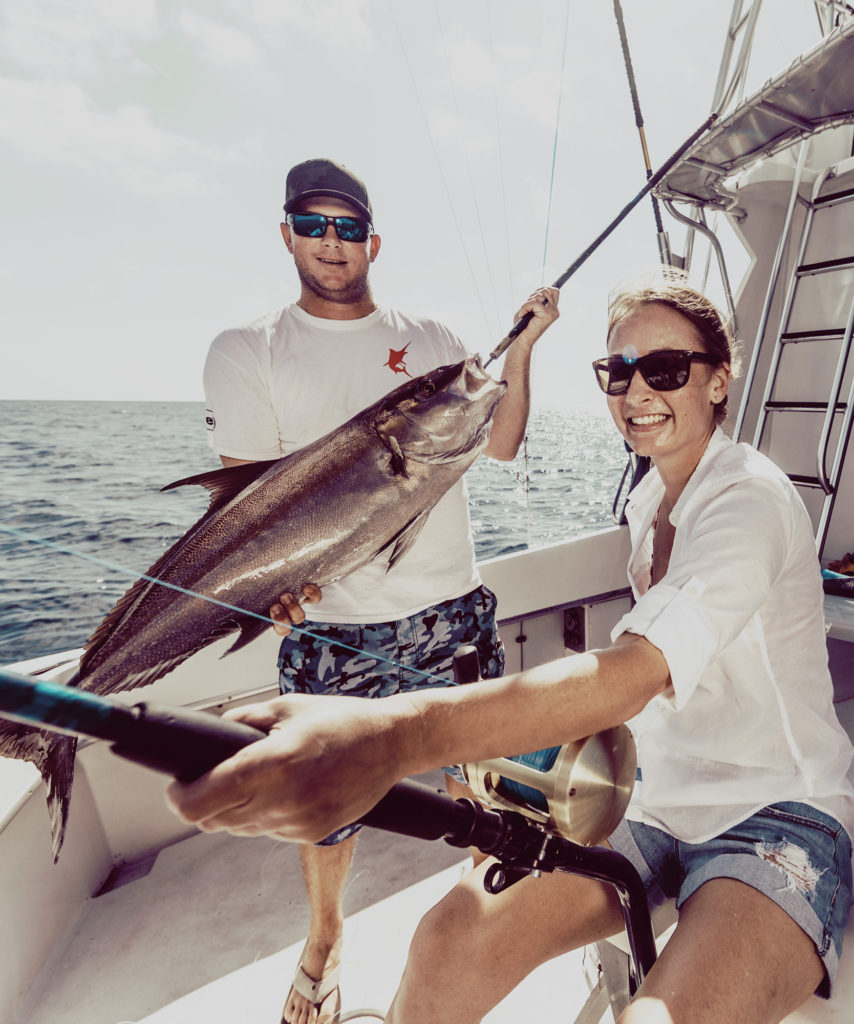 Despite California's focus on purely produced food, Florida called Grenier back. The chef returned to her home state in 2010 because her mentor, chef Paula DaSilva, was opening a new restaurant in Miami called 1500 Degrees, and she wanted Grenier as her sous chef. That decision ultimately led Grenier to her second stint at 3030 Ocean in 2013. Two years later, Grenier became its executive chef.
Grenier's professional endeavors started at the culinary program of The Art Institute of Fort Lauderdale, where she graduated in 2006. The culinary program is at one end of the 17th Street Causeway Bridge and 3030 Ocean is just past the other end. While in school, Grenier learned the restaurant right over the bridge was hiring and landed a job there in 2005 while still completing her degree. "I'd never worked in a professional kitchen before," she says of the experience.
Seven years later, Grenier found herself on television, competing on an episode of the Food Network's "Chopped." Her mystery basket of ingredients included something serious chefs won't touch with tongs— frozen french fries—along with cube steak, prepared salsa and queso fresco, a Mexican cheese. While the other contestants served steak frites, Grenier made potato hash with the cube steak and put an egg on it.
Another mystery basket had tequila, dried limes, Broccolini and a blue-footed chicken. Grenier made her chicken in a tequila butter sauce, which turned out to be a good choice for what can be a tough, dry bird.
Assessing her performance, Grenier says, "I totally choked. My mind went blank. Unlike a lot of chefs, I lack confidence." It turns out she was the only one who felt that way. Grenier ended up winning the $10,000 grand prize. "My competitor was sure he had the best chicken," she says. "He expected to win. I kept thinking I could have done better and kept going over my mistakes."
Grenier goes on to say she once wrote a thesis on mashed potatoes to find out if you should add the fat first or the liquid. "I took food science in school, but I didn't want to know the molecular structure of food," she says. "I just wanted to cook what tasted good." Although she now lives in Florida, Grenier says her years in California have made a strong impact on her cooking. She has brought her fascination with the Golden State's food culture to South Florida, which she believes doesn't quite have California's same attitude toward produce yet. "I've seen produce from Guatemala at a farmers market here," she says.
But she has noticed that Florida is getting better. Farms are growing produce for restaurants. Grenier uses Swank Specialty Produce in Loxahatchee for carrots, radishes and tomatoes. She also prefers Sun Fresh Farm and Ranch in Davie for lettuce and more tomatoes. She gets more produce in Homestead from a forager who puts together a list of the best produce, including strawberries, okra, carrots, radishes, papayas and dragonfruit—and edible flowers.
Do people like to eat flowers? "They're more for show," Grenier says. "You eat with your eyes. We only use them on our desserts."
Grenier heads a staff of 13 with seven to eight cooks. She likes her kitchen team to "be happy and learning," and she's not a fan of the "meathead culture" or boys' club attitude Anthony Bourdain once talked about. Grenier says kitchen culture has never been politically correct, but it's changing.
"I was fortunate to always work for women chefs," she says. "I never worked in an all-male kitchen. And with the #MeToo movement, the men can't get away with that attitude anymore."
For those out there who don't know the difference between a sweetbread and a baguette, Grenier says it's not your fault: Cooking is instinctual. "Either you've got it or you don't," she says. "You have to put love in every recipe. If you're not putting everything into your cooking, you're cooking without love. It's more than throwing ingredients in a pot. You have to listen to the food and smell it. You can hear the sound when it's ready. You have to use all your senses."
Adrienne Grenier's tips for cooking fish
Cooking fish can be difficult. "Simple is best," Grenier says. All you need is salt, pepper and maybe some lemon juice at the end. Use the freshest, highest quality fish. Cook it too long, and your delicate sole can turn to shoe leather. Cook it too little, and you're serving warm sushi. "Fish is about 80 percent cooked when you remove it from the heat," she says. "It continues to cook."
This article originally appeared in the Summer 2018 Issue.