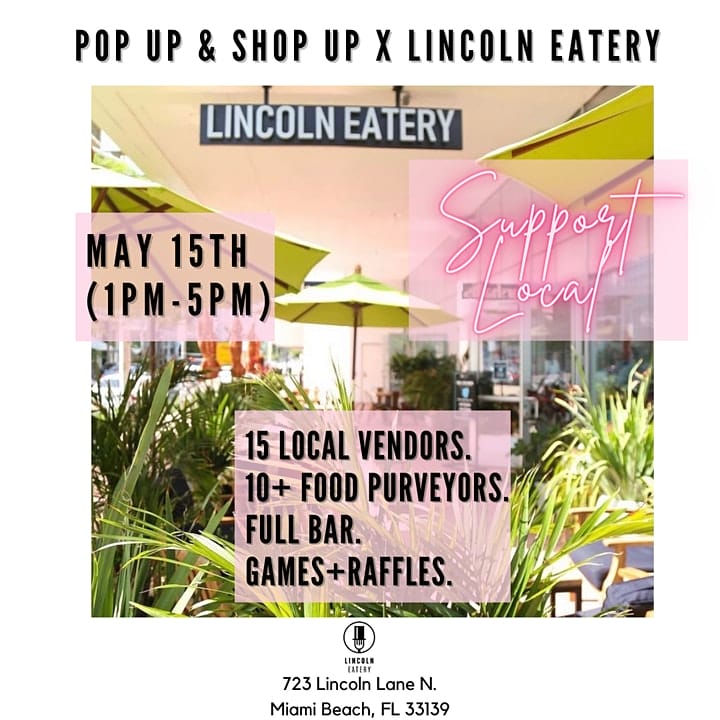 The Lincoln Eatery continues its mission of supporting local small businesses as it brings back the Pop up & Shop up artisan market on May 15 from 1 p.m. to 5 p.m. Guests can shop from over 15 local small businesses and access The Lincoln Eatery's curated selection of dining and drinking options, featuring authentic and homegrown culinary concepts. The modern food hall houses a curated selection of 13 unique dining and drinking options, including the Peruvian flare of Cilantro 27, vegan cuisine of Plant Theory and Asian street food of Ai Tallarin.
Pop up & Shop up market at The Lincoln Eatery features a unique shopping experience highlighting black-owned and female-owned small businesses, in addition to activities such as games and raffles, dominoes and beer pong. Additionally, the "Pop up & Shop up" storefront is located inside the eatery and offers 12 additional local small-owned brands to shop from, ranging from artisans to jewelry to candles. The shop elevates guests' experience at The Lincoln Eatery and provides them with an outlet to shop and socialize at their leisure before or after dining at one of the culinary experiences.
Pop up & Shop up continues the Lincoln Eatery's mission of bringing local artisans together, creating a sense of community in Miami Beach by highlighting minority-owned businesses and locally-made products. Past events have involved vendors with trendy products such as divine-smelling candles, hand-made bikinis, and dainty jewelry. Bring friends along to shop, graze, sip, or even just snap an Instagram-worthy photo while supporting local businesses and basking in the pink and green covered aesthetic atmosphere!
Located adjacent to Lincoln Road, South Beach's famed pedestrian shopping, dining and people-watching street, The Lincoln Eatery offers a chic space to meet, mingle and hang out as guests support small-owned businesses.
This is a free event, open for everyone to eat, drink and shop local.