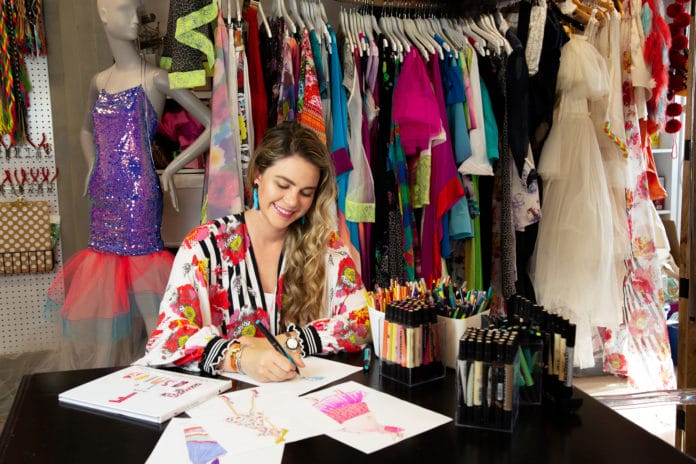 By Maddy Zollo Rusbosin
Portrait by Angie Myers
When Amanda Perna was attending the Fashion Institute of Technology, a professor told her that her illustrations were terrible. They were so terrible, he said, that no one would ever understand them. Naturally, Perna  went on to prove him wrong. Besides becoming a successful fashion designer, appearing on "Project Runway" twice and landing a partnership with Hallmark to create a collection of cards, the 33-year-old Coral Springs native recently debuted her first children's book, F is for Fashion. 
The driving force behind its creation? Her daughter, Stella. "It's been a mission to make her a big part of my life, so she comes with me to the studio every day," Perna says. "Even at 3, she loves style, so I wanted a fashion-themed ABCs book for her." Unable to find one, Perna took matters into her own hands. She began sketching illustrations and co-writing her own alphabet book with her husband, Solomon Strul.
"I think it's important to not just teach people the basics but to go one step beyond," she says of her decision to include a few more advanced, style-centric terms, like "O is for Ombre," in the book. "We're also teaching our daughter from a young age that everyone is beautiful, which is why the letter X is for sizes x-small to x-large. The page reads, 'Love the size you are. Every size is beautiful.'"
Once the book was written and illustrated, Perna printed two copies from Blurb, a printing website. She gave one to Stella, and on a whim, she decided to ask the executives at her local Neiman Marcus if they'd be interested in reviewing the book. Perna was advised to send her second copy to the retail giant's headquarters in Dallas, and to her surprise, the executives there loved it. "Neiman Marcus ended up ordering hundreds of copies," she says. While exciting, the situation left her with the challenge of figuring out how to transform her hand-drawn pages into a full-fledged book. Her solution: To do it herself. She and Strul went on to create their own publishing company, PS Publishing, to make F is for Fashion a reality.
Once you witness Perna's unwavering enthusiasm, you realize it's not surprising that she took the leap to self-publish. She's always been a go-getter—after all, that's what led her to start her own brand. Despite the excitement of interning at Oscar de la Renta and working at Calvin Klein as a dress designer in New York City, Perna began craving the freedom to do projects on her own terms. "That's when I cashed in my 401(k) to start my own business," she says. "I told my mom, 'When you use the stock market, you're betting on people you don't know. I'm going to bet on myself.'"
It was a smart gamble. Since then, Perna has launched two brands based in Delray Beach: The House of Perna, a line dedicated to made-to-order pieces, and Neon Bohemians, a collection of colorful, handmade designs. "It's my mission in life to help others feel happy," she says. "I've realized I can make people feel amazing when they wear an outfit they feel good in."
Even with her lengthy industry resume, the accomplishment Perna is most proud of is being Stella's mom. That's why adding children's book author and illustrator to her repertoire is so fitting. "I really believe in pushing yourself and creating what you want to see in the world," she says. "It's important to find what you feel good about and share it with your kids. For me, that was obviously fashion, so I want to pass on my passion to all the mini fashionistas of the world."
This article originally appeared in the Fall 2019 Issue.