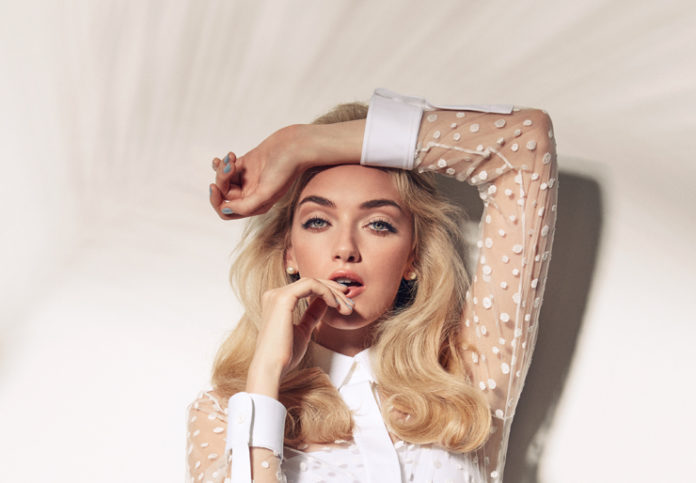 By Nila Do Simon
Photography by John Russo
Styling by Annabelle Harron
Daisy Clementine Smith lives in a two-bedroom apartment with her parents and three siblings. For most people, that would be a tight squeeze, but the Smith clan wouldn't have it any other way. The tightknit sisters and brother, who get their good looks from their model mom, Sheridan, were barely teenagers when they were featured in a nationwide Gap campaign in 2012. Since then, they have become social media stars, amassing millions of followers on Instagram between the four of them. But if 20-year-old Daisy has anything to do with it, her family will be known for more than just their pretty faces. She and her siblings (which include 16-year-old brother Lucky Blue, the modeling world's "it" boy) formed surf-rock band The Atomics in 2009, with sounds inspired by their West Coast travels. With Venice, Daisy discusses her goals, how instrumental her family's support has been in her career, and how she plans to rock out.
How has your family's experience in modeling influenced your career?
Hearing my mom's stories and seeing her portfolio from a really young age got me interested in modeling. It has been unbelievably comforting to have her support, knowing that she gets it. Sometimes the fashion industry can seem a little intense for those who aren't familiar with it, but she has helped me keep things in perspective. My family touches on multiple aspects of my life. For one, The Atomics depends on every family member. Plus, I do a lot of modeling with my siblings, which are always my favorite photo shoots. If I didn't have my family's support, I don't know what I would do or who I would become.
It seems like you're always surrounded by your family; what's the longest time you've been apart?
Two months. I went to South Korea to model by myself last fall. That was pretty rough because not only are they my family, they are my best friends. We stayed in close contact throughout my trip, but I missed them like crazy. Being away from them for the first time made me see them differently and appreciate them in new ways.
When did you know you were musically inclined?
Sometimes I think I am still waiting to know this! Music has always been a really big part of my family, beginning when we all received instruments for Christmas one year. I can't imagine my life without it.
What should we expect from The Atomics?
We currently have one single on iTunes called "Too Late," which I think is rad, and I love playing it. But I am really stoked to finish this album we are working on and to release it.
How did your family become influenced by surf-rock music?
My dad is from Southern California, and we spent a lot of time in Orange County growing up. We lived there for a couple of years when I was really young. My dad drummed for a few surf bands and has been playing surf music for us since we were in car seats. He instilled the same love for it in all of us.
What's something most people don't know about you?
Lately, right before bed, I have been having "story time" with my younger sister Pyper. (And by "story time," I mean I force her to listen to me while I read aloud to her my favorite poems or books…She usually falls asleep!) We are currently reading "The Picture of Dorian Gray" by Oscar Wilde.
What's on tap for you in the future?
I have some exciting campaigns coming out within the next few months, which I have to keep under wraps for now. For the band, we plan on having our first album out by early 2016 and to start organizing a tour. In the far future, I hope to have a few albums and world tours under our belt. In the far, far future, I really want to be a wife and a mother. Having both my own family and a successful career is the ultimate goal.
Stylist: Annabelle Harron/The Only Agency
Makeup artist: Debbie Gallagher/Opus Beauty using Giorgio Armani Beauty
Hair stylist: Dimitris Giannetos/Opus Beauty using Pai-Shau
Nails: John Russo Beauty in Mog
Originally appeared in the Fall 2015 issue.