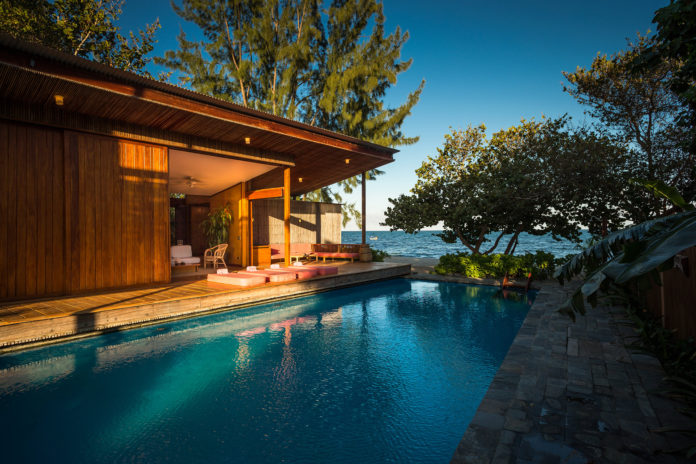 By Lane Nieset
Everything the Coppola family sets their sights on seems to turn to gold, and this Midas touch isn't limited to the silver screen and sparkling wine. In 2001, Francis and Eleanor purchased Turtle Inn, an exclusive hideaway on the tip of Belize's 16-mile-long Placencia Peninsula, flanked by the coral cay-studded Caribbean Sea and a mangrove-lined lagoon. Originally settled by the Maya, the land was claimed by English buccaneers in the 1600s—but its more recent reputation as a Creole fishing village with laid-back Key West vibes is part of what now attracts the likes of the Coppolas to this little piece of paradise. The fact that the tallest building in the country is a Mayan temple and there's not a Starbucks in sight doesn't hurt, either.
Paradise Bound
From Fort Lauderdale, it's just a two-and-a-half-hour flight to touch down in Belize City, where travelers transfer for the next leg of the adventure by embarking on a small hopper plane for the quick trip south. Rugged beaches, each more untouched than the next, skirt one side of the thin sandy strip, while "magical" Maya energy exudes from nearby rainforests and ruins like Lubaantun, a 1,300-year-old site where the infamous crystal "Skull of Doom" was said to be found. Head the other direction and you'll come across the world's second-largest barrier reef just 10 miles offshore. Unlike its famous big sister that stretches off Australia's coast, the more untouched Belize Barrier Reef is as alive as ever, teeming with kaleidoscope-colored coral and one of the world's underwater wonders: the Great Blue Hole, which is more than 400 feet deep.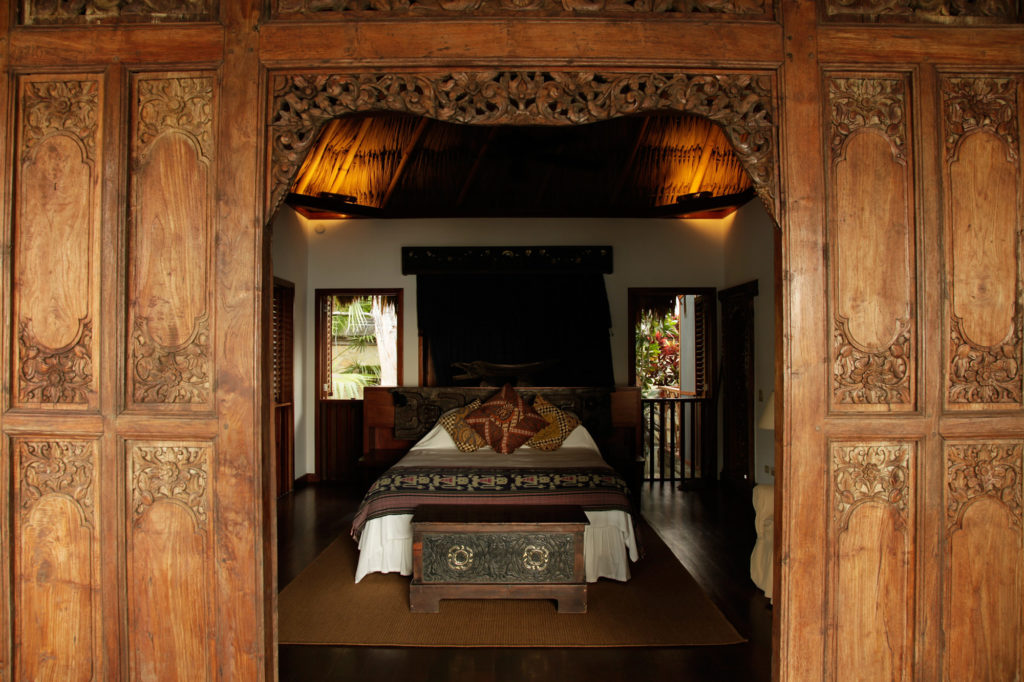 Bali inspired the design for Turtle Inn's 25 thatched-roof bungalows outfitted with Japanese-style soaking tubs and hand-woven rugs, but the Indonesian island's signature rejuvenating spirit also reigns throughout the slowly emerging resort town of Placencia, which is gaining a reputation as a more rustic (and less-visited) version of Mexico's spiritual center, Tulum. While models and the jet set crowd flock to the Riviera Maya beachfront town to see and be seen (and participate in the occasional seaside yoga session), there's a reason the Coppolas chose Placencia as the locale for one of their "hideaways."
While close to major hubs like Belize City, Placencia has more of a detached-from-the-world feel, where you could stumble upon its golden sand beaches—the only ones on mainland Belize—and bask in the sun by yourself. Yet no matter where you stay on the peninsula, you're just a short bike ride from the village's main drag: a concrete sidewalk built in the 1940s so fishermen didn't have to wheel their catches through the sand. Not much has changed in the fishing village since then. From the small air strip, one roughly paved road winds its way in two directions: south to the village's bars and bistros, and north through the Garifuna settlement of Seine Bight to a handful of high-end resorts.
Traffic lights haven't made their way here yet, and speed limits don't seem to exist. In her hit song "La Isla Bonita," Madonna sings about the postcard-perfect town of San Pedro and "all of nature wild and free," but when you're driving along Placencia's main road with the Maya Mountains and Victoria Peak looming in the distance, you'll realize her words could easily describe this peninsula's raw beauty.
While Placencia's remote locale is a draw, if you're going for an even more off-the-grid feel, hop on a boat and set out for one of the nearby cays, or islands, where you can dine on grilled lobster between snorkeling sessions. Travelers can even spend the night on one of the most exclusive of the islands, Gladden, which sits 20 miles off the coast of Placencia on the widest part of the Belize Barrier Reef, not far from the spot where whale sharks gather once a year.
Stylish Sanctuaries
The Coppolas were some of the first to recognize Placencia's potential, but a few others are now quickly taking notice. In November, Itz'ana Resort & Residences will open its doors with an organic farm-to-table concept, Mayan-themed spa treatments and the luxurious, Ernest Hemingway-inspired Great House decorated by big-name designers who have worked with the likes of Chanel and Dior.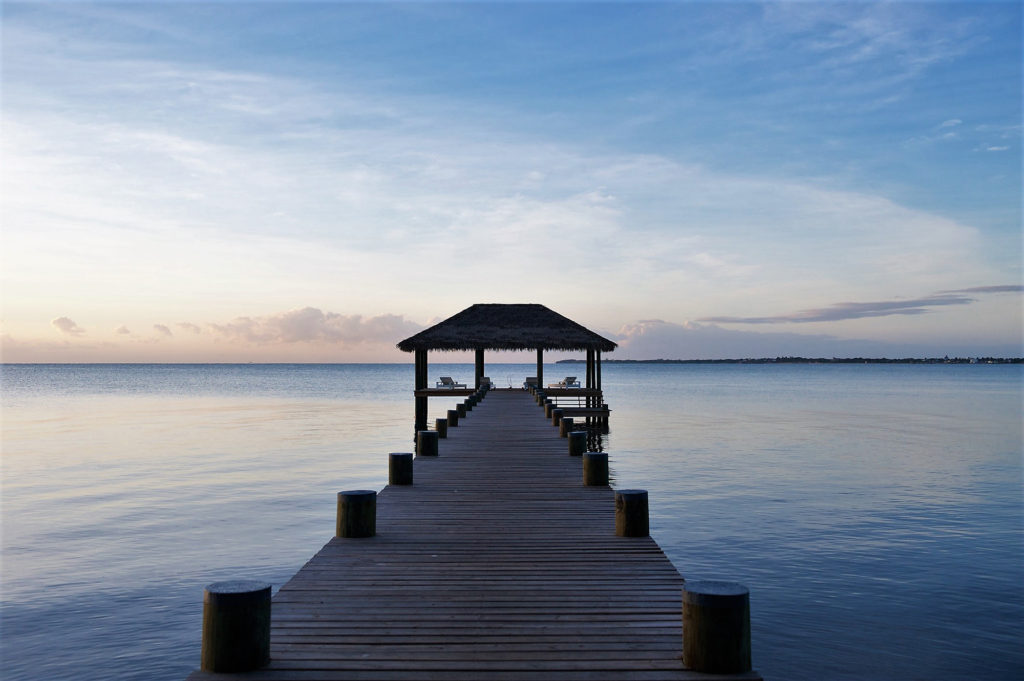 Drive just a few minutes down the street and you'll come across another spot that's heralding the holistic movement: the one-year-old Naïa Resort and Spa. Tucked along a 200-acre reserve, the property features 19 acres of beachfront paradise—six acres of which are devoted to a destination spa where six suites (including a couple's private island suite) float on a lily-covered lagoon, proving you don't need to travel to Tahiti to get the overwater bungalow experience. Ancient Belizean rituals incorporate natural "medicines" and native botanicals into hydrating facials, while the Mystic Light treatment takes a cue from local healers with a ceremonial-style spiritual cleanse. Cross over one of the charming footbridges and you'll arrive at the spa's centerpiece: an aerial yoga studio with jade green silks hanging from the high, wood-planked ceiling and glass accordion doors overlooking the garden.
Each of the resort's 35 beach houses makes you feel like you've landed on your own private island, complete with an outdoor shower encased by forest and a veranda that opens to a path leading to the sea. Regionally curated art lines the walls, while jippi jappa palm baskets serve as inspiration for the hand-woven lamps sourced from a women's cooperative for a look that's the ultimate definition of eco-chic.
Village Vibes
"Belize is traditionally a man's destination; you would come here to fish and drink," says Naïa Resort and Spa managing director and Belizean television executive Stewart Krohn over dinner on the upstairs terrace of favorite local eatery Rumfish y Vino. "However, this is an old mentality that's changing." The addition of tropical, bohemian-inspired spas that serve yoga-centric cuisine (think quinoa bowls and chia pudding) is one way Placencia is taking on more of a Tulum touch.
In June, the village comes to life with the annual Placencia Lobsterfest, a three-day fête that's essentially the town's version of Mardi Gras. But swing by the small strip of toes-in-the-sand bars on a Saturday night and you'll have an experience that's just as lively, with locals dancing to drum-heavy Garifuna music. Hemingway himself would've felt right at home in one of these watering holes, such as the rainbow-colored Tipsy Tuna, a seaside sports bar that lives up to its name. Fishing and drinking are still high on the list of favored activities here, but a handful of eateries like gastropub Rumfish y Vino are leading the movement of more refined Belizean cuisine and cocktails, looking to local catches like lionfish as a new wave form of crudo. Farther down the road on Maya Beach, lionfish also makes an appearance on the menu at the Maya Beach Hotel Bistro, served speared and seared as twice-fried tostones. If you'd rather do the spearing yourself, head off on Turtle Inn's eco-hunting dive, where you'll not only help protect the barrier reef from this invasive species, but you'll also know exactly where that evening's dinner was sourced.
This article originally appeared in the Spring 2018 Issue.