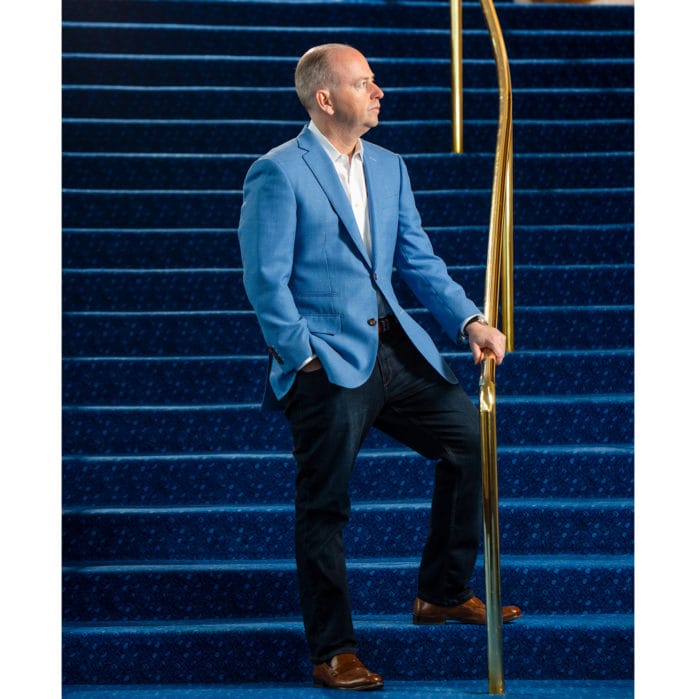 By Buddy Nevins
Portrait by Jason Nuttle
At first, it was hard to envision a future for Republican George LeMieux in a state where the politics blazed a brilliant blue. But in the 1990s, Florida flipped to Republican red, and LeMieux was one of the few at the head of the line.
He was appointed deputy for newly elected Attorney General Charlie Crist. LeMieux then ran Crist's 2006 campaign for governor. Three years later, Crist appointed him to the U.S. Senate to fill a vacancy. The only U.S. senator ever from Broward County, LeMieux left Washington in January 2011. He returned to Fort Lauderdale to become chairman of Gunster, a nine-decades-old law firm with roughly 200 lawyers spread out among 13 offices statewide.
LeMieux still found time to co-write Florida Made: The 25 Most Important Figures Who Shaped the State, released in early 2018. Here, he describes his debut book, which he'll introduce to local audiences at the 2019 Literary Feast festivities from March 1-2.
Why did you write the book?
I've heard the expression "You've got a book inside of you trying to get out." That's how I felt. When I was in the Senate I was traveling all over Florida, and I realized two things. A lot of people are from someplace else and don't know much about our history. We are also the third-biggest state in the country. How did Florida develop? I knew some of the answers, but I certainly didn't know all of them. I wanted to do the research to satisfy my own curiosity and find out about the people who made the state.
Before you picked which figures to include in the book, you brainstormed with folks like former Gov. Jeb Bush and former Agriculture Commissioner Adam Putnam. What criteria did you use to choose who to include?
Laura Mize, who wrote this book with me, helped tremendously. Here's the test we used: Was what the proposed individual did significant for the state's development? If someone came along later and did the same thing you did, then we didn't put you on the list.
For instance, we felt Ponce de León didn't do anything. He ran around the state. He looked for gold. Most of his folks died and then he left. In our view, another Spaniard who came along later was a better choice: Pedro Menéndez de Avilés. He founded St. Augustine and ran the French out of Florida. That was significant.
Why is Fidel Castro on the list?
When I was growing up in South Florida, Miami was pronounced My-ham-ah. It was pretty sleepy. In 1960, Miami looked a lot like Kansas City, Missouri, in terms of its economic profile. How did Miami change to become a gateway megacity? The reason is Castro. He took over Cuba, and this amazing diaspora came to Miami that might not have come otherwise. Many brilliant people came and forever changed South Florida. They made it an economic powerhouse. Miami is one of the most vibrant cities in the world because of it.
The only elected politicians on the list were former Govs. LeRoy Collins and Napoleon Broward. Why do you believe others in the field you chose—politics—did not make a lasting impact?
Napoleon Broward drained the Everglades and opened up Florida for development. LeRoy Collins ushered Florida through the Civil Rights era in a much more graceful way than the rest of the South, which was important for our development. As for the others, what were their big accomplishments? I think Jeb Bush was a great governor. He did a tremendous amount to bring education to the next level in Florida, but it is too soon to see that impact. You've got to get historical perspective.
You appear to be very busy, particularly as the chairman of a major law firm involved in all types of civic and political work. How did you find the time to write this book?
When I got into government, we worked all the time. The same thing goes for working on a campaign. So now my motor doesn't run well at a lower speed. I wrote some of the book in the middle of the night.
You've pretty much been a winner your whole life, from the Young Republicans to the U.S. Senate. But you did lose a state House race in Broward in 1998 when you were in your 20s. Looking back, what did losing teach you?
Timing is everything in politics and life. I lost but remained involved. I was there when Florida turned Republican. I got to get in on the ground floor with Jeb and Charlie. There was no pipeline of Republicans ahead of me, so when Florida flipped, I was in the front of the line.
Will you ever run for office again?
Maybe, but I really enjoy being at Gunster. I enjoy the civic work. I get to do a lot for the public without having to get on a plane.
Would you like to be one of the important figures included in the second volume of this book?
Sure. I love making a difference, and I love this state. Florida gets a bad rap. Every day there seems to be a news article about something dumb that happened in Florida. But we are so blessed to live in this state. It is beautiful. Everybody wants to move here.
Why include only 25 people in the book?
It was a nice stopping point. The 26th would probably have been George Merrick, the developer of Coral Gables who donated the land for the University of Miami. Instead, we put a different Miami area developer: Carl Fisher, who not only built Miami Beach but also the road system to bring people there and to the rest of Florida.
Do you have another book in you?
This book was a big undertaking, and we just finished after two solid years of working on it. I think I'm going to take a little space to even think about writing again.
This article originally appeared in the Winter 2018-2019 Issue.