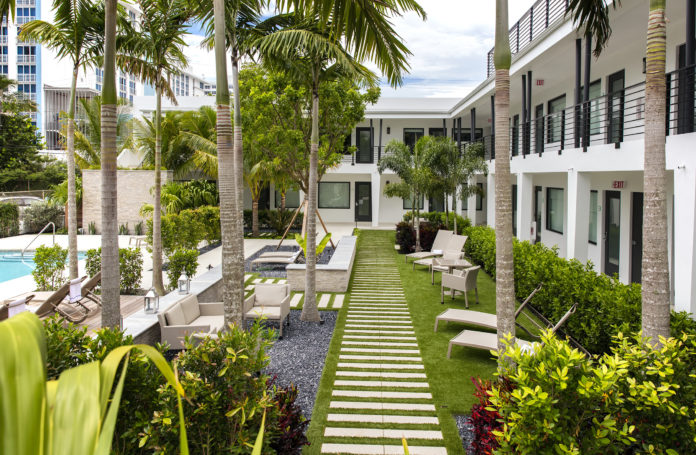 By Joann Plockova
It took three weeks for Polish-born Marta Gzella-Plata to fall in love with Fort Lauderdale. After coming to the city to study English in 2003, she returned home and couldn't wait to share that love with her family. After marrying Pawel Plata in 2007, she told him, "I wish I could take you to Fort Lauderdale."
The couple and their children have called Fort Lauderdale their home—or "heaven," as Gzella-Plata refers to it—since 2013. They have planted new roots in the city with the Gzella Collection, a growing network of boutique hotels that unite modern design and amenities with the city's unique architectural heritage.
Entrepreneurship runs in the family. In 1985, Gzella-Plata's father, Miroslaw Gzella, turned in his fireman's hat to start a meat production business in Poland that today employs more than 2,000 people and includes more than 200 delicatessens. When the company celebrated its 25th anniversary, Miroslaw bought a vacation home in Fort Lauderdale for the entire family to enjoy.
Later, when Gzella-Plata and her husband moved to Fort Lauderdale, they took advantage of an opportunity to invest in the hotel industry. With Plata's background in real estate and the support of Gzella-Plata's family, the couple purchased three beachside motels built in the 1950s. "We passed by these properties every day," Plata says. "Although they were distressed, old properties, we knew they had charm and potential. We fell in love with them."
Formerly the Seaside Motel on Birch Road, the 35-room Fortuna Hotel opened in 2015 as the first building in the collection. By working around the clock, the couple furnished the property within six weeks with the help of Fort Lauderdale-based Swedish designer Ulrika Kristofersson. Fortuna was followed by the collection's "crown jewel," the 24-room Ikona Hotel, which was designed by Blanche Garcia of "Hotel Impossible" TV fame and opened in July 2016. All the buildings have maintained their original architecture, including the recently renamed Fala Hotel (formerly the Seville Hotel & Apartments), which became part of the collection in March.
"We wanted to bring something fresh to the design, technology and amenities," Plata says. "We also loved the charm of these buildings. When you think of boutique hotels, you think of properties with history that are run by families."
Gzella-Plata and her husband pride themselves on their personal approach and consider the collection a truly family business. "We try to bring the legacy my father created," she says. "The businesses are very different, but the goals and mission are the same."
This year they anticipate the addition of a new Gzella Collection property with the refresh of another charming 1950s hotel. In the long term, they can see themselves growing the business in other locations if they find the right properties and a place they love as much as Fort Lauderdale.
"We are very proud of the product we have," Plata says. "We want to create an extraordinary experience for our guests. We want to help people fall in love with Fort Lauderdale like we did."
Originally appeared in the Spring 2017 Issue.