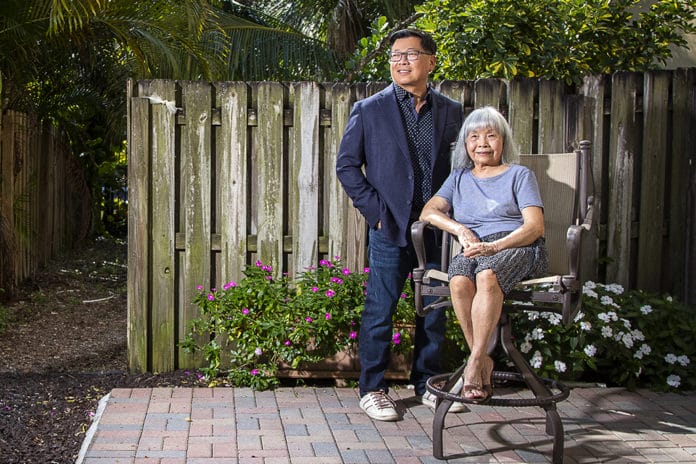 Photography by Eduardo Schneider
In Asian culture, we tend to show our love through food. If anyone can understand this concept it's Calvin Shea, the creator of the popular Instagram account Calvin Dumplings, which has amassed the bulk of his 41,000-plus followers in just a year.
In early 2020, Shea's mom, Shirley Hsieh, visited Fort Lauderdale from Taiwan. The two began making dumplings as a way to spend time together while also keeping Hsieh engaged during what was supposed to be a short visit. The weeks soon turned into months as COVID-19 restrictions were put in place and the octogenarian was unable to travel back home.
"My mom is very active; back home, she has a schedule," says Shea, adding that the Taiwanese government has programs set up to keep the elderly from being lonely, including monthly excursions.
As pandemic restrictions stayed in place, Hsieh grew bored while sheltering at her son's home. Then a childhood memory sparked an idea for Shea. He remembered that while growing up in Taiwan, he would wake up early to go grocery shopping with his mom, using that time as a chance to spend moments with her before she would leave to work long hours as the family's primary breadwinner.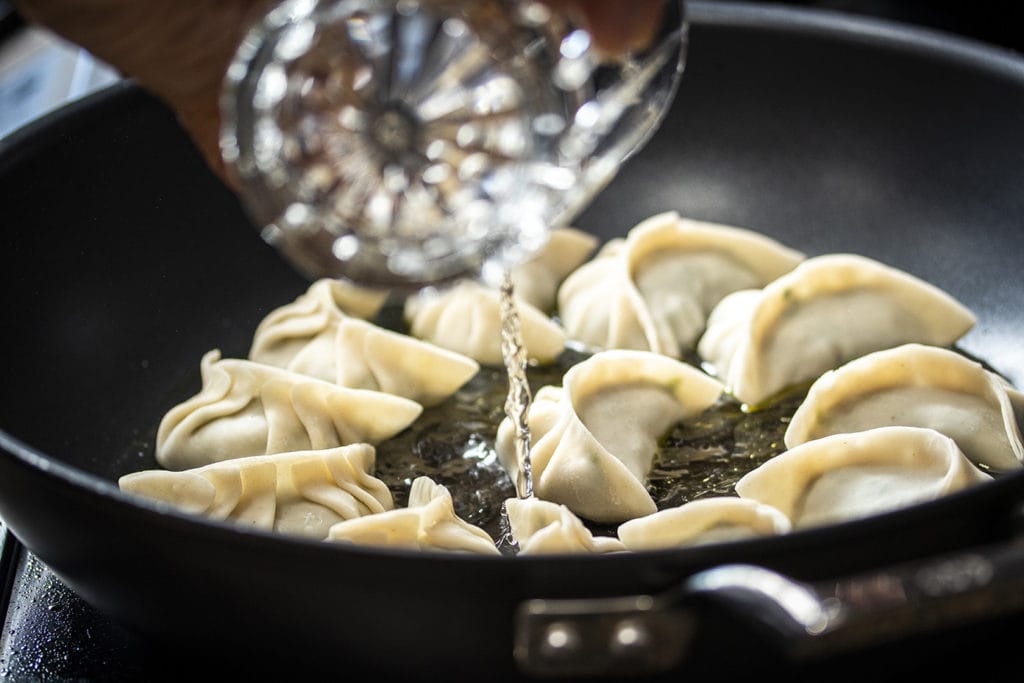 On those early-morning trips, she taught him how to find fresh products. Fish should have clear not cloudy eyes, Hsieh would instruct. It should not smell fishy. It should be firm to the touch and have red gills. Napa cabbage should be tight and heavy, with no brown spots. Asparagus stalks should be bent to see where they snap; this determines where the tender and fibrous parts meet. Carrots should be pressed to make sure they are firm, and they should not bend too much. Shea also remembers learning that the brightness of the color correlates to the freshness of the vegetable. Hearing those lessons impressed me, as most experienced cooks only learn them in culinary school or as part of the receiving team in a kitchen.
As Shea recalled the details of his childhood, he thought of how his mother would come home from those grocery outings to make dumplings. "Dumplings were easy: They took a day to make, and then they were frozen so we could enjoy them during the week," he says.
As the pandemic unfolded, mother and son began folding dumplings together, as they had years ago in Taiwan. Shea snapped photos and shared them on Instagram on a regular basis. Though he briefly had a dumplings booth at the Yellow Green Farmers Market in Hollywood, Shea—who works as a recruiter for the medical program at St. George's University of London—did not expect the overwhelming response that his Instagram account would receive. People started to comment on his posts, asking where they could purchase these handcrafted beauties, though Shea insists he never intended to use Instagram as a tool to sell dumplings ("I started using it more often to display our love of dumpling making," he says).
When asked how his account obtained so many followers without the help of a public relations team or influencers, Shea says, "I really feel that it is because my mom and I can connect and relate to the crowd on social media. Mom doesn't fully understand the whole social media idea. However, for me, the most important thing is that South Florida has welcomed my mom and her dumplings. She has a sense of belonging, a sense of purpose in life. That's all I could ask for."
I was curious about whether Shea has a bigger message he wants his followers to know about his mom's dumplings. After some thought, he says, "Cooking in the kitchen, making dumplings, is what modern-day society might call team building. It forces you to have a conversation. 'How was your day? How was work? Can you pass the rolling pin?' The best way to find common ground is through food."
To truly enjoy a dumpling is to understand the art and love that goes into its creation. Each one is meticulously folded into a special shape. During the Lunar New Year celebration—by far the most important holiday in Chinese culture—a coin may be added to some dumplings, and if you are lucky enough to find the coin, it is said that your year will be filled with prosperity.
My ultimate comfort food is my grandmother's dumplings. To this day, my own grandmother will knead the dough by hand and then cut and roll each piece of the dumpling skin so that the outsides are thin while the center is thick (this is key because once you fold them, the bottoms of the dumplings will be able to withstand the heat from the hot pan). She also hand chops the meat and vegetable mixture until it looks like it has been through a fine grinder.
As an adult, I now understand what it takes just to make one dumpling, from the labor to the time. It is remarkable how one of the smallest dishes holds one of the largest meanings.
The way I see it, there are a few life lessons that this delicate, flavor-filled pouch conjures. First, it provides a sense of community and family. It brings people together by taking the most basic ingredients—flour, water, small amounts of meat and some vegetables—and turning them into a beautiful, delicious meal. In addition, dumplings exemplify how you can take whatever situation you have in life and simplify it to get clarity. Finally, it shows you how an easy, good meal can provide so much love.
That is why I believe Shea was able to create a massive following for Calvin Dumplings: He's showcasing his mother's culinary skills while simultaneously highlighting the meaning behind the Chinese dumpling. Let's hope this will be the start of making the world a more understanding place, a place where community and family can grow. That's what we strive for at Temple Street Eatery. Our motto—"Enlighten your palate"—means that every member of our team puts love into each dish, just as if they were making it for their own moms. 
This article originally appeared in the Spring 2021 Issue.