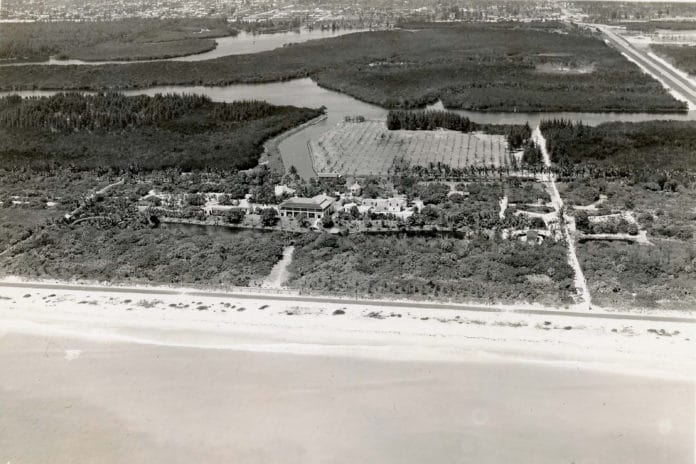 By Nila Do Simon
Next time you're visiting the Bonnet House, CEO Patrick Shavloske wants you to take a closer look at the floor next to the desk, near the card table, in the drawing room. He says you might be surprised.
Built in 1920 as a winter retreat for Chicago artist Frederic Clay Bartlett and his wife, Helen, the property is not only a monument to throngs of post-impressionist works, priceless china and blooming orchids, but it's also a glimpse inside the private lives of a vivid estate full of life and character. The Bartletts were looking to establish not simply a house, but a home. Arranged almost exactly how the Bartletts furnished their rooms decades ago, today's Bonnet House allows a momentary look into the upper-class couple's home life. It even offers what Shavloske considers an effervescent revelation in the drawing room: a Purina food bowl for their dogs.
"For a family that was very well off, for them to have a Purina bowl is really telling," Shavloske says of the utilitarian basin. "It shows that Bonnet House was really home. It wasn't just a place to entertain or for flash. There were very real people who lived here and loved it."
Named after the bonnet lily that grows on the property, the Bonnet House will celebrate its 100th anniversary throughout 2020, peaking with its Centennial Soirée on April 25. The celebration is a chance for all those who have enjoyed some of life's most endearing moments—whether a wedding, Concert Under the Stars performance or the property's many fine art and cultural events—to commemorate one of South Florida's greatest treasures.
Today the Bonnet House, standing proud in its signature yellow hue, represents a bridge between Old Florida and the modern world. Gifted to the Florida Trust for Historic Preservation in 1983 by Bartlett's second wife, Evelyn, the property's future is entering a watershed moment as the Preservation and the Bonnet House Inc., the local organization that manages the estate, both vie for solo ownership.
Despite the uncertainty, the centennial celebrations will be some of the most festive times to date at the Bonnet House because that's something the Bartletts would have wanted. "Some of Evelyn's happiest times with Frederic were spent at the Bonnet House," Shavloske says. "It had a special place in her heart, and she wanted people to be as inspired by it as she was."
This article originally appeared in our Winter 2019-2020 Issue.