100% Cotton, a solo exhibition opening September 15 at Las Olas' New River Fine Art, features the art of United Kingdom native and South Florida resident Andrew Cotton. His first solo exhibition with the gallery highlights the split-portraits that have garnered the artist international recognition but also features a broader selection of new text-based works, abstract paintings, collaged surfboards, vintage Americana, coastal scenes and Hollywood icons. The exhibition explores the story behind the artist, his au courant work and his rise from an unknown street artist to a sought-after fine artist.
Cotton, who received a scholarship to the esteemed Belfast Park Fine Arts School and attended the prestigious Central St. Martins School of Art in Holborn, London, began his informal education under the apprenticeship of his grandfather and father at the family's East London printing company. It was there that he experienced first-hand all the intricate aspects of the professional printing trade—from block and offset to silkscreen and other techniques. His signature aesthetic of contemporary art influenced by his childhood experiences is reflected through his use of wheat paste, paper collage and large-scale printing techniques.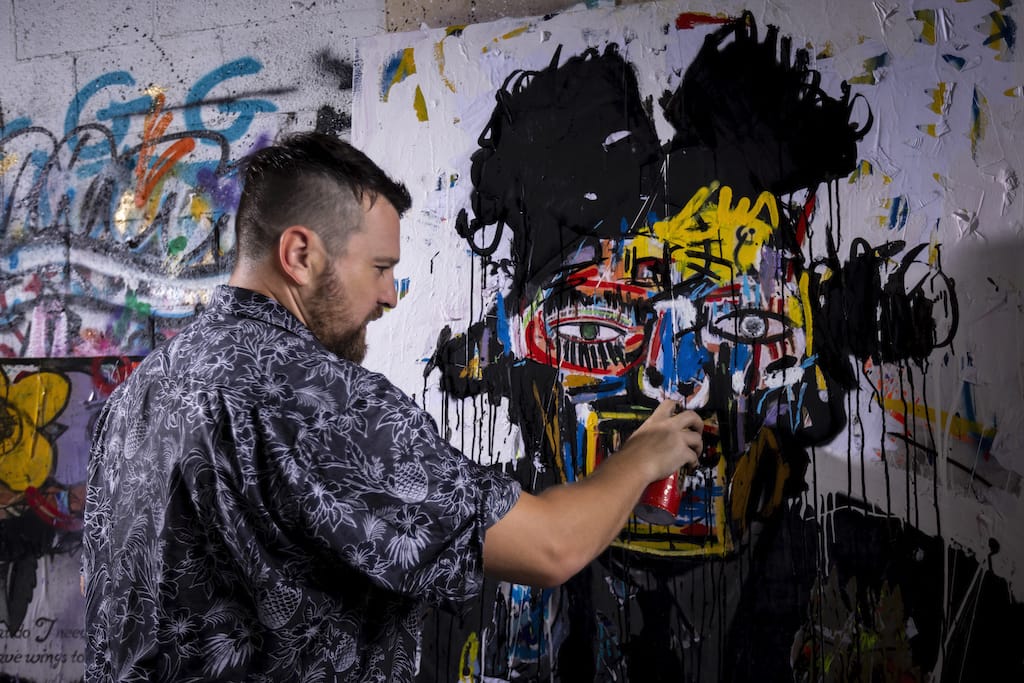 At 24, Cotton left the United Kingdom for the United States to sell graffiti-inspired Pop Art on the streets of New York City. "As an artist, I am drawn to the free spirit of America," says Cotton, describing his decision to leave home to pursue a full-time art career. Before relocating to South Florida from New York, Cotton, along with a small group of fellow artists, operated a successful art truck, a mobile gallery that drove around the five burroughs of New York selling art on the streets—not unlike how a typical food truck would serve its patrons. It was here in New York City that he caught the eye of rapper and record executive Jay-Z, who would become one of Cotton's earliest A-list collectors, with additional notable clients to follow.
In 100% Cotton, the artist delivers a blockbuster exhibition using his own urban aesthetic, which blends graffiti-style texts and tags with iconic stock imagery. Melded images of collage with compounded surface textures bring forth an audacious vitality. In these visual narratives, he provides evidence of the 100 percent he strives towards.
He illustrates the idea that anything is possible by staying true to one's own personality, values and spirit, regardless of the pressure from society to conform.
Cotton's work has been shown in the New Museum in New York City and at renowned art fairs including Palm Beach Modern + Contemporary in Palm Beach, Florida; Art Market and Design Hamptons in Bridge Hamptons, New York and Hamptons Fine Art Fair, South Hamptons, New York.
100% Cotton is New River Fine Art's premiere gallery exhibition of the Fall 2022 season, opening September 15, 2022, and running until October 16, 2022. 
For more information, visit newriverfineart.com