By Nila Do Simon
Photography by Felipe Cuevas
To the casual observer, the delicate contents inside the Wiener Museum of Decorative Arts might represent the ultimate episode of "Antiques Roadshow," where cherished heirlooms bask in the spotlight of art and antique admirers. Inside the museum—a nearly 20,000-square-foot space located on the top floor of a two-story white building that nearly kisses the whizzing traffic of South Federal Highway in Dania Beach—art enthusiasts of all ages shuffle through collections from ceramic and glass artists whose one-name-only statuses have cemented their place in the decorative arts world. The Wiener Museum is a brightly lit wonderland of handcrafted art by the likes of Lladro, Lalique, Wedgwood and Chihuly that in four years has become a global institute for British and European decorative art.
If anyone can appreciate the intricacy and authenticity of ceramic and glass art, it's Arthur Wiener. The New York City businessman has amassed one of the nation's most impressive private collections of decorative art from the past two centuries. Located a floor above the Gallery of Amazing Things, Wiener's namesake museum began in 2014 as a monument to decorative and fired art, or the discipline of applying heat to craft materials. Wiener's affinity for collecting art started when he blew his entire travel budget on a Merlin the magician jug by Royal Doulton while traveling in London post-college. From there, Wiener began collecting hundreds of Royal Doulton character jugs, whose rosy-cheeked countenances of literary and historical figures were popular in the middle of the 20th Century.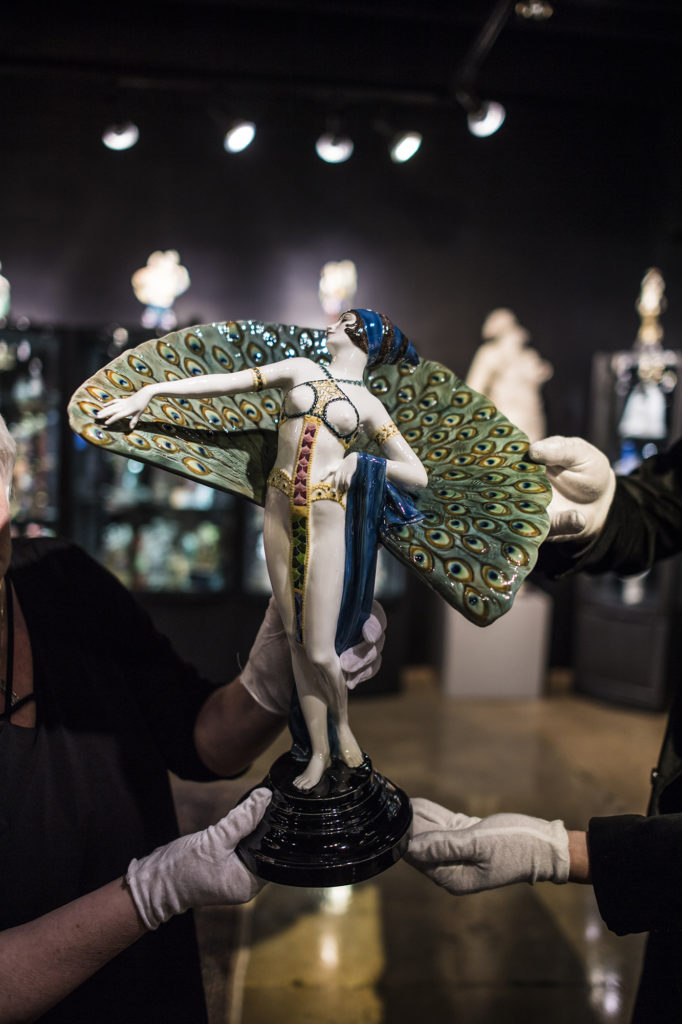 As his interest in ceramics grew, Wiener added to his collection with coveted Wedgwood, Minton, Ardmore and Moorcroft pieces. Later, Wiener fell in love with glass art, collecting dozens of pieces by Chihuly, including works from the Macchia series, which the museum loaned to the Smithsonian Craft Show at the National Building Museum in 2016.
All in all, Wiener collected thousands of pieces from all over the world, and more than 2,500 of those works are on display at Wiener Museum. Earlier this year, famed Spanish brand Lladro even showcased its largest porcelain piece—Carnival in Venice, which depicts an elaborate scene at a Carnival masquerade—at the museum.
It's easy to underestimate the Wiener Museum. After all, this petite space is dedicated to fired and decorative arts, two disciplines that have at times been overshadowed by the Western world's fondness for fine arts. While closely associated, fine art and decorative art have clear distinctions: Fine art is a visual object—a painting, sculpture or photograph, for example—with no functional purpose, whereas decorative art has visually pleasing characteristics and serves a useful function—such as tableware, pottery and furniture. Flanked by well-known fine art museums in the tri-county area, Wiener Museum looks to become a bridge to art enthusiasts unfamiliar with decorative works.
"The museum is significant because it's a different kind of art than what others are used to in an art gallery," says Louise Irvine, the executive director and curator at Wiener Museum. "People are used to seeing a painting on the wall, but they aren't used to seeing decorative arts or having it available to the public in this way. So much beauty exists in this media, and we look to give it a spotlight here."
Irvine credits Wiener for opening up his private collection to educate the public. Just as Chihuly challenged viewers to look at glass not only as a functional item but also as an art piece, Wiener aims to do the same with decorative art as a whole. "When viewers start to see decorative pieces that way, they take on a new embodiment in the home, and their status is instantly elevated," Irvine says. "I can't tell you how many times people come here saying they remember seeing pieces here similar to what their grandparents had, and that they wish they had held onto them. Now, Mr. Wiener is giving this generation the chance to appreciate decorative art in a new way."